Staff Profile: Bhakar James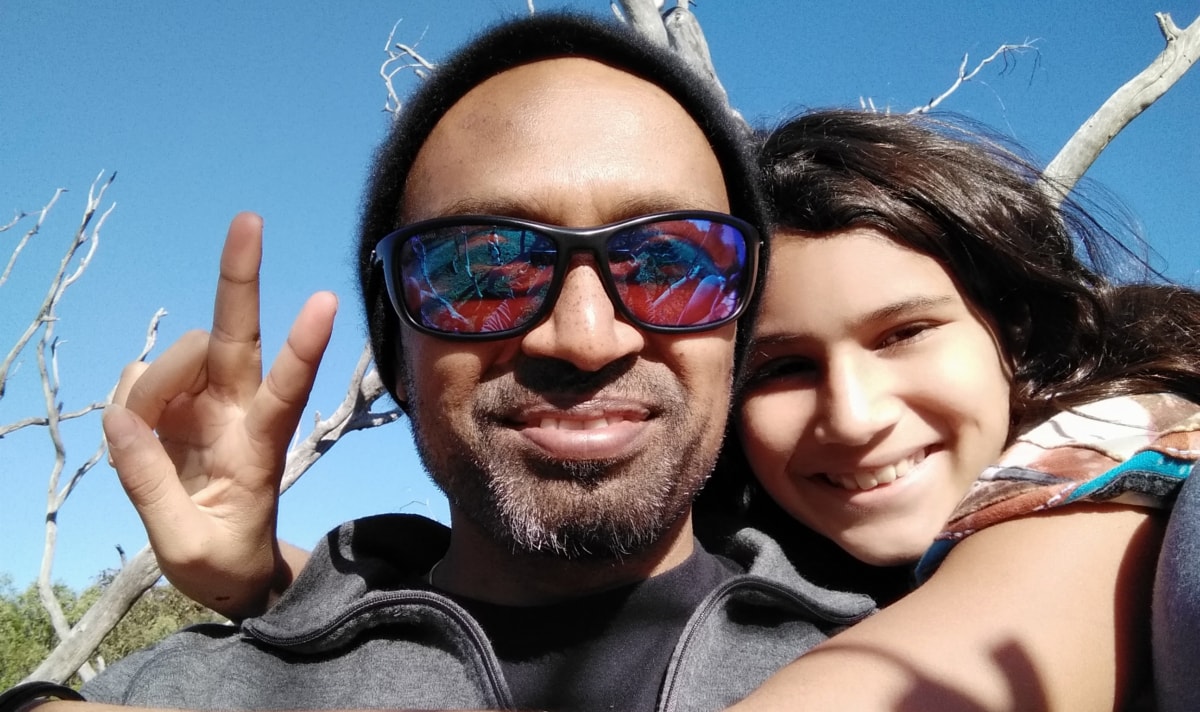 BHAKAR JAMES - CG SUPERVISOR
Generations of the James family have called the town of Durban in South Africa home. However, for Bhakar James, living there is a distant memory. When he was four, his parents took him and his two sisters, left South Africa and made the journey to South Australia to start a new chapter.
As a kid, Bhakar enjoyed watching movies and was intrigued by how a production came together. It was no surprise that in primary school he joined the drama class and immersed himself in the whole production. From acting to writing scripts, stage setup and directing, he did it all. But as he transitioned to high school, he left behind his childhood passion for production and focused his efforts on more academic subjects, so he could peruse a career in the field of science.
Music has also played a big part in Bhakar's life. From the wee age of five, he started playing drums, picked up the base guitar at twelve, and by sixteen was playing gigs. He performed at various venues over the next four years.
Bhakar went on to complete a degree at Uni in Neuropharmacology (the study of how drugs affect cellular function in the nervous system, and the neural mechanisms through which they influence behaviour). However, after his professor, who was a specialist in this field, moved to the US to fulfil a position, Bhakar changed fields and moved into genetics. He was a research scientist at Flinders Medical Centre for four years, whilst also working in his parent's restaurant in the evenings. However, as the years passed, Bhakar found the science world to be too bureaucratic and decided to pursue a new career path.
Bhakar enrolled in a multimedia course at TAFE. It was there that he met someone who showed him their impressive demo reel. After discovering what software was used to create this incredible reel, Bhakar went home and built himself a computer that would enable him to create his own show reel. He sent the reel to the Academy of Interactive Entertainment and was accepted in their 3D course, learning about Maya and 3D Max software in Canberra.  He lodged with another family while he completed the two-year course.
Bhakar sent his showreel to various studios and was offered work experience at Ambience Entertainment in Sydney. As he was not earning an income while working, he slept on the floor of an apartment which housed nine other people! The work experience turned into a paid job, and he worked on a high-end television commercial – and moved into a place where he had his own bedroom!
A year later, he was offered two jobs simultaneously, one with Disney and the other with Animal Logic. He accepted the six-month role as an animator at Animal Logic. A month after the contract ended, he was contacted by the company again, and this time he was offered a full-time position. Over the next fifteen years he remained at Animal Logic and worked in almost every department.
During his time in Sydney he had two kids, and as time went on, he explored the option of returning to Adelaide. When the SA government announced Mortal Kombat was filming in Adelaide, and most post-production would be carried out there too, he applied to RSP. He liked the appeal of the company, its boutique nature, and after talking to everyone at the company, he knew it was the right decision.
Bhakar joined the RSP team in 2019 and started his first role by going on set for Mortal Kombat.
WHAT DO YOU DO IN YOUR ROLE?
As a CG Supervisor, I work closely with our VFX supervisor to provide all the CG content for the shots we are working on. At times, (such as Mortal Kombat being shot here in Adelaide) this can require involvement with the on-set supervision, concept, pre-vis and tech-vis. Generally, I start with setting up the show, planning the approach to our tasks and then working with the 3D teams and supervisors from all departments in making sure we provide the client with the best CG possible.
WHAT HAVE YOU WORKED ON?
Captain Marvel, Guardians of the Galaxy: Vol. 2, Peter Rabbit, Avengers: Age of Ultron, World Trade Center, Harry Potter and the Deathly Hallows Part 2, Happy Feet, Fool's Gold, Knowing, Legend of the Guardians: The Owls of Ga'Hoole, The Lego Movie 2: The Second Part, The Lego Movie, The Lego Ninjago Movie, House of Flying Daggers, Stealth, The Great Gatsby, The Hunger Games: Catching Fire,  Unbroken, Insurgent, Monk Comes Down the Mountain, Allegiant, The Great Wall, Alien: Covenant, Götterfunken and plenty of commercials!
WHAT'S THE MOST CHALLENGING TASK YOU'VE FACED?
In this industry, we face challenges daily. This includes short timeframes and not necessarily having the immediate know-how to create the client's vision upon first receiving the work. However, after collaborating with our creative and technical teams, we problem-solve together and find a creative solution which often exceeds the client's expectations. This is what makes VFX so exciting to work in!
One particular time which was very challenging was working on the film 'World Trade Centre." I was part of a small team of talented 3D artists tasked with creating the destruction of the 911 towers, seen from the inside and through the eyes of the trapped fireman.
Working only with Maya at the time, we broke bricks, walls, concrete and glass, animated digital doubles and filled the place with smoke and debris. It was an epic challenge, given the tight timeframes. However, our team loved a challenge and we came up with a plan which required a lot of hard work and dedication, but we delivered incredible results. I have applied the lessons learned from this project to my next projects.  Every project and challenge you overcome makes you a better artist.
WHAT CHANGES WOULD YOU LIKE YO SEE IN THE INDUSTRY?
Whoa, this is a big topic …but to keep it simple, any change in the industry that would allow for the individual artists to have a better work / life balance, I would see as a step in the right direction.
WHAT DO YOU ENJOY THE MOST ABOUT WORKING IN THE VFX INDUSTRY?
Creating cool sh#t ! and then watching it on the big screen with popcorn or a choctop. And working with like-minded people who love to create art.
FAVOURITE MOVIE YOU HAVE WORKED ON? 
The Great Gatsby – because it was an intensely challenging two years of my life, with fun and very collaborative talented artists, and as a bonus, turned out to be good to watch.
WHAT DO YOU ENJOY THE MOST ABOUT WORKING AT RSP?
RSP is like a big family and I feel very at home with the people I am working with.
I also love the type of work we do and the high quality we strive to produce.
WHAT DO YOU ENJOY THE MOST ABOUT LIVING IN ADELAIDE?
I like the 'easy to get anywhere' nature of Adelaide and the chill beach vibe.
Though I still can't get used to the terrible drivers!
WHAT ARE YOUR INTERESTS / HOBBIES?
I'm a bit of a muso/music producer/DJ,and love all types of music.
Storytelling, script writing.
Riding anything on two wheels, particularly travelling off-road fast or on big-day discovery adventures.
Camping, hiking, swimming, and general beach bumming about.
Keeping fit, cooking and nutrition.
Films,VR and I'm a general techno nerd.
TELL US SOMETHINGS ABOUT YOURSELF THAT WE DON'T KNOW?
Vfx/Animation is my third career. Before that I was a NeuroPharmacology/Biochemistry Scientist and then Multi-Media content creator.
FAVOURITE MOVIE
Too many favourites but would have to say "Nausicaä of the Valley of the Wind" is one of my all-time fave's.
FAVOURITE DRINK
My own daily – banana, mango, blueberry, hemp seed, protein, almond milk smoothie.
CRAZIEST THING YOU HAVE DONE
Delivered my first daughter at home in the bathroom with my wife and no-one else.
SUPERPOWER OF CHOICE AND WHY
Teleportation – 'cos life's too short and current transportation is way too slow.
IF YOU COULD MEET ANYONE AT ALL, WHO WOULD IT BE AND WHY?
Stewart Copeland from the band 'The Police" as he is my favourite drummer/muso of all time.
PHOBIA
None really, unless a fear of sleeping through your alarm and missing a flight counts as a phobia!?
WHAT THE WORLD NEEDS NOW IS….
Peace, love and … flying cars!
ADVICE TO ASPIRING ARTISTS
Your reel is your ticket for that interview… make it kick ass!
More
14.06.2022

BAZ LUHRMANN'S ELVIS DAZZLES

09.06.2022

The Fuse Group acquires Madrid-based El Ranchito

13.05.2022

RSP delivering Graduate Certificate in FX and Lighting in Brisbane