staff profile: Jess Burnheim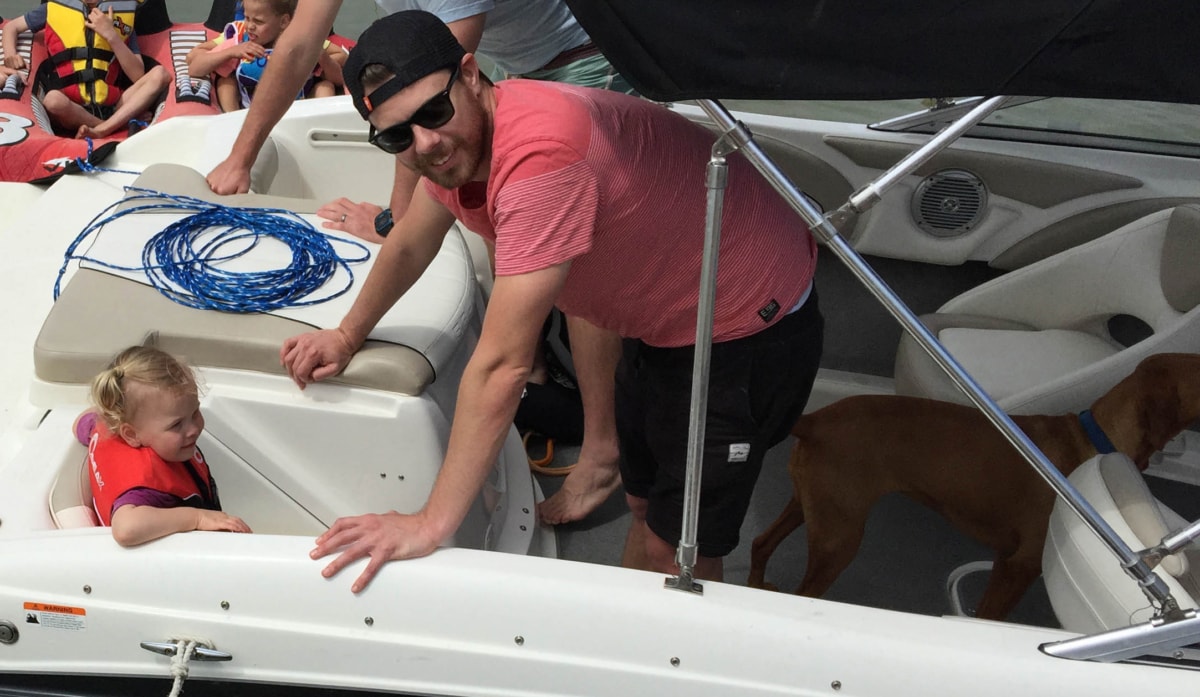 JESS BURNHEIM - HEAD OF 2D
It can take some people half a life time to work out what they want to do in life, but not Jess Burnheim.  The born and raised boy from Wollongong, developed a passion for art at a young age and knew he was destined to work in the creative industry. During High School, his major art submission was created using Photoshop and based on the X Files. He had no idea what he was doing, but spent hours clicking around trying different things. When he started putting his friend's faces into funny photos he was hooked.
Following school, Jess attended TAFE in North Sydney and studied Film and Television Production. Upon completing his studies, he was recommended for a job at Fox Sports working in the machine room.  He took the job and was introduced to the world of post-production, and remained in the role for two and a half years.
During his time with Fox Sports, Jess was lucky to be part of the small team who travelled and worked at Wimbledon. He  enjoyed his time so much that he decided to stay and live in London. The following two years, he again worked at Wimbledon, this time freelancing. His three year stint in London saw him working in various machine rooms in Soho, working closely with Telecine Technicians, Editors and Flame Artist.
Upon returning Down Under, Jess worked at Animal Logic where he worked his way into the commercial Compositing team - working on Both Flame and Nuke. He worked at a few other studios before joining the team at Rising Sun pictures in 2014.
WHAT MOVIES /SHOWS HAVE YOU WORKED ON?
Lots of commercials, Logan, Thor: Ragnarok, Avengers, X-Men Apocalypse, The Great Gatsby, The Adventures of Sam Fox, Wolf Creek 2, Son of a Gun, Pan, Tarzan, Gods of Egypt, Game of Thrones.
WHAT'S THE MOST CHALLENGING THING YOU'VE FACED IN YOUR ROLE?
We had two weeks to try and put something together for Thor: Ragnarok - presenting the first look of Cate Blanchet as Hela at Comic Con. It was a short turn around, but I think we managed to make one of the most memorable images of Hela, and it was used throughout the marketing for Thor:Ragnarok.
WHAT CHANGES WOULD YOU LIKE TO SEE IN THE INDUSTRY?
Too many to list
FAVOURITE MOVIE RSP HAS WORKED ON?
I really enjoyed Logan, the film-makers knew what they wanted and knew when they saw it. It can be a challenge sometimes in a creative industry to get clear direction and concise feedback.
WHAT DO YOU ENJOY THE MOST ABOUT WORKING IN THE VFX INDUSTRY?
I love when you have multiple artists from multiple departments working together to solve creative problems. When it all comes together it can be a beautiful thing!
WHAT DO YOU ENJOY THE MOST ABOUT WORKING AT RSP?
Still being a relatively small company everyone has a voice. Creative input from all areas is welcomed and encouraged.
WHAT DO YOU ENJOY THE MOST ABOUT LIVING IN ADELAIDE?
I love that you can have breakfast at the beach in the morning, take the kids to a national park for a picnic lunch and some Koala spotting in the afternoon and have dinner at some amazing restaurants in the CBD in the evening.
WHAT ARE YOUR INTERESTS / HOBBIES?
I have 2 daughters, Frankie 8 and Willa 5.
My Saturdays at the moment are taken up going to netball games and practising our goal shooting in the backyard
TELL US SOMETHING ABOUT YOURSELF THAT WE DON'T KNOW?
I have double jointed thumbs
FAVOURITE MOVIE
Tough to pick one, but I think the ones I hold dearest are the ones that remind me of a certain time of your life.
Ghostbusters, Back to the Future and Indiana Jones for when I was a kid.
Die Hard, Happy Gilmore as a young adult
And in recent years I really enjoyed Logan, (and had the pleasure to work on it!)
FAVOURITE DRINK
Summer/ Spring – Gin and Tonic
Winter/Autumn – Red Wine
All year round – Coffee
Luckily Adelaide has the best of all of these!
CRAZIEST THING YOU HAVE DONE
I got married in Japan.
I have a beautiful marriage certificate in Japanese (I think that's what it is?)
SUPERPOWER OF CHOICE AND WHY
Time travel would be great, especially when the deadlines are so tight
IF YOU COULD MEET ANYONE AT ALL, WHO WOULD IT BE AND WHY?
Beers with Bill Murray would be fun.
PHOBIA
A world without coffee
WHAT THE WORLD NEEDS NOW IS….
A good sense of humour
ADVICE TO ASPIRING ARTISTS
The 5 P's
Proper Preparation Prevents Poor Performance.
This applies to all aspects of Visual Effects.
More
13.05.2022

RSP delivering Graduate Certificate in FX and Lighting in Brisbane

12.05.2022

Junior Administration Assistant Traineeship

27.04.2022

Passing the Torch