staff profile: Julian Hutchens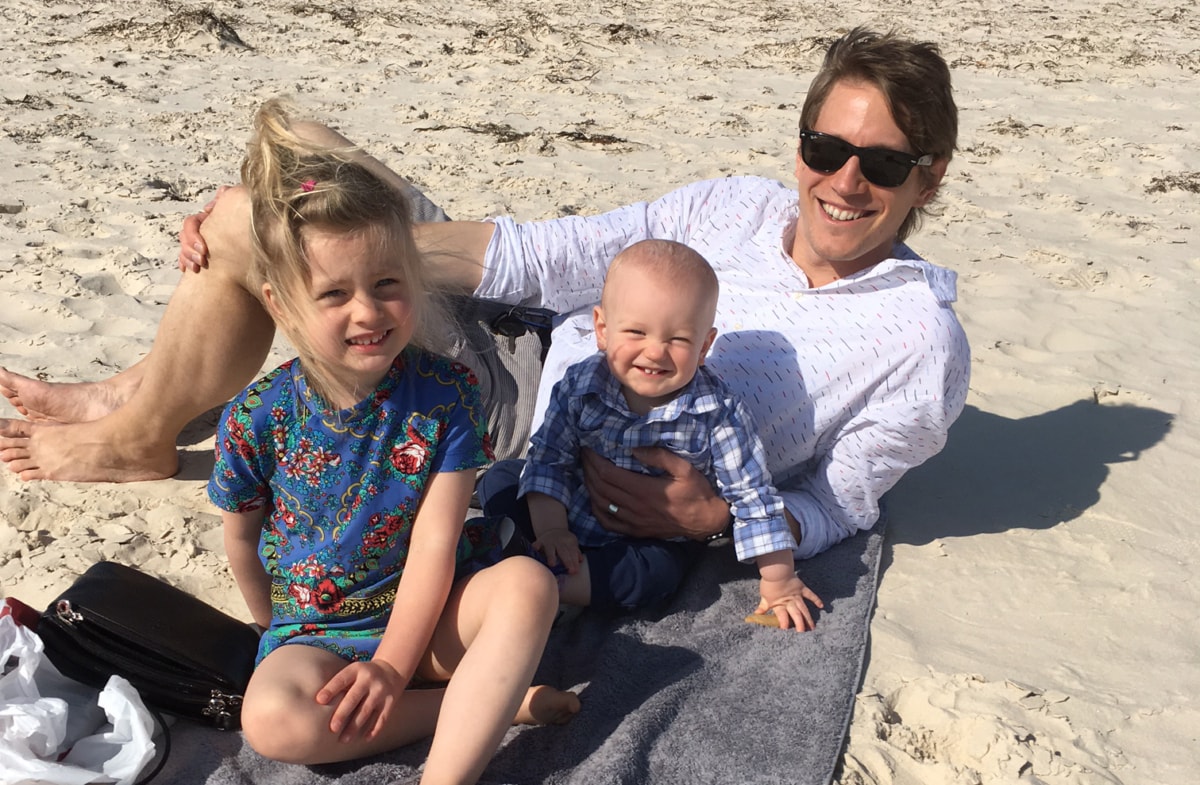 JULIAN HUTCHENS - VFX SUPERVSIOR
Julian Hutchens was born in Melbourne, Australia. As a kid he was always fascinated by science, technology and art. He enjoyed anything that combined creative and technical thinking. He loved playing with Lego, creating science experiments, building things (pinball machine/halfpipe), pulling apart electronics, taking photos and playing music with his mates.
It's difficult for him to pin point the one thing which inspired him into the crazy world of VFX, but he thinks it started back in high school. He saw an article in a design magazine showing off 3D renders from Bryce 3D (a 3D modeling, rendering and animation program).  He had never seen images like that created from a computer and wanted to know more. After researching, he discovered packages like Alias|Wavefront, Softimage3D, Lightwave and 3D Studio. He couldn't afford any of these programs, so he bought TurboCad3D instead, and started teaching himself how to model.
During this time, Julian also discovered the Cinefex magazine (a bimonthly journal covering visual effects in cinema) and also started watching re-runs of Movie Magic on TV. He loved watching movies, but became more interested in how they were made. Seeing movies like Jurassic Park, Twister, Starship Troopers and Titanic fuelled his growing curiosity.
In Julian's final year of high school he made an animated 3d short film, and at his annual art show was approached by someone who told him, 'my brother would be very interested in meeting you'. The brother was Michael Gracey, who is a VFX artist, and now more known for his work as Director of The Greatest Showman, starring Hugh Jackman. Julian visited Complete Post and spent five weeks hanging out with Michael and the team.  He was offered some work there but made the tough decision to broaden his scope and go to Uni and get a stronger foundation in Art & Design first.
He graduated from university with a degree in design, and was offered an internship for six months at Complete Post, followed by a full-time job, where he worked for four years.
Julian moved to London, and after dropping his showreel to VFX studios around town, he picked up a small contract working at Smoke & Mirror as a VFX artist. Then he joined the VFX team at Framestore London. Four years later, he moved with his pregnant partner to Montreal, where he helped to setup Framestore's new studio. Two gorgeous children later, Julian and his now extended family, moved back to Australia to live in the beautiful city of Adelaide and began working as CG Supervisor at Rising Sun Pictures.
NAME SOME MOVIES YOU HAVE WORKED ON?
Tomb Raider, Blade Runner, Paddington 2, Alien Covenant, Mowgli, Fantastic Beasts, Guardians of the Galaxy Vol2,  King Arthur: Legend of the Sword, Beauty & The Beast, The Legend of Tarzan, Harry Potter & The Deathly Hallows Part 2, Edge of Tomorrow, War Horse, Clash of the Titans, 47 Ronin, Narnia: The Voyage of the Dawn Treader, Paddington.
WHAT'S THE MOST CHALLENGING TASK YOU'VE FACED?
When I ventured, with my then pregnant wife, to a city we had never visited - Montreal, Canada and helped setup Framestore's studio with a small group of artists and production. Everyone had great pioneering spirit and battled the challenges together as a team.
WHAT DO YOU ENJOY MOST ABOUT WORKING IN THE VFX INDUSTRY?
Being part of a very dynamic, creative process which fuses creative & technical thinking, then watching the evolution of an idea mature into a great sequence of images that all involved can be proud of and the audience can enjoy. Working with an awesome group of people in my team.
WHAT CHANGES WOULD YOU LIKE TO SEE IN THE INDUSTRY?
I would like to see the VFX artists and VFX studios recognised more and appreciated by the film Studios. Film-making is an enormous collaborative effort from pre-production to post, and visual effects has now become a big piece of this puzzle. We need the Studios and the Studios need us.
FAVOURITE MOVIE YOU HAVE WORKED ON?
Paddington & Beauty and the Beast. Difficult to pick a winner. From the clients, to the team, to the work, they were both a real pleasure to work on. In both cases, they contained a very rich visual palette, and time and money were invested where it counted. The onset lighting, photography, sets and costumes were amazing. It's always rewarding contributing to a film with strong production values and knowing that kids will enjoy.
WHAT DO YOU ENJOY MOST ABOUT RSP?
The People and culture.
WHAT DO YOU ENJOY MOST ABOUT LIVING IN ADELAIDE?
Fresh air, nice weather, great lifestyle, excellent food and plenty of parks and outdoor activities.
WHAT ARE YOUR INTERESTS /HOBBIES?
Travel and adventure, food, music, piano, guitar, photography, bouldering, family life and movies.
TELL US SOMETHING ABOUT YOURSELF THAT WE DON'T KNOW?
I had a brief blip where I was a host on a kids TV show called Generation 7
FAVOURITE MOVIE?
Amelie
FAVOURITE DRINK?
Iced Coffee
CRAZIEST THING YOU HAVE DONE?
Girlfriend and I moved to London with a oneway ticket in a global recession, without a job!
SUPERPOWER OF CHOICE?
Be able to fly. How much fun would that be!
PHOBIA
Spiders
IF YOU COULD MEET ANYONE AT ALL WHO WOULD IT BE AND WHY?
One of my relatives that ventured from the East to the West coast of the states along the Oregon trail. It would be fascinating to talk with them about why, how, and hear their story.
WHAT THE WORLD NEEDS NOW IS....
To not go backwards and to look ahead with compassion, commitment and unity for all. Love defeats hate.
ADVICE TO ASPIRING ARTISTS
Simply put, follow your heart. Life isn't about where you end up, it's about what you do along the way. If you are passionate and follow paths that make you happy, you will naturally succeed. Don't let others put you in a box and most of all don't put yourself in a box. Be open, curious and allow the world to inspire you.
More
13.05.2022

RSP delivering Graduate Certificate in FX and Lighting in Brisbane

12.05.2022

Junior Administration Assistant Traineeship

27.04.2022

Passing the Torch