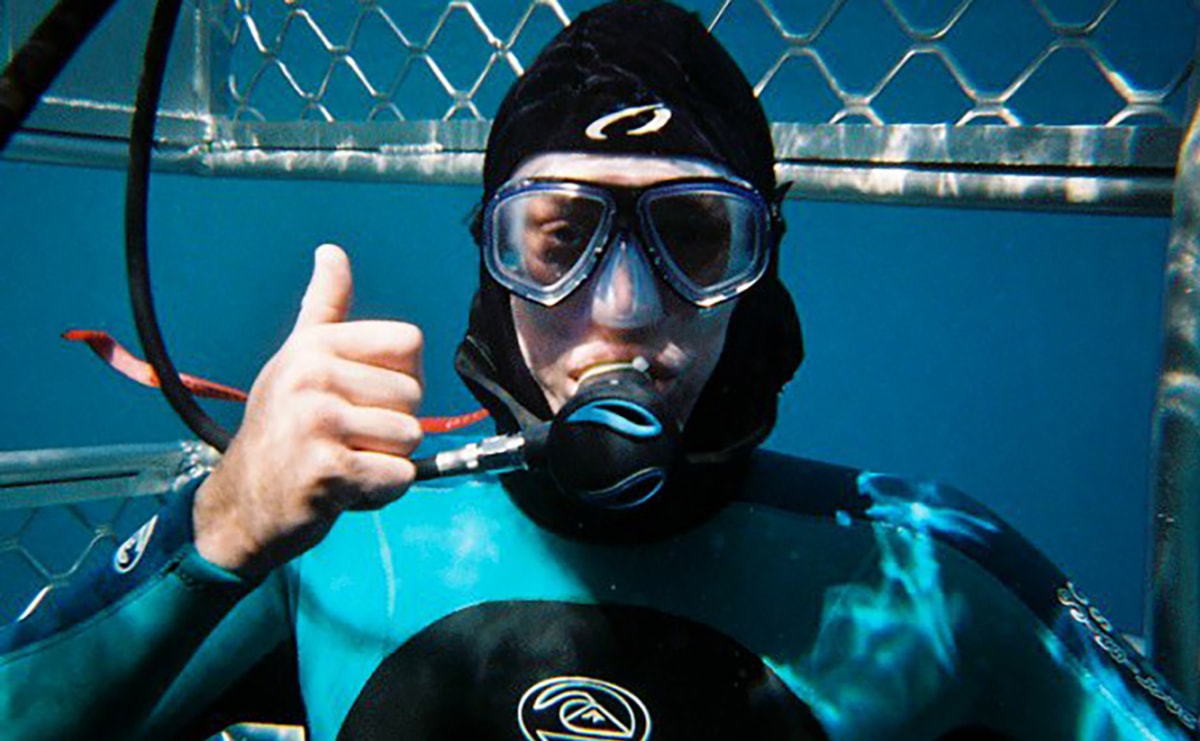 MATT SHAW - COMPOSITOR
As a kid growing up in Australia in the 80s, cruising the streets and dirt tracks on your BMX bike was a way of life. Matt Shaw was a true Aussie kid, embedded in this BMX Bandit culture and the great outdoors. He lived for adventure and exploring and spent as much time as he could outside. Hours were spent yabbying in the creek, fishing, going to the beach and snorkelling. He was fascinated with the underwater world, and for many years he wanted to be marine biologist when he grew up. His other passion was building and creating things. If he wasn't outdoors, he was in the shed building go carts and anything else he could image.
When Matt went to high school it became evident to him that his skills and interests would be more suited to a career as a tradie. He enrolled in the appropriate classes at school to enhance these skills. For his first jobs he delivered the newspaper and stacked milk in a shop the morning before school. A few years later, the people who owned the shop invested in a video store and Matt was employed there. It was working there, watching and talking all about movies, that ignited his passion and love for film.
However, the movie world would have to wait. When Matt left school he was accepted as an apprentice boiler maker /welder at Perry Engineering. He worked there for four years, and then another 3 in the industry in various roles.
During this time, he met a girl who was academically inclined and could see Matt was not happy in his job. She convinced him to go to uni to pursue another career path. He wanted to become a film editor, so he enrolled in a communications degree at the University of South Australia. As he continued watching movies, it was the visual effects that caught his eye. He was amazed by how they were created and the significant role they play in the storytelling.
He completed his degree and was employed to work on a small film his friends were making at the time. Matt then worked for a few weeks at Oasis Post (now known as Kojo), but as there were not many jobs in film in Australia at that time, he decided to make the leap and moved to London.
Matt knew someone who worked at DNeg and they introduced him to their boss. He was given a trial for a day as video editor, which turned into a week trial, a month trial, then two and a half years! During this time, he also became interested in compositing and would watch online tutorials to learn the required skills. After two and a half years he swapped disciplines and started working as a compositor.
While living in London, Matt met Slavka, who was from Slovakia. Together they would holiday back in Adelaide, and whenever he was there, he would drop into Rising Sun Pictures and chat to the then-CEO Didier Elzinga. After seven and a half years in London, Matt and Slavka decided it was time to make the move back to Adelaide to start a family.
For the first two years, Matt worked at RSP when it was busy and he was needed; the rest of the time he worked as a landscaper with his dad. Eventually he was required on a more permanent basis, was employed full-time, and has now been part of the RSP family for over ten years.
WHAT DO YOU DO IN YOUR ROLE?
As a compositor we do loads of things, but broadly speaking, I marry the computer generated images with the live action and integrate it until it is seamless.
WHAT MOVIES HAVE YOU WORKED ON?
To name a few, Captain Marvel, Animal World, Tomb Raider Peter Rabbit, Thor:Ragnarok, Shaun of the Dead, Batman Begins, Children of Men, Hellboy 2, 4 x Harry Potter's,Hunger Games, Gravity, 3 x X-Men ... and many more!
WHAT'S THE MOST CHALLENGING TASK YOU'VE FACED?
Not one task comes to mind, but VFX can be pretty high pressure. I loved the quote from the Oscars where a winning VFX supervisor gave kudos to the artists by saying "VFX is art, created in a lab… at gun point!". So true, but with that comes the immense satisfaction when you produce some lovely work and tackle those targets head on.
WHAT CHANGES WOULD YOU LIKE YO SEE IN THE INDUSTRY?
Changes, hmm. Work/Life balance has been one the biggest challenges in VFX, in my opinion. RSP is already kicking goals on this front.
WHAT DO YOU ENJOY THE MOST ABOUT WORKING IN THE VFX INDUSTRY?
The people and the work. The work is so varied, and you never know what you might have to do from one day to the next. Fun and challenging.
FAVOURITE MOVIE YOU HAVE WORKED ON?
Lots of fun stuff I've worked on and each film has great memories/challenges. If I had to name one though, Shaun of the Dead. Loved the film and the VFX were such fun… what's not to love about a Zom Rom Com.
WHAT DO YOU ENJOY THE MOST ABOUT WORKING AT RSP?
Would have to say the people. I work with a great bunch of like-minded artists from all over the world. In Adelaide, where everyone knows everyone, it's great being in a little cosmopolitan bunch producing some lovely images that you get to see up on the big screen.
WHAT DO YOU ENJOY THE MOST ABOUT LIVING IN ADELAIDE?
Having lived in London for many years (and absolutely loved it!), I love Adelaide for everything the big city isn't. Wide open spaces, beach and being out in the boat, Wineries and eating out… warm dry weather! Minimal line ups and crippling traffic. Great place for my little kiddos to grow up and experience the outdoors.
WHAT ARE YOUR INTERESTS / HOBBIES?
DIY is a big hobby for me, having been a tradie in a former life, I love building things and doing home improvements. Such satisfaction comes with something you build with your own hands.
TELL US SOMETHINGS ABOUT YOURSELF THAT WE DON'T KNOW
I used to be a skateboarder back in the day. Still love a thrash around on my board and skating along with my little kids on their bikes. Definitely don't bounce like I used to though so take it pretty easy these days.
FAVOURITE MOVIE
Impossible to pick one, I'll go with 5: The Big Labowski, Seven, Jaws, American Beauty and The Princess Bride.
FAVOURITE DRINK
Nothing like a cold beer with friends after a busy day!
CRAZIEST THING YOU HAVE DONE
With a film industry bias… One thing that comes to mind was attending the Ali-G wrap party when I first arrived in London. Got there and they had bottles of oxygen on the tables for people to inhale… random! Or the time we used chicken gizzards in a guerilla element shoot on the roof of the studio to augment Mary's impaling herself on the hills-hoist post in Shaun of the Dead. Fond memories.
SUPERPOWER OF CHOICE AND WHY
Definitely to bend time… constantly finding that there aren't enough hours in the day to get everything I want done!
IF YOU COULD MEET ANYONE AT ALL, WHO WOULD IT BE AND WHY?
David Fincher I think. Love his films and more recently Mindhunter show's he's still got it. Genius film maker, no doubt about that.
PHOBIA
Heights, not a fan.
WHAT THE WORLD NEEDS NOW IS….
Forward thinking governments that embrace renewable energy and the like. People like Elon Musk that are pushing conventions and trying new things are pretty admirable IMO.
ADVICE TO ASPIRING ARTISTS
Focus and work hard with a positive attitude really… people will notice. Soak up the experience of others and make it work for you.
More
14.06.2022

BAZ LUHRMANN'S ELVIS DAZZLES

09.06.2022

The Fuse Group acquires Madrid-based El Ranchito

13.05.2022

RSP delivering Graduate Certificate in FX and Lighting in Brisbane