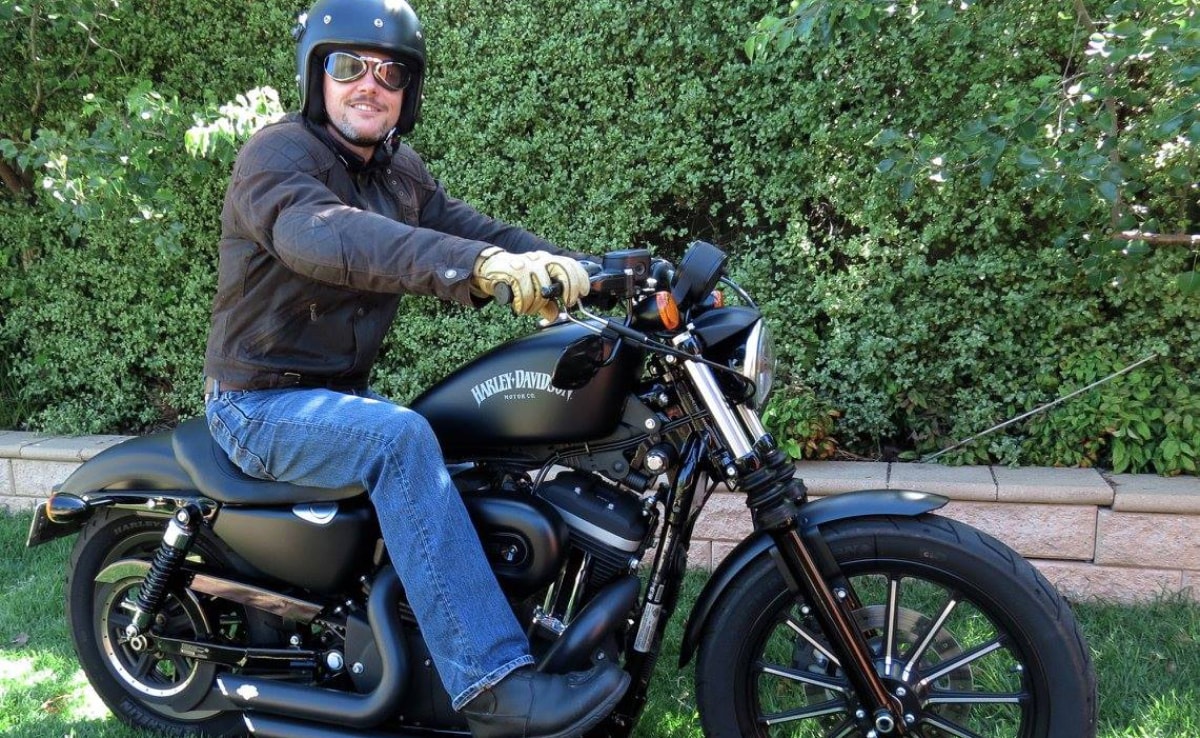 NICK PILL - ART DIRECTOR
The epic Star Wars franchise, which became a worldwide pop-culture phenomenon, has inspired many young dreamers. It was Star Wars – A New Hope which set a young South Australian boy onto a path which would see him contribute to some of the biggest movies of all time.
From the back of a 1971 HG Holden station wagon, decked out with mattress and pillows, a 9-year-old Nick Pill watched 'Star Wars – A New Hope' on the big screen at the local drive-in. That night, the sky was perfectly clear and full of stars. The opening scene was of a star field and it blended perfectly with the surroundings, so the screen disappeared into the night sky, then the spaceships shot in overhead. He thought it was really happening above him. His mind was blown. This was the best thing he had ever seen!
Nick's obsession with the Star Wars franchise was ignited. In addition to sketching and painting the characters from the various animated shows he enjoyed, Star Wars characters, and later ninjas, became the focal point for his many artworks.
Throughout his childhood, Nick had various influences moulding him into the artist he has become. His father, an ex-architect, taught him perspective basics. His neighbour, a sci-fi hobbyist, introduced him to the airbrush and created a wicked painting for him, depicting the battle on Hoth in The Empire Strikes Back.
By the end of high school, it was clear that Nick excelled at art, receiving a 99% grade through most of his school years. You could say it was written in the stars that Nick was going to be an artist.  He attended TAFE and did a course in Graphic Design and Advertising. During his time there, his attention was not solely on his art. A fellow artist, Linda Catchlove, caught his eye and became his girlfriend; his rock.
For the next two years, Nick picked up freelance work from various advertising companies around Adelaide. However, the work was irregular, and he wasn't passionate about it.  Linda helped as a motivator, and together they made a list of all the advertising and design companies in Sydney and Melbourne. Then, they jumped on a bus and travelled around the various states, cold-calling companies to make appointments and show their portfolios.
One studio, told them there was a Walt Disney Animation Studio in Sydney and provided them with a name of an animator to call. The call was successful, and an appointment was made. At the interview, they were given a drawing test to complete. This involved drawing not only the classic Disney characters like Mickey, Donald and Goofy, but illustrating a small scenario - for example, a tug of war between Mickey, Donald and Goofy - in three drawings, to tell the story.
Impressed by their artistic skill and creative output, Disney employed both Nick and Linda. It was Nick's 21st birthday, and he spent the next 14 years at Disney as a Layout Artist Supervisor drawing backgrounds and designing camera moves. He worked on many shows including Aladdin 2 and 3, The Lion King 2 and 1.5, Jungle Book 2, Winnie the Pooh, Peter Pan: Return to Neverland, Lady and the Tramp 2, Lilo and Stitch 2: Stitch gets a Glitch, Three Musketeers, Gummie Bears, Darkwing Duck, Goof Troop and Winnie The Pooh. During his time at Disney, he also tied the knot with Linda and had a baby girl, Lily. Disney gave his newborn a huge stuffed Winnie the Pooh Bear!
As the field of visual effects was expanding rapidly, Nick realised it was a career that could be pursued in Australia, with a number of visual effects companies already operating here.  He'd begun to feel that traditional animation was being left behind by the newer CG PIXAR films, and he made the decision to crossover from the traditional hand-drawn animation to computer animation. Nick thought it would be nice to work on some big tentpole films and was offered a job at Animal Logic to work on their first CG Animated Film, Happy Feet. He believed he needed to upskill, and they needed talent. They were basing their animation model on what they knew of PIXAR, and they needed artists like him! He ended up running the Environment Design Department, but alas, after one year, the project was complete, and he needed a new job!
Someone recommended Rising Sun Pictures (RSP) which was located back in his hometown. So when he was back in Adelaide for Christmas holidays, he arranged to meet the CEO at the time, Didier Elzinga.
A few days later, back in Sydney, he contacted RSP's Sydney branch looking for work. He had a chat with a Producer named James Whitlam, who advised they had no position for a concept artist. However, they did need some help with the look of spider webs up-close for the Charlotte's Web feature film. Nick offered to do this for them at no charge. He sent through his completed artwork, and the next day the very impressed CEO called and offered him a job. Nick has been at RSP ever since, clocking up almost 15 years.
At RSP he has contributed to many films: ironically, many of them lately have been Disney shows! One notable show he worked on was Harry Potter and the Half Blood Prince. He designed a lot of original props for the Weasley Wheezes Shop sequence, which were not in the original book. His favourite idea, which appeared in the film, was the miniature dragon roasting chestnuts. The Director loved the idea, but in the end, the prop was too big for the shop set. Not to be deterred, they moved it outside and shot an entirely new sequence around the prop. It was very satisfying for Nick to see that in the movie, and there are now many fan-made Dragon-Roasted Nuts recipes online, all thanks to his little idea!
WHAT DO YOU DO IN YOUR ROLE?
My role is Art Director and predominantly I create concept images for environments, props, creatures and costumes. These images that I or my team create provide either the film's director and VFX supervisor, or our studio, with an idea of what a shot could look like before it goes into full-blown production. During my time here I also have been in various roles including Animation Supervisor, Creative Layout, Creative Lighting Lead as well as Digital Matte Painter.
WHAT MOVIES HAVE YOU WORKED ON?
Happy Feet at Animal Logic, Charlotte's Web was my first film at RSP, then I have touched almost every film RSP has worked on since then! This includes Spider-Man: Far From Home, X-Men: Dark Phoenix, Captain Marvel, Dumbo, Tomb Raider, Thor: Ragnarok, the Harry Potter Franchise, The Hunger Games.... and many more!
WHAT'S THE MOST CHALLENGING TASK YOU'VE FACED?
An old one, but it was shifting from traditional art (DISNEY) to digital (VFX). Mostly because my traditional art was quite stylised and cartoony and the work I needed to do digitally was hyper-real.
WHAT CHANGES WOULD YOU LIKE YO SEE IN THE INDUSTRY?
It changes all the time, I don't think I need to add to that snowball effect
WHAT DO YOU ENJOY THE MOST ABOUT WORKING IN THE VFX INDUSTRY?
Having an opportunity to leave a little bit of your own influence in a medium that could be viewed by so many people around the world for many years to come. Kind of a legacy.
FAVOURITE MOVIE YOU HAVE WORKED ON? 
Harry Potter and the Half Blood Prince.
WHAT DO YOU ENJOY THE MOST ABOUT WORKING AT RSP?
The variety of work and the everyday challenges it can hold.
WHAT DO YOU ENJOY THE MOST ABOUT LIVING IN ADELAIDE?
Family, fresh air, amazing beaches, the ease of getting around, the price of real estate. My kid can grow up in a similar environment to the one I grew up in.
WHAT ARE YOUR INTERESTS / HOBBIES?
Motorcycles, Gym, ZBrush, Bushwalks, Gardening
TELL US SOMETHINGS ABOUT YOURSELF THAT WE DON'T KNOW?
I was adopted. Unfortunately, it wasn't by monkeys as most people have been led to believe and I don't have a fancy estate waiting for me back in England.
FAVOURITE MOVIE
If it's one it's Star Wars - A New Hope.
FAVOURITE DRINK
Water, even Adelaide water cause I'm hard core.
CRAZIEST THING YOU HAVE DONE
Did some sky diving and jumped from a perfectly good plane. None of that tandem stuff – that's for wusses.
SUPERPOWER OF CHOICE AND WHY
The ability to inhale ALL of humanity's carbon dioxide emissions and turn it into oxygen: "Synthesis Man".
Why? 'Cause I'd look wicked in green tights.
IF YOU COULD MEET ANYONE AT ALL, WHO WOULD IT BE AND WHY?
David Attenborough. 'Cause the dude is a Legend!
PHOBIA
Not sure I have any. Not fond of large hairy spiders but fine with the smoother smaller ones.
WHAT THE WORLD NEEDS NOW IS….
TREES or I'm gonna put those tights on and nobody wants to see that!
ADVICE TO ASPIRING ARTISTS
Push yourself and be your own worst critic.
More
14.06.2022

BAZ LUHRMANN'S ELVIS DAZZLES

09.06.2022

The Fuse Group acquires Madrid-based El Ranchito

13.05.2022

RSP delivering Graduate Certificate in FX and Lighting in Brisbane