Staff Profile: Victor Glushchenko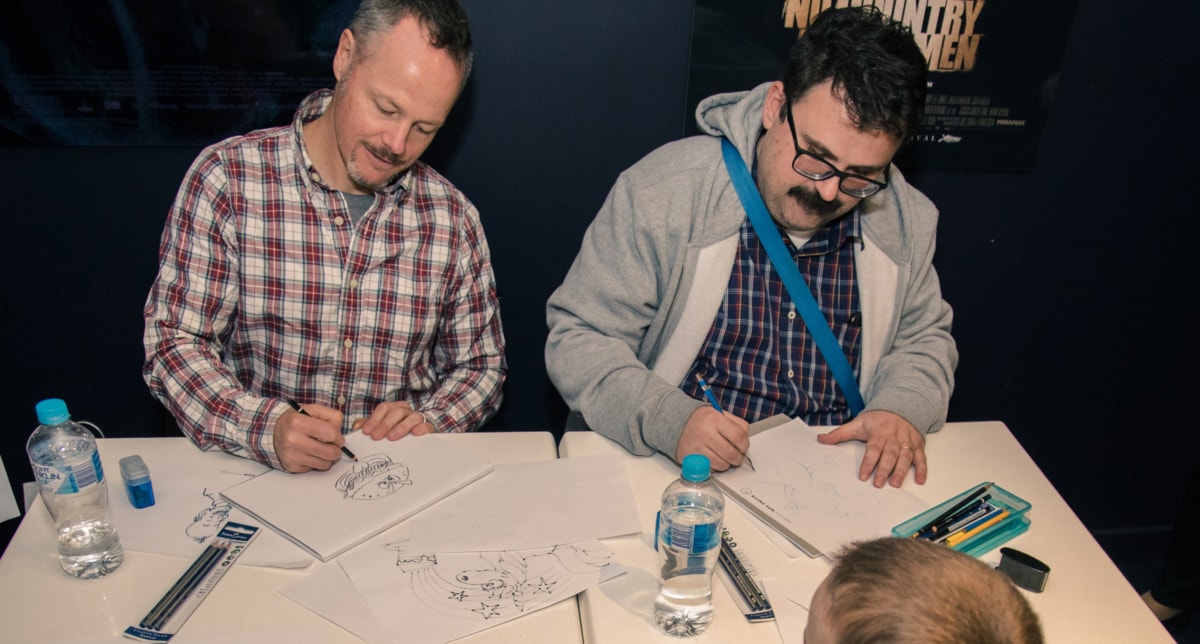 VICTOR GLUSHCHENKO
Disney's 1937 'The Clock Cleaners' starring Mickey Mouse, Donald Duck and Goofy inspired a four year old Russian boy to dream big and believe anything was possible.
As a child, Victor Glushchenko sat in the lounge room of his Chelyabinsk home and watched in awe as the Disney's short film flickered and danced across his tv screen.  He loved the animation, and for it's time, it had some ground-breaking background design.
It was his infatuation with this 2D short film which fuelled his passion for drawing. He would spend hours sketching. By the fourth grade, he knew he wanted to be an animator. Victor would imagine he was working on his own film and would do many sketches of characters, using any material for reference that he could find in magazines. Once he found a small picture of Disney's Snow White and the Seven Dwarfs in an old soviet scientific magazine. The picture was about 3 cm high and it contained all the main characters. He studied it with magnified glass for years, using the dwarf models as reference.
As the years passed, Victor shifted towards digital designs. Using various software programs, he became self-taught in their use. Using his creative skills, Victor ventured down the path of graphic design and worked in various rolls. At 24, he secured a job as a graphic designer in a small advertising company in Chelyabinks where he remained for three years. However, he never gave up on his animation dream. In 1999 Victor, a person who did not travel too far from home, moved halfway across the world to Australia!
With his dream in sight, he enrolled in a Hamilton Secondary course in Multimedia. Upon completing the course, Victor's teacher introduced him to RSP founder Wayne Lewis who, impressed by his 2D animation, gave him the opportunity to try his skills in 3D animation. He never thought of becoming a 3D animator, he didn't believe he had enough technical skills, but because he dreamed of becoming a 2D animator since a young boy, he thought why not give it a go!
Victor has been a dedicated RSP animator for 13 years and has excelled in his role, earning him the title of Head of Animation. He dared to dream, and his childhood dream came to fruition.
WHAT DO YOU DO IN ROLE?
I am head of the animation department at RSP. I make sure animators have all the information and data they require to deliver their shots and on time. I also mentor juniors and new artists, helping them to understand the RSP pipeline and ensure they follow the correct production steps.
WHAT MOVIES HAVE YOU WORKED ON?
Since starting at RSP I have worked on several titles including Charlotte's web, Harry Potter 6, 7 and 8, Terminator 4, Hunger Games, Gravity, X-Men franchise , Wolverine 2 and 3 and others. In all projects, I worked as an animator.
WHAT'S THE MOST CHALLENGING TASK YOU'VE FACED?
The most challenging task was on X-men: Days of Future Past. This was the first project I had to animate in real 3D stereo. The animation itself was simple, but dealing with stereo brought some specific problems I had not experienced before.
WHAT CHANGES WOULD YOU LIKE YO SEE IN THE INDUSTRY?
I have not really thought about what changes I'd like to see in the industry, however it is quite intriguing to watch how the industry changes over time.
WHAT DO YOU ENJOY THE MOST ABOUT WORKING IN THE VFX INDUSTRY?
The most enjoying part of my job is bringing to life creatures, characters, or objects. Even animating a submarine or a space station explosion has its own challenges and requires artistic touch in order to make them look like real-life. It is our goal to produce work that makes people believe that they are real and not just empty pixels projected on the screen.
FAVOURITE MOVIE YOU HAVE WORKED ON?
My favourite movie that I have worked on to date is Dumbo. I had lots of fun working on this project.
WHAT DO YOU ENJOY THE MOST ABOUT WORKING AT RSP?
Being given the opportunity to help a Director realise their vision. For Dumbo, we were responsible for the key bubble sequence and were required to provide pre-vis to the director, Tim Burton. I was able to use my traditional skills and hand sketch the sequence for him.  As for the end result.... you will have to watch the movie to see our spectacular work!
WHAT DO YOU ENJOY THE MOST ABOUT LIVING IN ADELAIDE?
I think Adelaide is a town frozen in time. I like how quiet and clean it is. I like how quiet it is in the morning when I come to work. Some city's don't ever go to sleep, Adelaide is not like that. Also Adelaide is surrounded by quintessential Australian places (like Kangaroo Island) and historical sights (like Old Talem Town, or Bura). The sand on the beaches is clean and the water is warm. How can one not love this city?
WHAT ARE YOUR INTERESTS / HOBBIES?
I like reading books, watching old cartoons and silent comedy shorts. Sometimes I do a bit of drawing.
TELL US SOMETHINGS ABOUT YOURSELF THAT WE DON'T KNOW?
There is nothing else to tell. You know everything about me.
FAVOURITE MOVIE
There are so many of them. My favourite animation short that I love to watch again and again is 1937 Disney's "The Clock Cleaners" featuring Mickey Mouse, Donald Duck and Goofy. It is a hilarious short film with great animation and some ground-breaking background design. The feature film that I watch at least once a year is 1967 Disney version of Jungle Book. The story is nowhere near of the Kipling's original Jungle Book, but the animation and the music is great.
FAVOURITE DRINK
Recently I have discovered French Breakfast Tea by Mariage Freres. I cannot drink any other tea anymore. No sugar, no milk please.
CRAZIEST THING YOU HAVE DONE
I am not a person who likes to travel much, so moving to Australia was definitely the most craziest thing I have ever done.
SUPERPOWER OF CHOICE AND WHY
I wish I could read books very fast in their native languages and remember them all, because books are the portals to different dimensions.
IF YOU COULD MEET ANYONE AT ALL, WHO WOULD IT BE AND WHY?
There are lots of famous and not so famous people I would like to meet, but I am afraid I will not be able to provide them with the quality of the conversation that they deserve. However, I would really like to meet two of my grandfathers. I would love to find out more about them and their parents, because right now I know almost nothing about my ancestors.
PHOBIA
I am afraid that one day I will not be able to deliver my shot.
WHAT THE WORLD NEEDS NOW IS….
The World is way too big for anyone to know what it needs. Perhaps it needs what it gets.
ADVICE TO ASPIRING ARTISTS
You can find advice and tips everywhere - online and in literature, so it is hard to give something new. Remembering myself 30 years ago, I cannot think of any advice that I would have listened to! Nevertheless here is one advise from me:  do not be afraid of making mistakes, and do not be afraid of making mistakes more then once. Sometime people say: you can make mistake once, but if you do not learn from it, and you repeat the same mistake again then you are "so and so". But I think if it takes that long for you to learn then so be it.
More
13.05.2022

RSP delivering Graduate Certificate in FX and Lighting in Brisbane

12.05.2022

Junior Administration Assistant Traineeship

27.04.2022

Passing the Torch