Rising Sun Pictures Springs into Action for Fox's "Alita: Battle Angel"
Studio teams with Weta Digital for new film's lunar battle and zero-gravity training sequences.
Rising Sun Pictures' ability to deliver amazing visuals is on full display in the 20th Century Fox's new cyberpunk adventure film Alita: Battle Angel. Working in tandem with Weta Digital, the lead visual effects studio, RSP created breathtaking shots for two key sequences in the film, including a furious battle between soldiers from Earth and fearsome cyborg warriors known as Berserkers.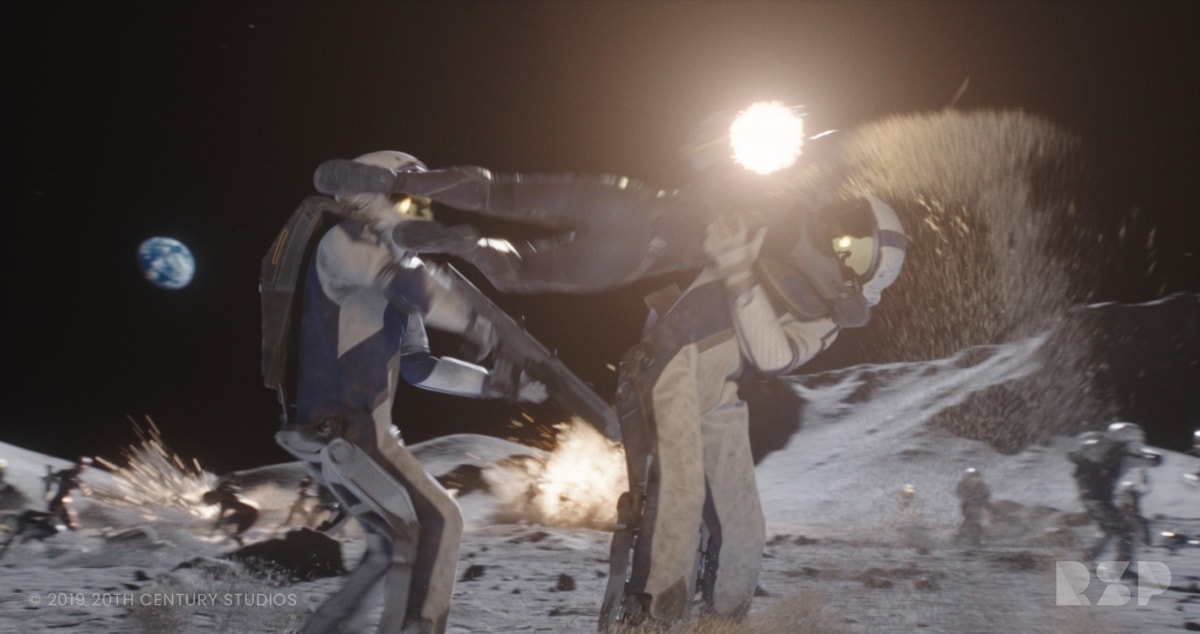 Directed by Robert Rodriguez and co-written and produced by James Cameron and Jon Landau, Alita: Battle Angel centers on a young woman (Rosa Salazar) on a journey to discover the truth about who she is. Produced natively in stereoscopic 3D, the film is based on the best-selling manga series from Yukito Kishiro.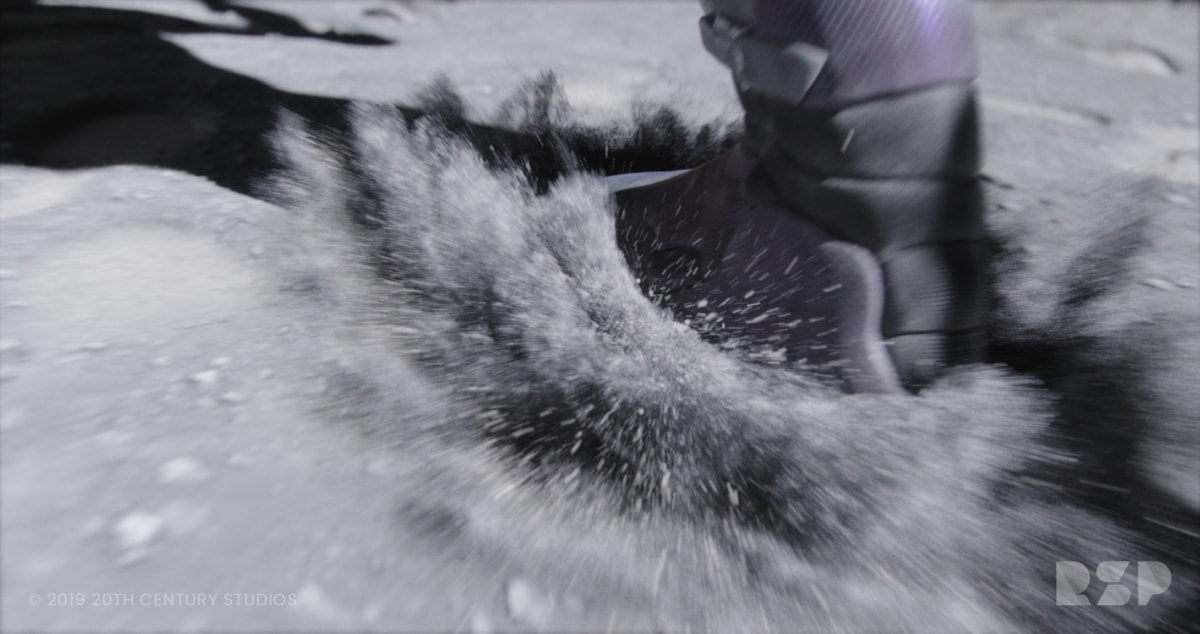 Weta Digital VFX Supervisor Charlie Tait and VFX Producer Kevin Sherwood, collaborated with Rising Sun Pictures on the moon battle sequence as well as a second, equally complex sequence set inside a translucent satellite used to train cyborg fighters in zero gravity. For the former, RSP produced the lunar environment as well as spacecraft, weaponry and pyrotechnics, and integrated Alita and hero CG characters provided by Weta Digital. Although fully CG, the sequence looks photoreal with the moon environment rendered in precise detail and the action, including explosions and clouds of debris, calibrated to conform to real conditions.
"We made the scene as accurate to real physics on the moon as possible. We replicated one-sixth gravity and no atmosphere, so when explosions occur, debris flies directly out and much farther than it would on Earth." RSP VFX Supervisor, Tom Wood.
Integrating falling debris with the scene's dozens of CG characters, all engaged in combat, was a formidable task. "To make the lighting and the swirling dust work properly, we created proxies of many characters, using curves and specs provided by Weta," says Wood. "Our compositors employed every trick in the book."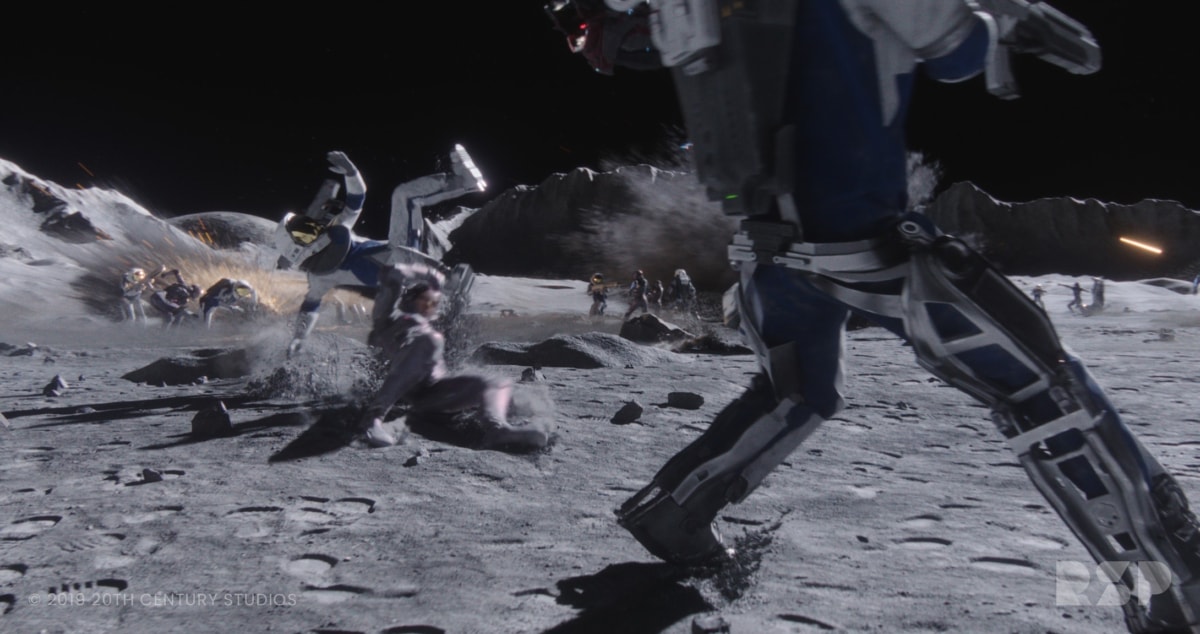 Achieving a seamless, believable and exciting sequence required unusually close collaboration between RSP and Weta Digital. The animation and effects underwent continuous refinement from the initial phases of production through final delivery. As a result, assets were in constant need of updating or replacement. "We did a lot of testing in the early stages to ensure the smooth sharing of assets and renders," recalls 2D Lead Jess Burnheim. "By the time shots arrived in compositing, the pipeline was so well-honed that the process was seamless."
The training sequence was produced in a similar manner with Weta Digital artists creating the characters and RSP focusing on the spherical, satellite, high-tech props and atmospheric effects. "Weta supplied a model of the training facility as well as the camera data," says Wood. "We took their setups, developed their assets and integrated Alita and her instructor who are training with swords."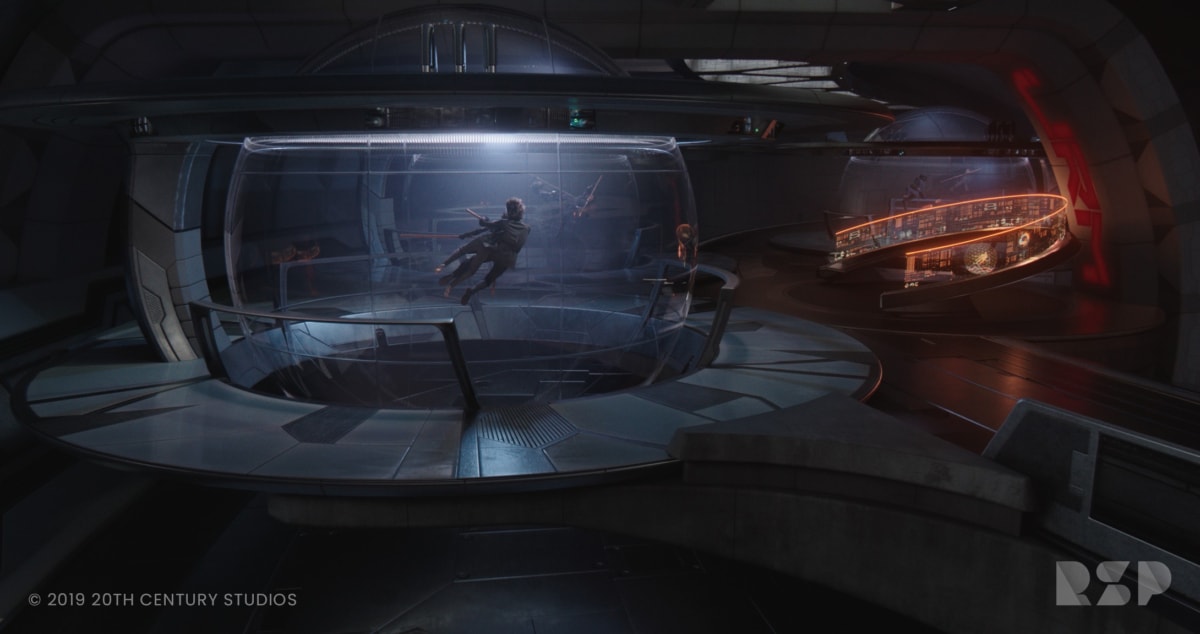 In this instance, the team had to simulate zero gravity, making characters and props appear to float freely in the translucent globes. "The weightless effect was keyed off of the animation and hair simulations from character work at Weta," says Burnheim. "We enhanced it by creating an environment that is clean and clinical, with subtle light flares adding realism. We gathered reference material of other zero-gravity environments and studied how light reacts to edges and strands of hair, how it makes highlights bloom."
Again, there was considerable back-and-forth between the two facilities. "We maintained a shared schedule and shared targets," notes VFX Producer Arwen Munro who joined RSP from Weta Digital last year. "That allowed both sides to track progress as we moved forward from work-in-progress and temp phases. The key was keeping lines of communication open and transparency in scheduling and targets. It went smoothly and we are very proud of the resulting images."
With sharing shots becoming increasingly in common, it's important that facilities know how to align their pipelines and work cooperatively toward a common goal. "Working with Weta was a very positive experience from the start," notes Wood. "There was a lot of commentary and things that needed to be changed right up to the last minute, but it was a very smooth run. We had a great time."
CREDITS + CREW
Producers
JAMES CAMERON AND JON LANDAU
Rising Sun Pictures
AANIKKA HOLDER
ABBY NATH
ABHISHEK PANDEY
ADAM POTTER
ADVAIT KAMBLE
ALANA NEWELL
ALBERT RADOSEVIC
ALEX MEDDICK
ALEXANDRA DAUNT WATNEY
ALYSSA BLACKWELL
ANDREA DUTTI
ANDREW PALMER
ANDREW SAVCHENKO
ANDY PEEL
ANG LU
ANIL REDDY CH
ANNA HODGE
ANNETTE CINNAMOND
ANTHONY SMITH
ANTHONY WINTER
ANTO BOND
ARTHUR MOODY
ARTHUR TERZIS
ARWEN MUNRO
ASHLEIGH WHITE
BEN DICKSON
BEN PASCHKE
BENJAMIN HOLEN
BENJAMIN KAY
BHAWNA VIJAY
BRICE LEHMANN
BRITTANY HERRIMAN
BRODIE MCCROSSIN
CAITLYN THOMAS
CARA GATELY
CARL ST-PIERRE
CARLOS DONIS LEMUS
CELIA CLENNETT
CHANTELLE SEARLE
CHELSEA MIRUS
CHRIS KING
CHRIS ROSENHAIN
CHRISTINA RZEWUCKI
CHRISTOPHER JANSSEN
CLAIRE HOEY
CLAIRE LE TEUFF
CORINNE TENG
CRAIG FIELD
CRYSTEL NEWMAN
DALLY GARCIA
DAMIAN DOENNIG
DANIEL HARKNESS
DANIEL STEART
DANIEL VELIKOV
DANIEL WILLS
DANIELLE CARDELLA
DAVID BEMI
DAVID CATTERMOLE
DAVID CAUNCE
DAVID PEKAREK
DAVID SCHULZ
DEMIAN ASTUR
DENNIS JONES
DILEN SHAH
DIPESH V. PALAN
DYLAN BINNS
ELEISHA FRANCIS
EMMA THOMPSON
FABIAN HOLTZ
FLORENT REVEL
FRANCESC DONAIRE
FRANCESCA JOCELYN MILDE
GAIL FULLER
GARETH ERIKSSON
GEMMA WOOD
GEOFF ALLAN
GEOFFREY HADFIELD
GEORGIE BROWN
GILLIAN HOWE
GREG WIEDER
GUIDO WOLTER
HANG LI
HAO TRUONG
HARRY MEDLIN
HARSHAL PATIL
HEATH DINGLE
HUI-WEN WU
IAN COPE
ILONA BLYTH
IVY LI
JAMES CLIFT
JAMES MACDOUGALL
JAROLSAVA CHALASOVA
JASON SCOTT
JAYDEN BEVERIDGE
JEBB NG
JENNIE ZEIHER
JESS BURNHEIM
JOEL MICHAEL
JOHN SALEEM
JOHN TOTH
JONATHAN BLIESCHKE
JONATHON MCKENDRICK
JONATHON SUMNER
JONO COY
JORDAN VANDERLINDEN
JOSE PEREZ-LAORGA FERNANDEZ
JOSEPH ROBERTS
JOSH ELLEM
JOSHUA GOETZ
JOSIP PETERKOVIC
JULIA CAPLIN
JULIAN HUTCHENS
JULIEN CIMINO
JULIEN TATON
JULIETTE CHRISTIE
JUSTIN GREENWOOD
KATE BERNAUER
KATHY CONSTANTIN
KIAN ZAND
KIERAN OGDEN-BRUNELL
KIRSTY PARKIN
KURT DEBENS
LACHLAN TOLLEY
LACHLAN TOLLEY
LEIAH SEARS
LIAM GARE
LU, TING YUN
LUAN NGUYEN
LUKE FLANAGAN
MALTE SARNES
MANUJ BASNOTRA
MARC H LANGBEIN
MARCUS WELLS
MAREE FRIDAY
MARIE-EVE GELINAS
MARK HONER
MARK STORY
MATEUSZ KRZASTEK
MATHEW MACKERETH
MATTHEW SHAW
MAUDE DESCHENES
MEAGAN CHANCELLOR
MEHERZAD MINBATTIWALA
MERINDA JANSE VAN RENSBURG
MICHAEL FURNISS
MICHAEL JOHNS
MICHAELA DANBY
MOHAMED LABBAI
NAEEM CHUDAWALA
NATHAN JONES
NATHAN PERKINS
NATHAN ZEPPEL
NICK BEINS
NICK PILL
NIK SLOTIUK
NIKHIL KAMBOJ
NIKHIL SHANKAR-NOBLE
NOAH VICE
NOEMIE CRUCIANI
OLEG MAGRISSO
OWEN WILLIAMS
PARIKSHAT TYAGI
PARIS DOWNES
PAUL BOYD
PAUL TAYLOR
PETER MCINULTY
PETR ROHR
PHILLIP FRASCHETTI
POL CHANTHASARTRATSAMEE
QAZI HAMZA JAVED
RAJBIR S DHALLA
REBECCA BOGART
ROBERT BEVERIDGE
ROBERT JUNGGEBURT
ROBERTO VELIO GENITO
ROBIN REYER
RODRIGO GUERECHIT-RATTI
ROLAND DOBSON
ROSS NOVAK
RUSHIKESH JOSHI
RYAN KIRBY
SAMANTHA ABDA
SAMUEL HANCOCK
SAMUEL HECHT
SAMUEL HODGE
SANDEEP ROY
SARA HENSCHKE
SARAH BENEKE
SARAH FOURNIER-NEVEU
SEBASTIAN TRAN
SHANE BERRY
SHANE MIRANDA
SHAWN MCCARTEN
SIMON MALESSA
SIMON WALSH
SITHIRISCIENT KHAY
SOPHIE ELDER
STEPAN PAZDERKA
SUMMER SWANSON
SVEN LUNDIN
THOMAS BAXTER
TIM CROSBIE
TIM MACKINTOSH
TIMOTHY QUARRY
TOM WOOD
TONY CLARK
TROY TOBIN
TUREA BLYTH
TUREA BLYTH
USAMA FNU
VAHAN SOSOYAN
VICTOR GLUSHCHENKO
VITALII STADNYK
WAYNE HOLLINGSWORTH
WAYNE HOWE
WAYNE LEWIS
WENDY NETHERCOTT
ZAC COSTER