Rising Sun Pictures' Takes Flight with Sony Pictures' "Peter Rabbit"
Studio's character animation team creates a frantic rooster and a troupe of crooning sparrows for hybrid children's movie.
A co-production of Sony Pictures Animation and Animal Logic, Peter Rabbit reimagines Beatrix Potter's timeless children's story of a mischievous bunny through an astonishing blend of digital animation and live action. Peter, his sisters Flopsy, Mopsy and Cotton Tail, and their friends appear with precise furry and feathered photo-realism and interact naturally with human actors in this sweet tale about love and nature.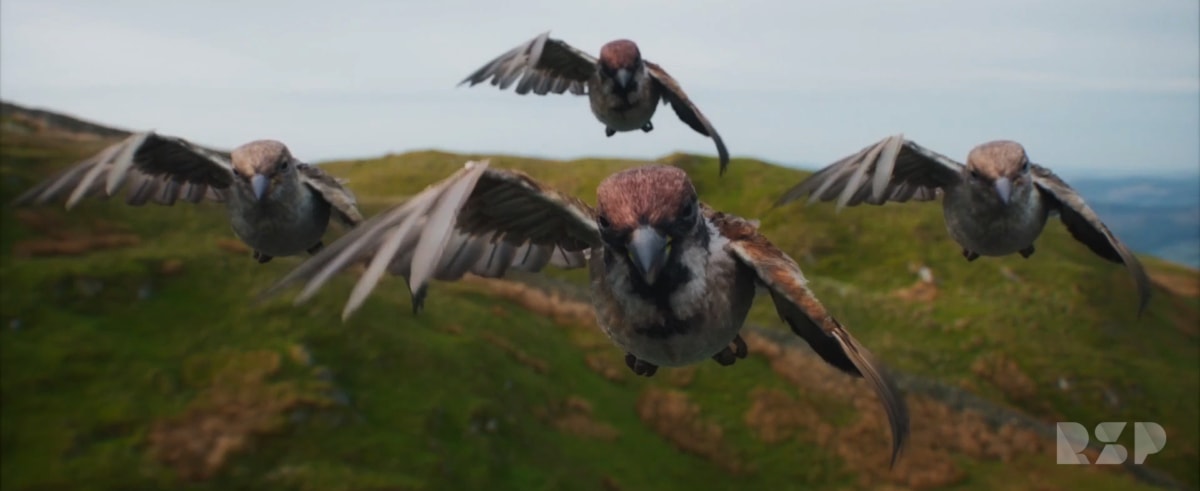 Rising Sun Pictures was an integral part of the film's visual effects and animation team, contributing more than 150 shots to the kid-friendly fun. The work of studio's character animators is especially noteworthy as they were charged with bringing key members of the film's supporting cast to life: a rooster who shocks the barnyard with his over-the-top morning crows, and a quartet of singing sparrows.
"We've done creature work on several recent projects with excellent results, but this was an opportunity to create real characters with big personalities." RSP VFX Supervisor, Dennis Jones.
Dennis Jones, who led "RSP's team says "They appear in quirky, one-off moments with a lot of story impact. Our artists went to town on it." RSP worked under the direction of a production team that included VFX Supervisor Will Reichelt, VFX Producer Jason Bath, Associate Producer Monette Dubin and VFX Supervisor Consultant Scott Stokdyk.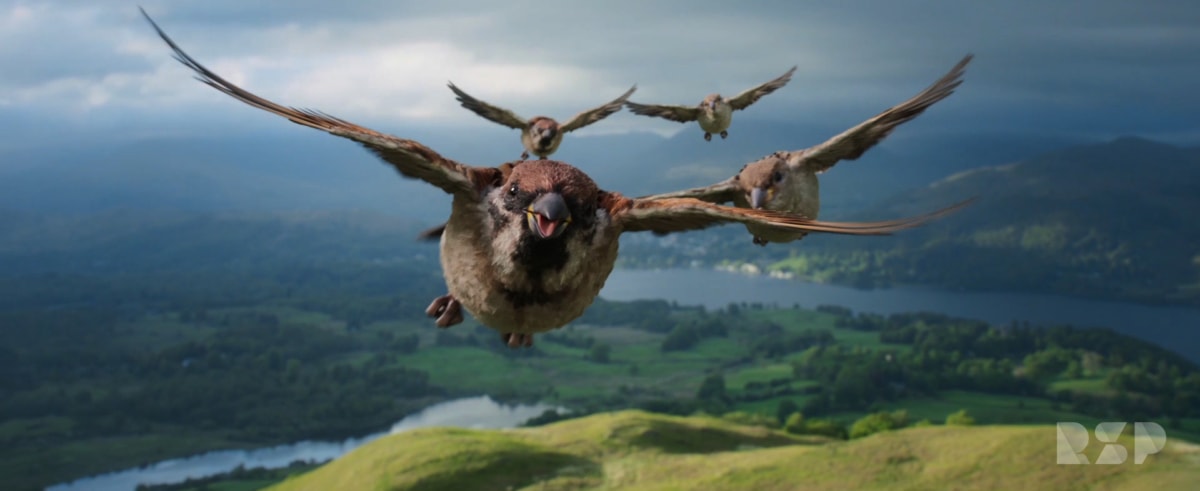 The character animation involved a delicate balancing act. While the rooster and the sparrows needed to look like their real-world counterparts, they had to behave a lot like humans. The rooster, for example, appears birdlike as he struts through the barnyard, yet inwardly, he is a troubled soul obsessed with the responsibilities of fatherhood and the daily appearance of the sun. His anxieties become apparent the moment he opens his beak.
Finding the sweet spot between fowl and fellow proved tricky. "When we were presented with the brief, we wondered about the tone," explains Jones. "How far should we push the lip sync? If we break too much from natural bird movement, he becomes humanized. So, we ended up somewhere in the middle. We used a bit of a beak-sync and added gesticulation into the wings as a way of punctuating his 'speech.'"
Peter Rabbit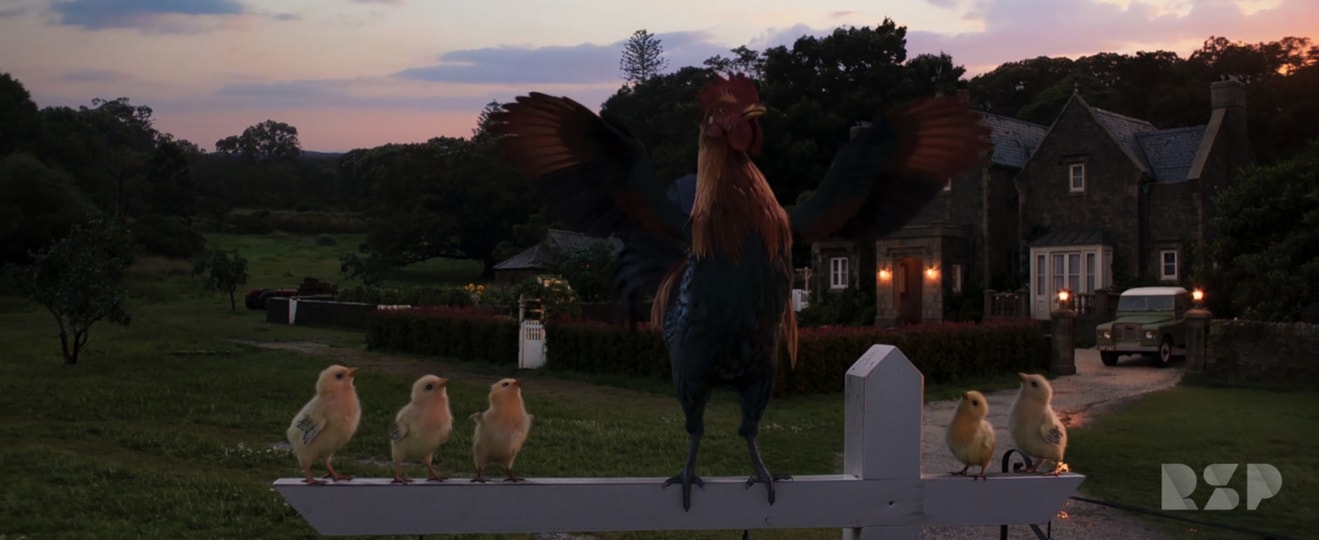 The sparrows were more complicated. The birds form a harmonizing quartet with the ability to mimic an array of styles from pop to hip-hop. They first appear in the film's opening title sequence, and again at several later points, each time performing intricate choreography while singing and soaring through the sky.
Jones notes that RSP's team of artists spent a lot of time studying bird behavior and worked to adapt them to dance movements. "Our first task was to achieve a good match to real birds—tousled feathers and lots of other details," he recalls. "Then we had to think about performance. We had to work out how to have them flying while making hip-hop gestures—and keep it believable.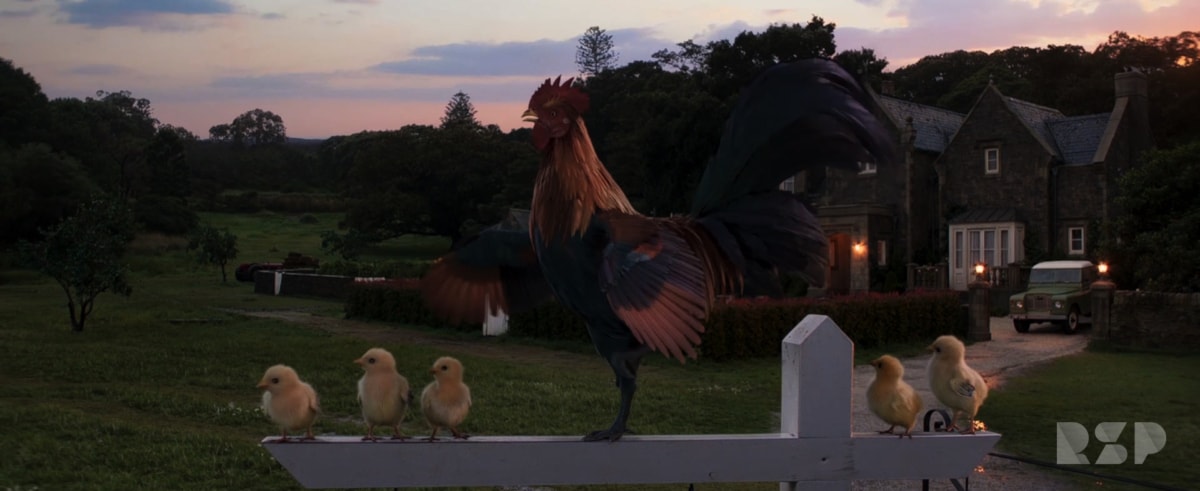 RSP's work wasn't only about birds. Artists provided digital environment extensions for more than 80 shots to make exterior skies and landscapes resemble verdant English countryside. They also applied their pyrotechnic skills to a scene involving exploding sticks of dynamite, and created a digital tree that crashed onto the roof of a house.
The RSP team worked closely with Animal Logic throughout the project to ensure their visual effects and animation elements were consistent with the other parts of the film.
Ultimately, Jones was very pleased with the results produced by the team "We enjoyed the journey and breathing life into these characters" he says "We had a lot of fun."
Like the Rooster, we're always excited that the day starts with the Rising Sun.
CREDITS + CREW
VFX Supervisor Consultant
Rising Sun Pictures
AARON PATRICK STEWART
ADAM KLEIN
ADAM POTTER
AGATHE COURTISSE
ALANA NEWELL
ALBERT RADOSEVIC
ALEX MEDDICK
ALWYN A HUNT
ANDREAS STEINLEIN
ANDREW PALMER
ANDREW SAVCHENKO
ANDY PEEL
ANIL REDDY CH
ANNA HODGE
ANNE VU
ANTHONY SMITH
ANTO BOND
ARTHUR MOODY
ASHLEIGH WHITE
BALAJI K.P.
BEN DICKSON
BEN PASCHKE
BENJAMIN HOLEN
BENJAMIN T. KAY
BHAWNA VIJAY
BRITTANY HERRIMAN
BRODIE MCCROSSIN
BRYN BAYLISS
CAMERON VAN DEN BESSELAAR
CARA GATELY
CHELSEA MIRUS
CHRIS KING
CHRIS ROSENHAIN
CHRISTINA RZEWUCKI
CHRISTOPHER JANSSEN
CLAIRE KEARTON
CORINNE TENG
CRAIG FIELD
CRYSTEL NEWMAN
DAMIAN DOENNIG
DANIEL THOMPSON
DANIEL VELIKOV
DANIEL WILLS
DAVID CAUNCE
DENNIS JONES
DILEN SHAH
DYLAN BINNS
ELIZA SCOTT
EMMA HILDESTRAND
FLORENT REVEL
FRANCESCA JOCELYN MILDE
GAIL FULLER
GEMMA WOOD
GILLIAN HOWE
GREG WIEDER
HANG LI
HAO TRUONG
HARRY MEDLIN
HARSHAL PATIL
HEATH DINGLE
HUBERT MASTON
IAN COPE
JAMES TAVET
JENNIE ZEIHER
JESS BURNHEIM
JESSE MELER
JOEL MICHAEL
JOHN SALEEM
JOHN TOTH
JOHN VAN DER ZALM
JONATHAN BLIESCHKE
JONATHON MCKENDRICK
JONO COY
JORDAN VANDERLINDEN
JOSEPH ROBERTS
JOSH ELLEM
JOSHUA GOETZ
JOSIP PETERKOVIC
JULIA CAPLIN
JULIEN TATON
JUSTIN GREENWOOD
KATHY CONSTANTIN
KIRSTY PARKIN
KURT DEBENS
LACHLAN TOLLEY
LUAN NGUYEN
MARCUS WELLS
MAREE FRIDAY
MARK DAY
MARK HONER
MARK STORY
MATHEW MACKERETH
MATTHEW SHAW
MEAGAN CHANCELLOR
MERINDA JANSE VAN RENSBURG
MICHAEL FURNISS
MICHAEL JOHNS
NAEEM CHUDAWALA
NATHAN JONES
NATHAN ZEPPEL
NICK BEINS
NICK PILL
NIK SLOTIUK
NIKHIL SHANKAR-NOBLE
NOAH VICE
NONIS NICOLE
PARIKSHAT TYAGI
PARIS DOWNES
PAUL BOYD
PAUL KIRWAN
PAUL TAYLOR
PETER MCINULTY
PETR ROHR
QAZI HAMZA JAVED
RAJBIR S DHALLA
REBECCA BOGERT
REBECCA WELLS
ROB HAMILTON
ROBERT BEVERIDGE
ROBERTO VELIO GENITO
ROSS NOVAK
RUSHIKESH JOSHI
RYAN HENISER
RYAN KIRBY
SAM HANCOCK
SAMUEL HANCOCK
SAMUEL HODGE
SANDEEP ROY
SARA HENSCHKE
SARAH BENEKE
SHANE AHERNE
SHANE BERRY
SHAWN MCCARTEN
SIMON MALESSA
SIMON WALSH
SITHIRISCIENT KHAY
SPYRO POLYMIADIS
SUBHASISH SAHA
THOMAS CANT
TIM MACKINTOSH
TONY CLARK
USAMA ZEBA GHUFRAN
VERITY COLYER
VICTOR GLUSHCHENKO
WAYNE HOWE
WAYNE LEWIS
WENDY NETHERCOTT