Rising Sun Pictures weaves invisible magic for marvel studios blockbuster "Black Widow"
Studio kicks into overdrive to deliver 100+ shots for super hero saga.
Adelaide, South Australia—27 July 2021 — The first film in Phase Four of the Marvel Cinematic Universe, Black Widow stars Scarlett Johansson as former Russian spy turned super hero Natasha Romanoff. Set before the events portrayed in Avengers: Endgame, the film follows Natasha as she reunites with family members to take on a dark threat posed by a villain known as Taskmaster.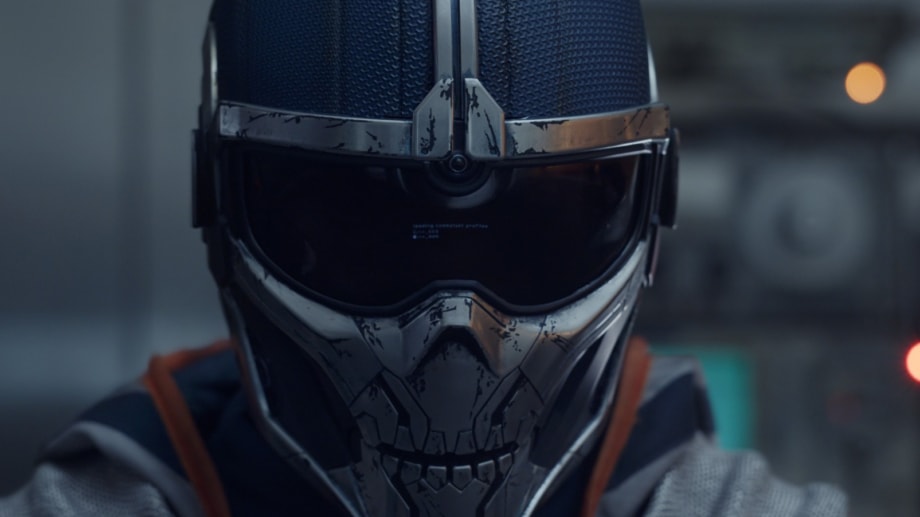 Rising Sun Pictures (RSP) was enlisted to apply its touch to several notable sequences from the film itself, ultimately delivering more than 100 shots over the course of just six weeks. RSP has contributed to several previous Marvel Studios productions, including Captain Marvel and Thor: Ragnarok, but Black Widow marked its first collaboration with Director Cate Shortland, Visual Effects Supervisor Geoffrey Baumann and VFX Producer Lisa Marra.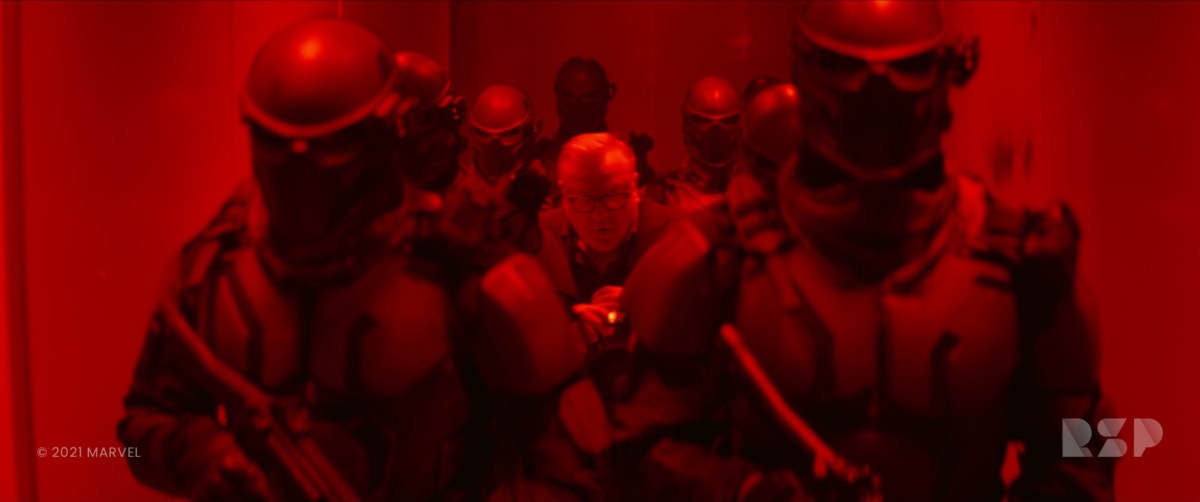 Joining the production at a relatively late stage, RSP had to ramp up and rapidly begin delivering finished work. "We're agile," says RSP VFX Supervisor Dennis Jones. "Our approach toward show set-up is hands-on and flexible. We adapt quickly to the needs of the project. This show required intricate compositing and 3D tracking work, something we're very experienced at, so the short turnaround was not an obstacle."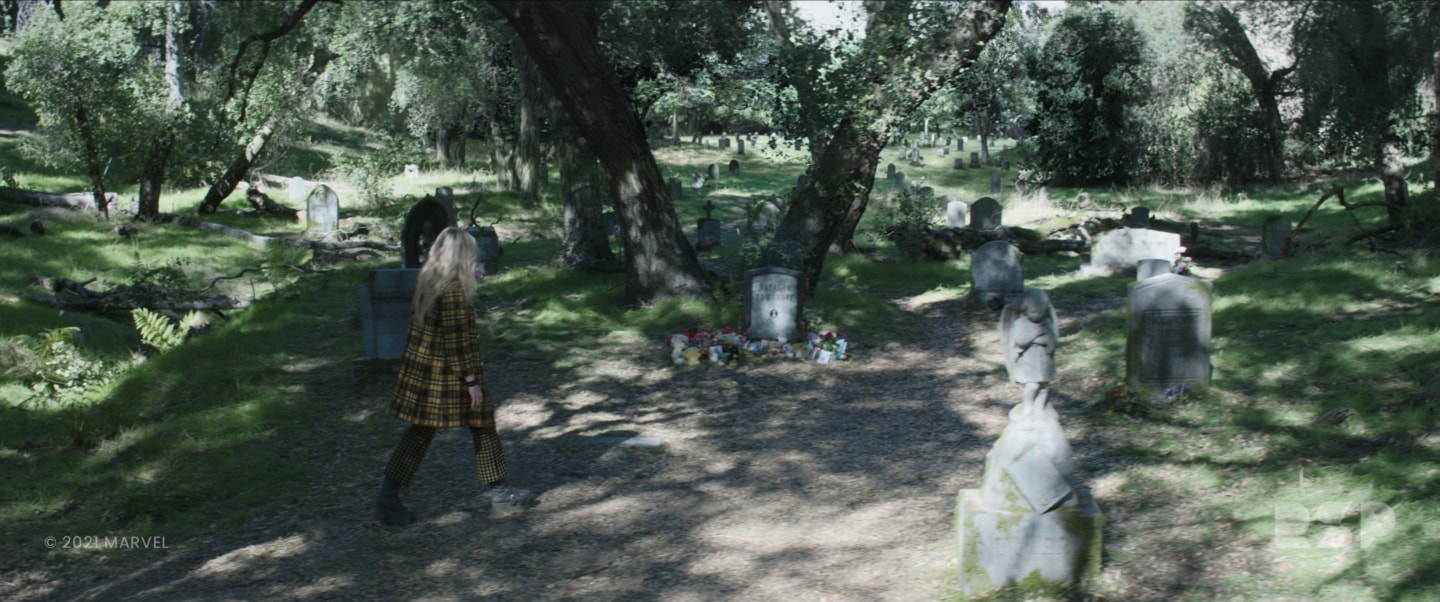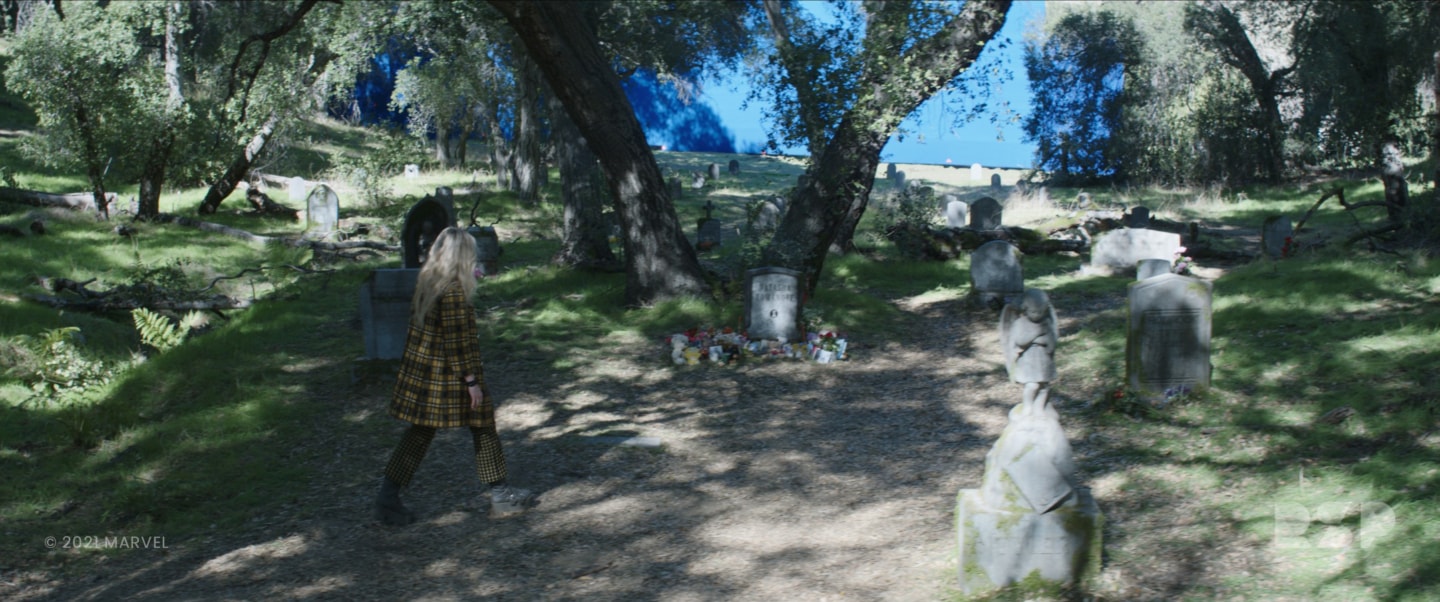 A significant portion of RSP's work centered on a sequence set in a Budapest restaurant where Natasha talks with her sister Yelena (Florence Pugh), while tending to a wound she's suffered. Several shots were added to the scene in post-production with the actresses shot on a blue screen stage and composited into the background. To ensure the new material cut seamlessly with location shots, RSP compositors reconstructed the restaurant environment from elements drawn from the original photography and integrated the talent.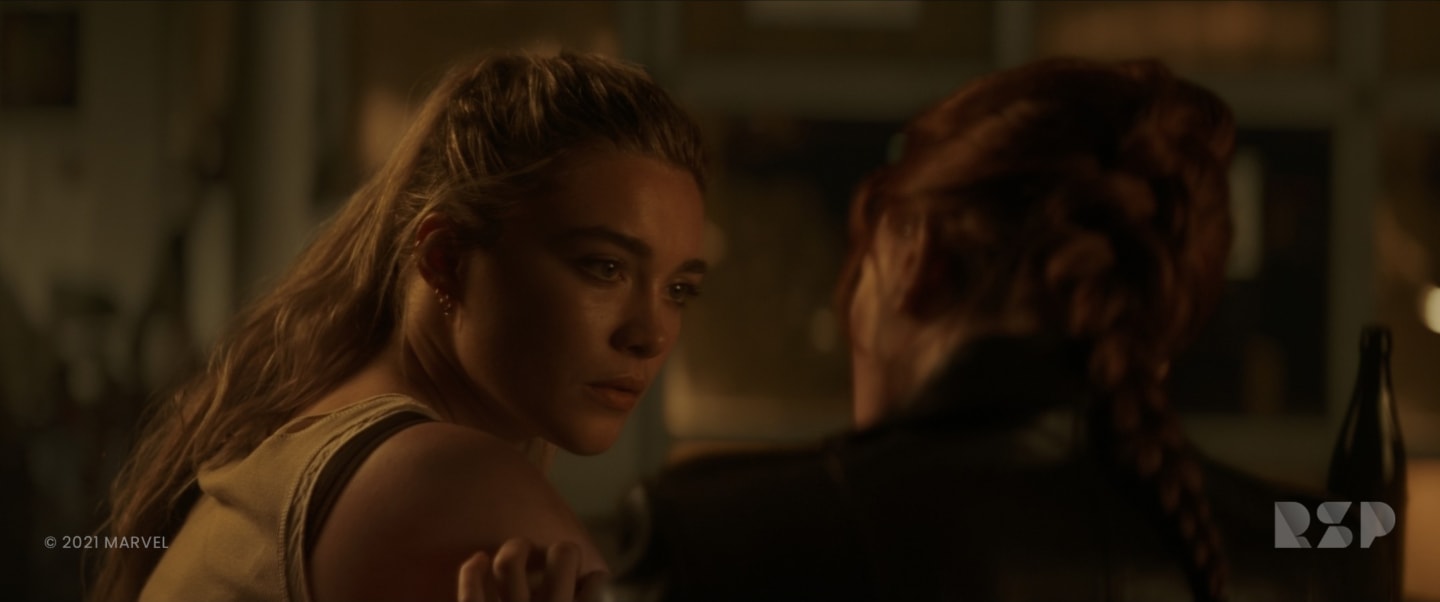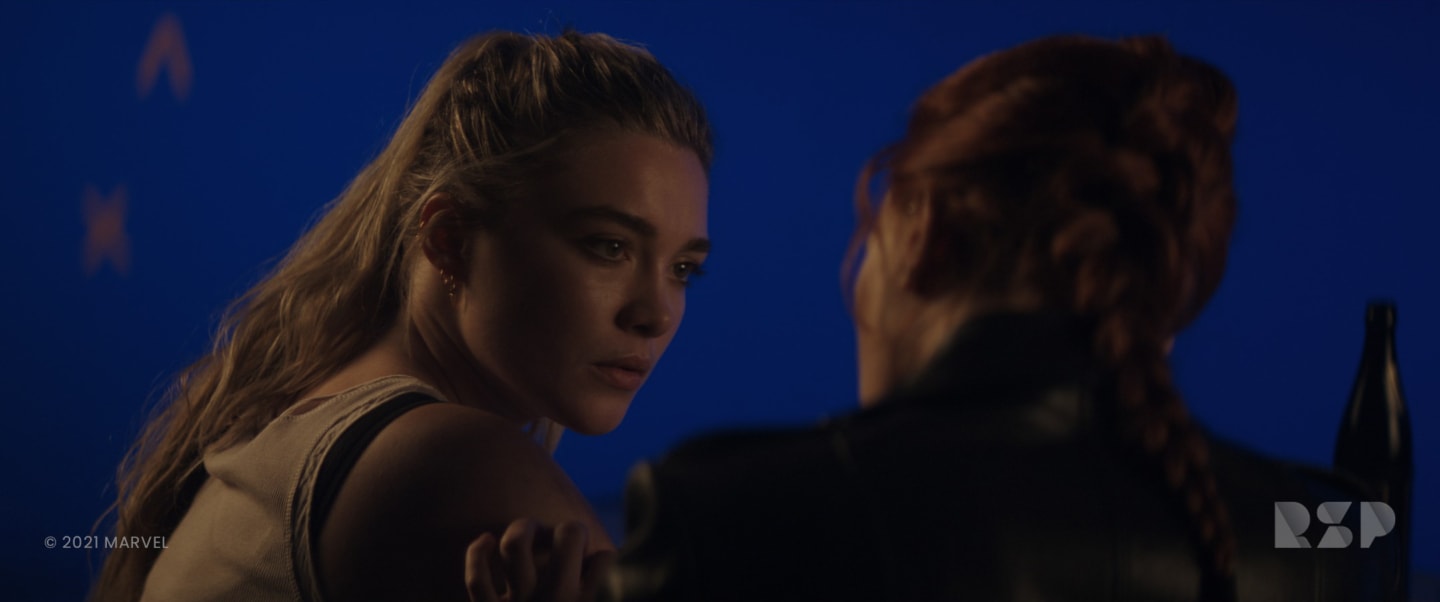 The complexity of the background, camera movement and action made for challenging work. "The restaurant and panoramic views of the city had to be precisely rebuilt from multiple angles," explains VFX Producer Ian Cope. "We had to balance the lighting on the talent and the background, and replicate other technical details of the original photography to make the additions imperceptible to the audience."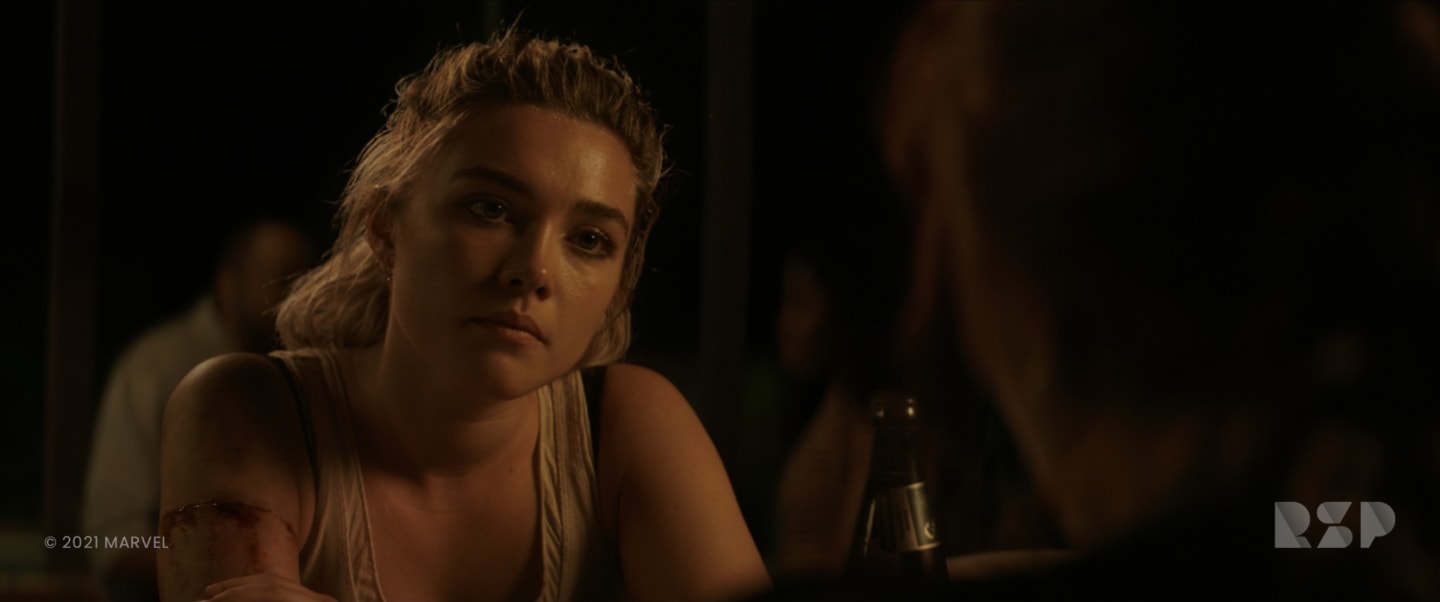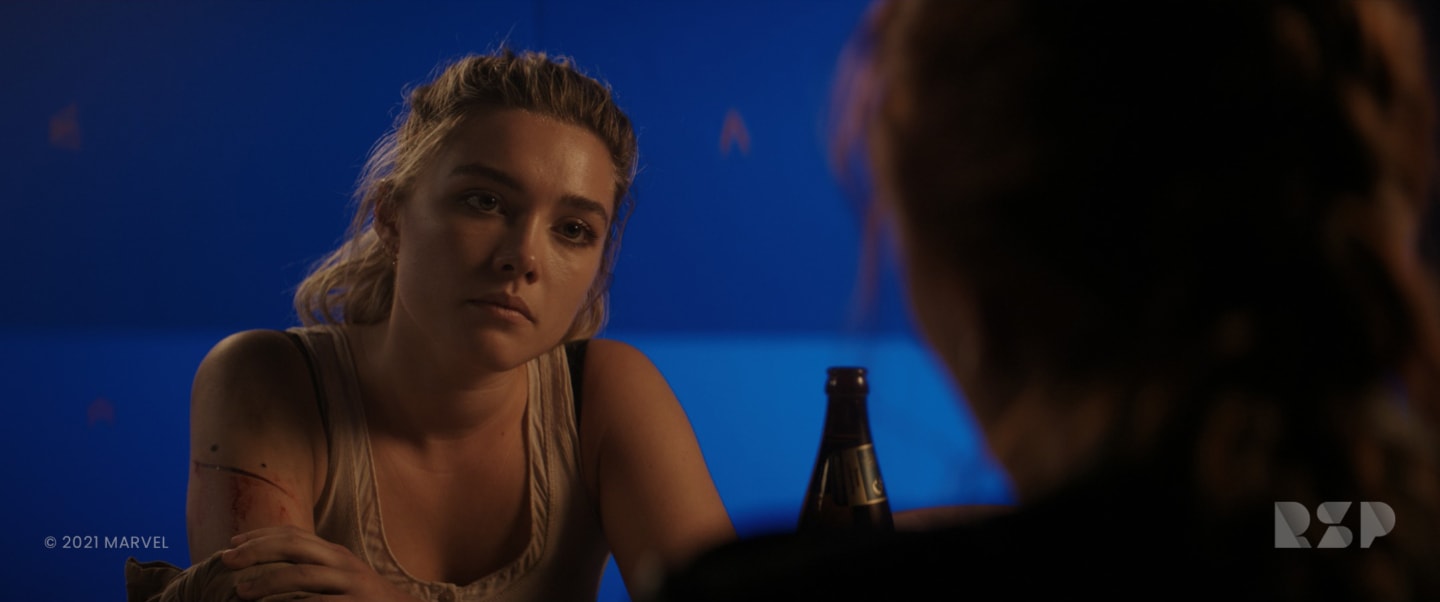 Similar finesse was required for a scene involving Taskmaster, who has an uncanny ability to mimic the movements of anyone he sees. In this case, RSP was asked to insert Taskmaster into a scene drawn from Iron Man II to show him observing Black Widow and studying her martial arts agility. "To make Taskmaster appear to be a natural part of the scene, we had to replace all the reflections in the room," recalls Jones.
"We also had to place a reverse reflection in Taskmaster's visor and add a stream of hyper-graphics around the edge. The graphics needed to be timed, and the reflections tracked, to ensure consistency from all angles. It was challenging work and the final result is great." RSP VFX Supervisor, Dennis Jones.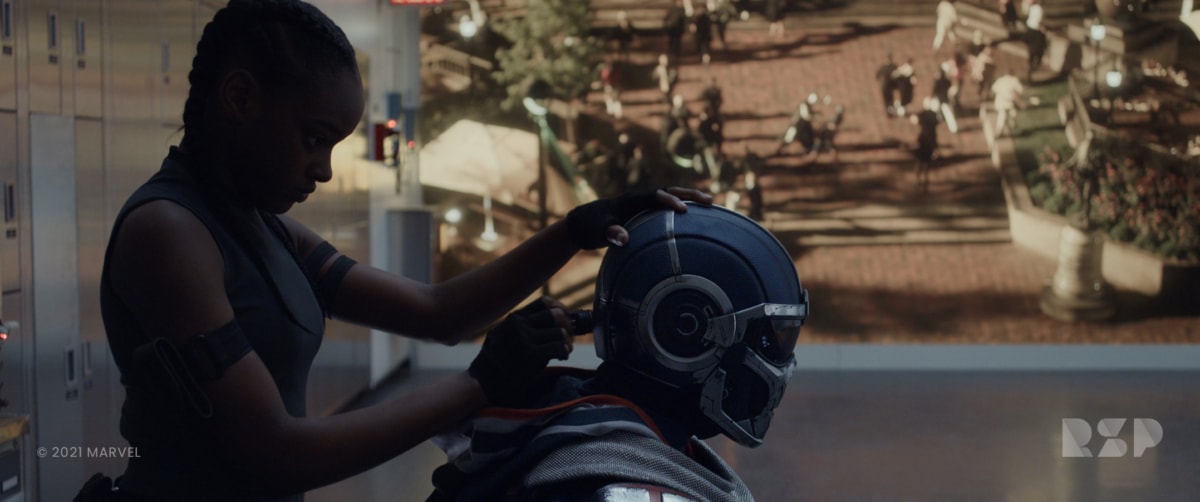 "It takes strong supervision and an ability to make quick decisions. Our crew had just come off several big projects but were eager to join Black Widow. They rose to the challenge and delivered impressive results."
CREDITS + CREW
RISING SUN PICTURES
ADAM PETTIGROVE
ADAM POTTER
ALES GARGULAK
ALEX MEDDICK
ALEX PINCHES
ALI EHTEMAMI
ANDREW FERGUSON
ANDREW GRAHAM
ANDREW PALMER
ANDREW SAVCHENKO
ANDREW WILLIAMS
ANDY PEEL
ANG LU
ANIL REDDY CH
ANNA HODGE
ANTHONY CHAPPINA
ANTHONY WINTER
ANTO BOND
ANTONY HABERL
ARTHUR MOODY
ASHLEIGH WHITE
ASHLEY MASON
BEN HOLEN
BEN PASCHKE
BEN WARD
BHAKAR JAMES
BRIDGET DINNING
BRITTANY HERRIMAN
BRODIE MCCROSSIN
CARA GATELY
CARLOS MARQUEZ
CHANTELLE SEARLE
CHRIS KING
CHRIS ROSENHAIN
CHRISTINA RZEWUCKI
CORINNE TENG
CRAIG FIELD
CRYSTEL NEWMAN
DALLY GARCIA
DALLY GARCIA ARREAZA
DAMIEN ROLLOND
DAN BETHELL
DAN WILLS
DANI CARDELLA
DANIEL STEART
DANIEL VELIKOV
DAVID BEMI
DAVID CAUNCE
DEAN MRAZEK
DENNIS JONES
ELEISHA FRANCIS
ENRICO ZERBO
FRANCESC DONAIRE
FRANCESCA SALVATORE
GARETH ERIKSSON
GEMMA WOOD
GEOFF ALLAN
GREG WIEDER
GUIDO WOLTER
HANG LI
HARRY MEDLIN
HARSHAL PATIL
HAYES BRIEN
HEATH DINGLE
HUAN LUONG
IAN COPE
IDA MCNAMARA
ILONA BLYTH
JADE HAMLEY
JAMES CLIFT
JAMIE MACDOUGALL
JASON SCOTT
JEBB NG
JENNIE ZEIHER
JESS BURNHEIM
JOEL MICHAEL
JOHN BASTIAN
JOHN TOTH
JON SUM
JONATHON MCKENDRICK
JOSEPH ROBERTS
JOSH ELLEM
JULIAN HUTCHENS
JULIETTE CHRISTIE
JUSTIN GREENWOOD
KALYAN CHAKRAVARTHY
KATE BERNAUER
KIERAN OGDEN-BRUNELL
KRANTHI KUMAR K
KUNAL BISWAS
KURT DEBENS
LACHLAN TOLLEY
LEEMA ROSE
LEIAH SEARS
LIAM GARE
LOUIS DUNLEVY
LU, TING YUN
MALTE SARNES
MARC LANGBEIN
MARCIN CHARLICKI
MAREE FRIDAY
MARK HONER
MARK STORY
MARK TOMCZYK
MARTIN ALVAREZ GARCIA
MASI SHAH
MATEUSZ KRZASTEK
MATHEW MACKERETH
MATT SHAW
MATTHEW COOMBE
MEREDITH MEYER-NICHOLS
MICHAEL FURNISS
MICHAELA DANBY
NAEEM CHUDAWALA
NATHAN ZEPPEL
NEILL BARRACK
NICK BEINS
NICK PILL
NIKHIL KAMBOJ
NIKHIL SHANKAR-NOBLE
NIKOLETTA EKKER
NOAH VICE
NURUL ARIF
OWEN WILLIAMS
PARIS DOWNES
PAUL DRIVER
PAUL FLANAGAN
PAUL TAYLOR
PETER KUMIC
PETR ROHR
PHIL PRATES
POL CHANTHASARTRATSAMEE
QAZI HAMZA JAVED
RACHEL BIANCULLI
RAJ DHALLA
REBECCA DARLING
REBECCA WELLS
RENEE MARSLAND
RICHARD COLLIS
ROBERT BEVERIDGE
ROBERTO GENITO
ROBIN REYER
RYAN KIRBY
SAM HANCOCK
SAM HODGE
SAMANTHA ABDA
SAMANTHA MAIOLO
SARA HENSCHKE
SARAH BENEKE
SCOTT BULEY
SHANE BERRY
SHAWN MCCARTEN
SIMON WALSH
SITH KHAY
SOPHIE ELDER
STEVEN YOUNG
SUGAKO RIBBON
SUSANA TORREALBA
SVEN AHLSTROM
THOMAS BAXTER
THOMAS MAHER
TIM CROSBIE
TIM MACKINTOSH
TIM QUARRY
TONY CLARK
TRACY DAVIDSON
TRACY MULLER
TROY TOBIN
TUREA BLYTH
VAHAN SOSOYAN
VAUGHN WHITE
VICTOR GLUSHCHENKO
VITALII STADNYK
VITTORIO DI TORO
YANGYANG XU
ZAC COSTER
ZHIYONG LIU