Rising Sun Pictures Delivers 600 VFX Shots for New Line Cinema's "Mortal Kombat"
The Adelaide studio led visual effects production for the highly-anticipated, blockbuster, produced primarily South Australia.
Adelaide, South Australia— 2021 — In a project spanning more than 18 months, Rising Sun Pictures (RSP) delivered 600+ visual effects shots for New Line Cinema's new blockbuster Mortal Kombat. As the film's principal VFX provider, RSP was tasked with creating a diversity of stunning visuals, ranging from a reptilian creature to eerie portals, explosive bolts of fire and ice…as well as blood and gore to enhance intense martial arts combat scenes. RSP artists also applied their skills to the film's climactic scene, which covers nearly 10 minutes of screen time and depicts a furious battle involving Cole Young (Lewis Tan), the film's hero, and the rival ninja warriors Sub-Zero (Joe Taslim) and Scorpion (Hiroyuki Sanada).
PLAY
REEL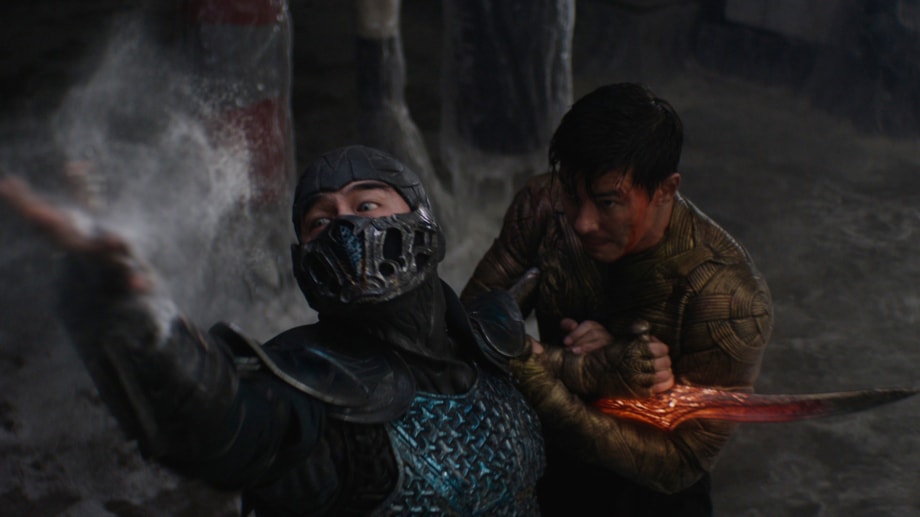 Based on one of the most successful video game franchises of all time, Mortal Kombat is directed by award-winning Australian commercial filmmaker Simon McQuoid in his feature debut and produced by E. Bennett Walsh. One of the most ambitious productions ever based in South Australia, it was filmed at Adelaide Studios and locations in metro and outback SA, and facilitated by the South Australian Film Corporation. The team worked under the direction of production VFX Supervisor Chris Godfrey and VFX Producer Prue Fletcher.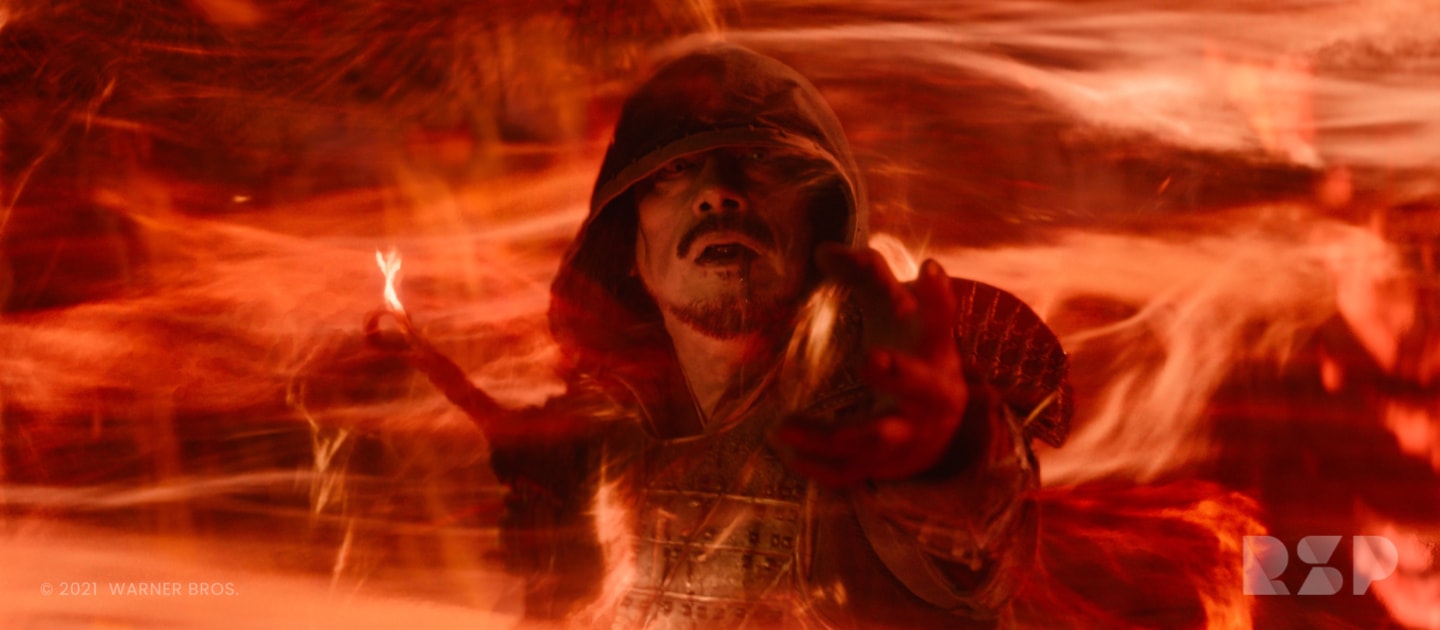 Rising Sun Pictures was involved in the project from the beginning – from pre-production through to final delivery. RSP Art Director Nick Pill and VFX Supervisor Dennis Jones consulted with McQuoid and his team on details ranging from visual effects through set, character and prop design. Additionally, Jones and CG Supervisor Bhakar James were on-set as visual effects consultants through three months of live action production.
"We're very grateful at the opportunity of working on this film in our home state of South Australia. The engagement from Simon and Bennett in early pre-production where our team conceptualised characters and weapons was truly collaborative and helped us steer the look and feel of the film." RSP Managing Director, Tony Clark.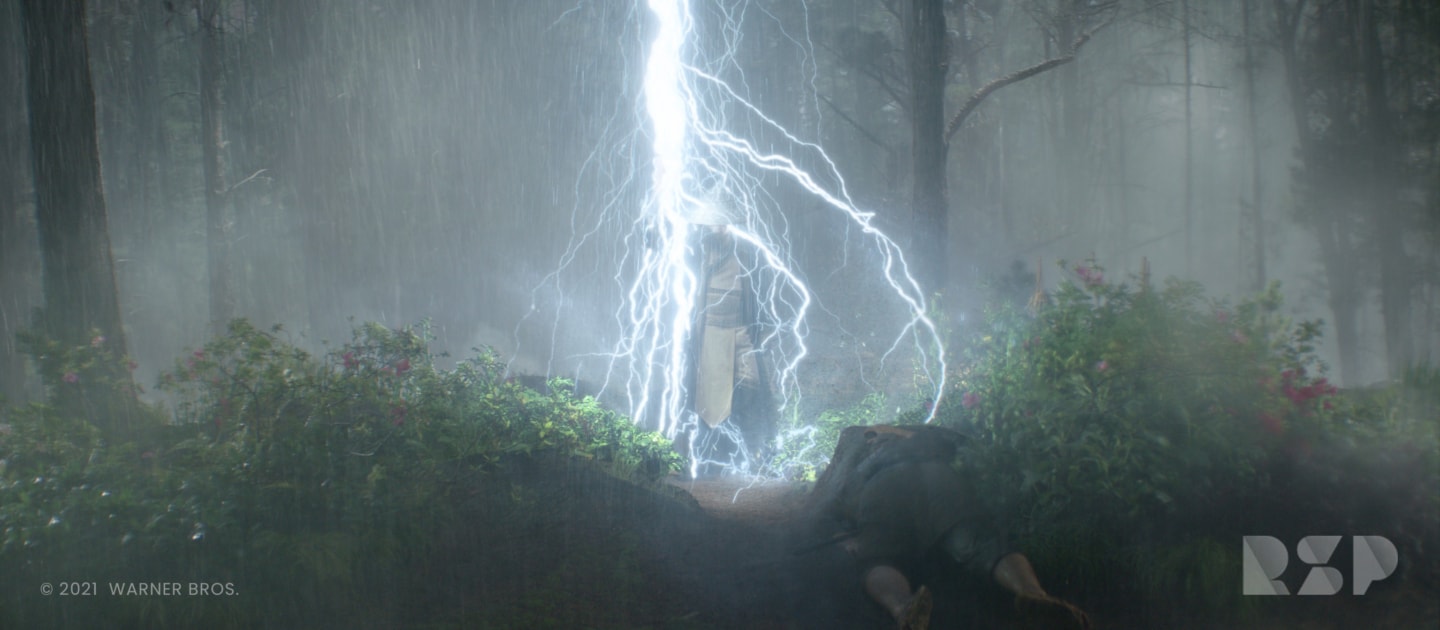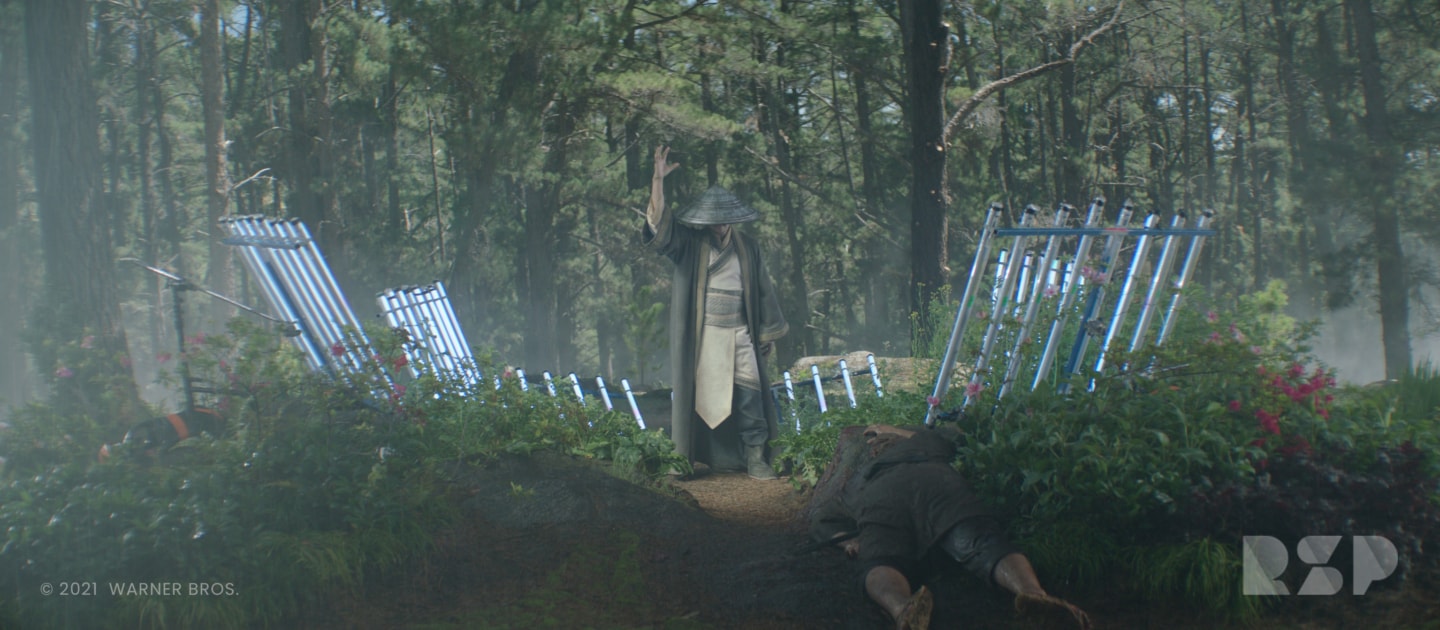 While employing characters, themes and plotlines from the game, the film is more realistic in tone and visual representation. Virtually all the martial arts fighting was shot practically, with RSP's visual effects used to compliment action and add supernatural elements such as ice weapons generated by Sub-Zero and fire wielded by Scorpion. But even those elements are rendered with an eye toward realism.
"We drew inspiration and references from the game, but our brief from Simon McQuoid was to bring it into a more filmic realm and emphasise the humanity of the characters." RSP Co-VFX Supervisor, Dennis Jones.
"Everything that happens in the movie is fantastical, but it's based in reality. That encourages the audience to suspend disbelief and adds a visceral quality to what they're watching."
Some of RSP's most intricate work involved Sub-Zero, who uses his freezing power to create weapons, immobilise opponents and carry out a variety of other deadly acts. Jones notes that while the ice effects needed consistency, each one required specialised treatment. "The ice was challenging, in part because the audience is familiar with how it is used in the game and how it appears in real life," he explains. "They expect ice to look and act in a certain way. Plus, each time Sub-Zero uses his powers, he deploys them differently. So, we couldn't simply establish a generic look and apply it over and over again. The ice needed to vary depending on how it was used, as well as the lighting and environment."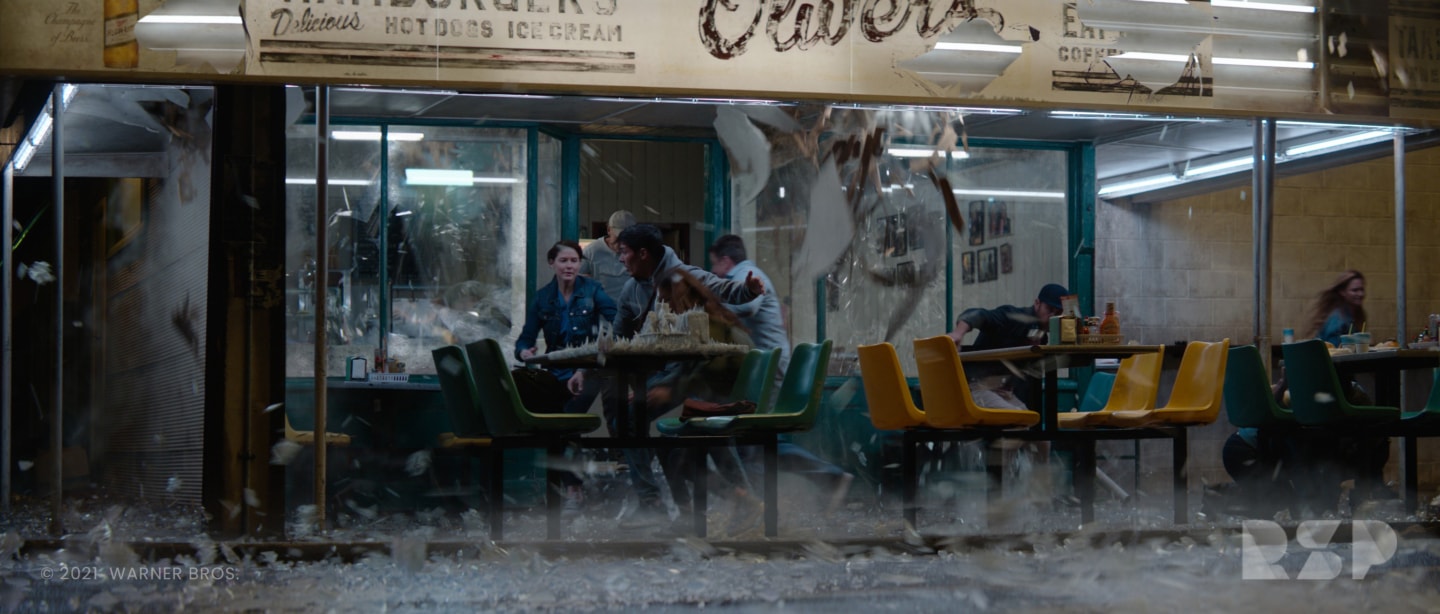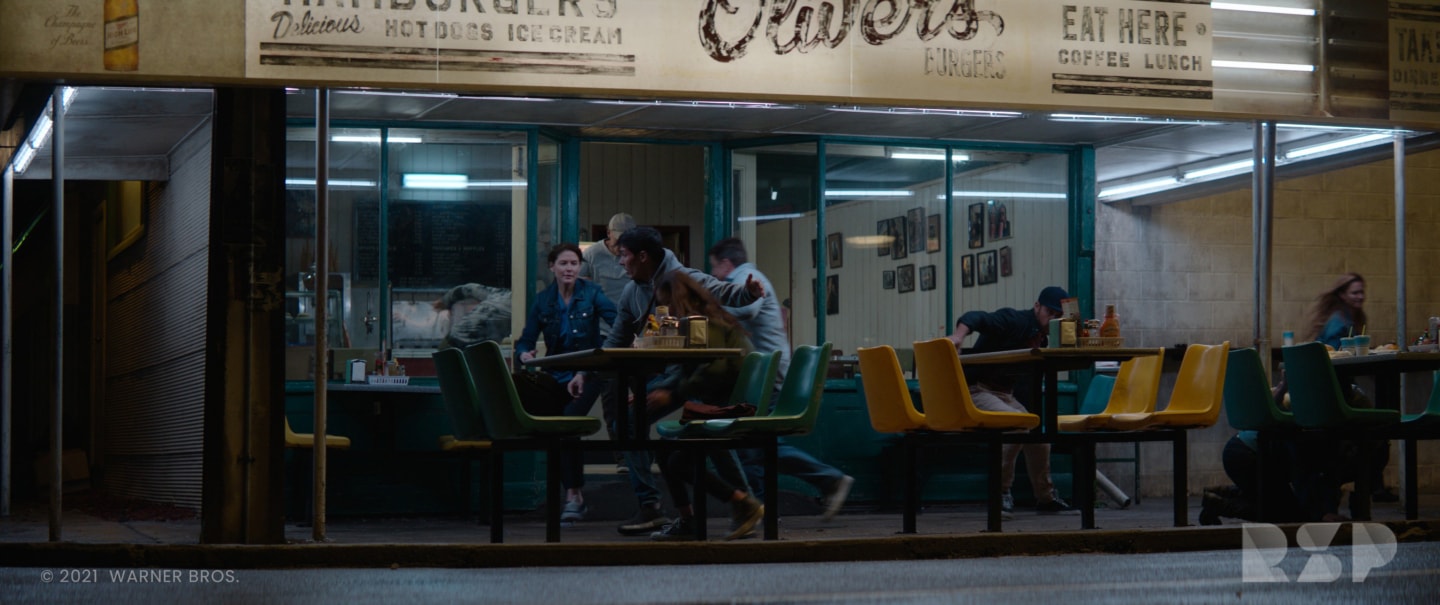 In one of the more spectacular iterations of the effect, Sub-Zero unleashes his power while walking down a road during Summertime and makes it snow. "He causes the snow to freeze and begins hurling it down the street in front of him," explains Compositing Supervisor Tony Cole. "We had to rebuild much of the street and the surrounding environment and add fissures of ice that cause windows to freeze, people to freeze…ice is flying everywhere."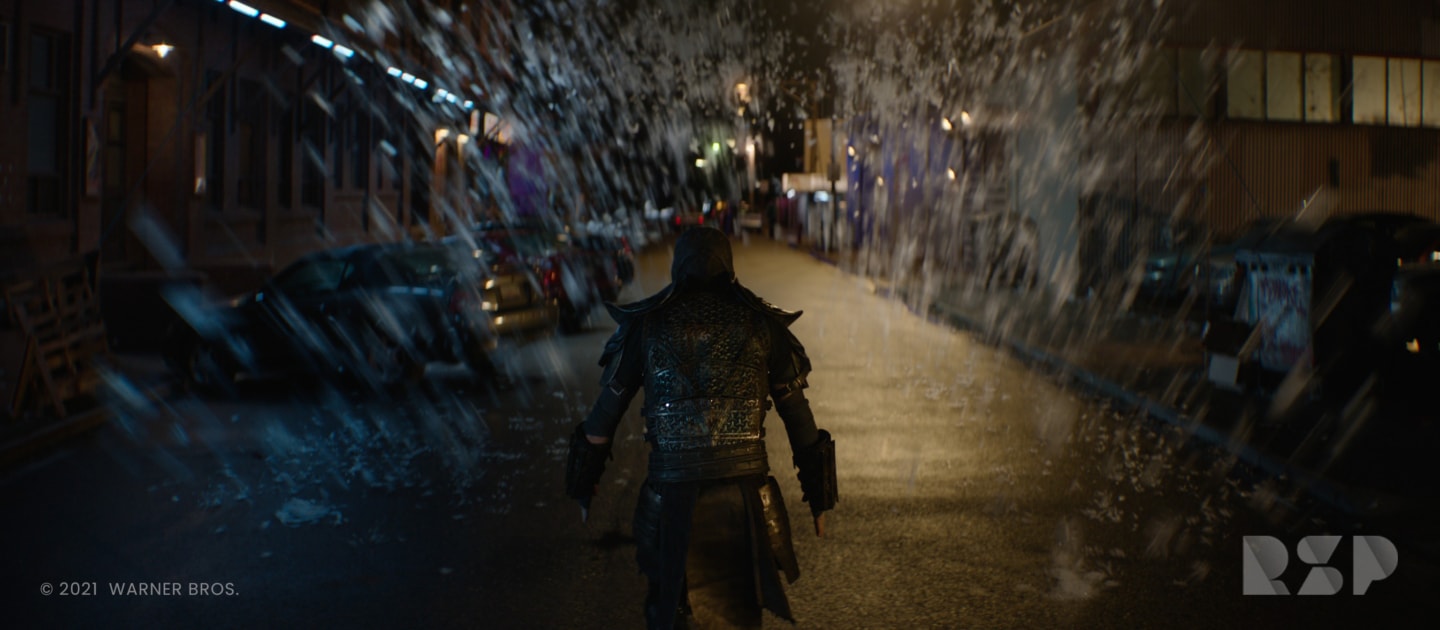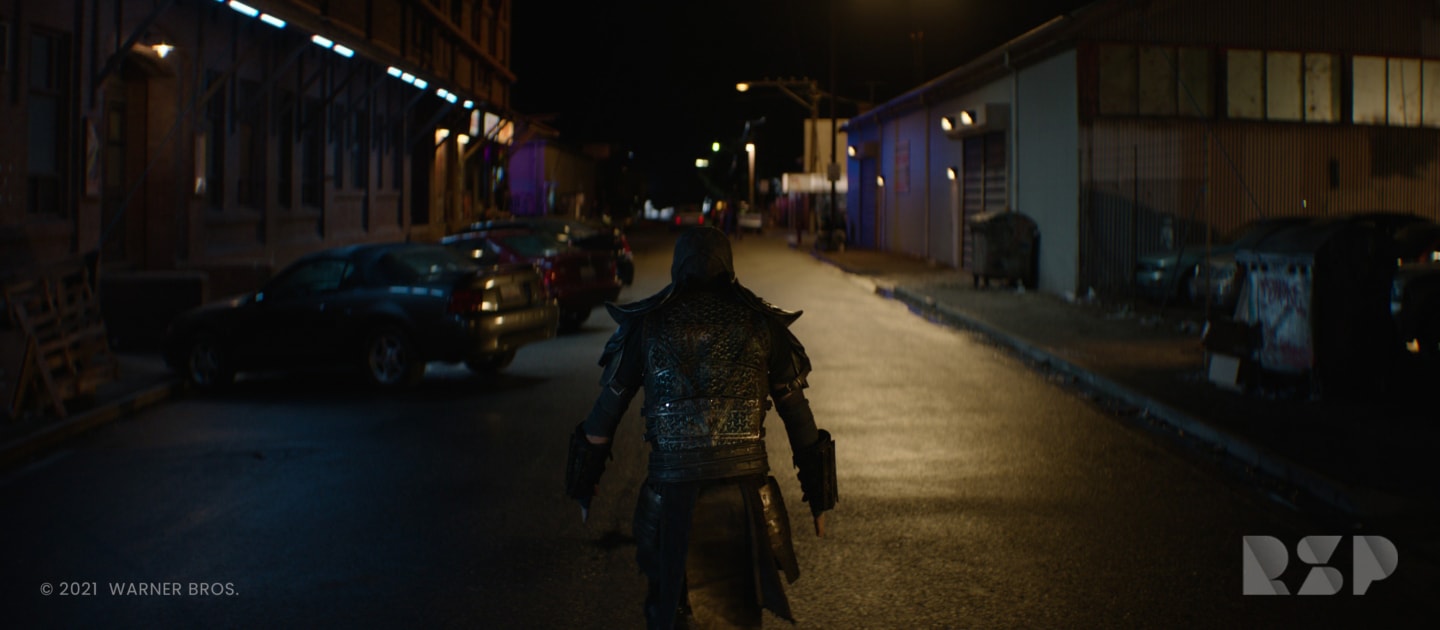 Moreover, Sub-Zero's powers escalate. "He develops his powers through the story and becomes quite proficient," explains Jones. "As he turns into a full-blown assassin, he acquires some pretty cool ice capabilities. We had to work hard to reflect how he was controlling things—with his hands or his mind—and how he forms weapons out of nothing. That was a challenge, but also good fun."
Artists applied similar care in representing Scorpion's ability to control fire and came up with a new look for that character's signature weapon, the Kunai. "Doing justice to the Kunai was a priority for us," says CG Supervisor Ryan Kirby. "It's a large, dagger-like weapon attached to a chain, and it's featured in several scenes, including the climax. It's also a touch stone that resonates with fans, so we took care to ensure it was authentic to similar weapons used in medieval Japan."
MORTAL KOMBAT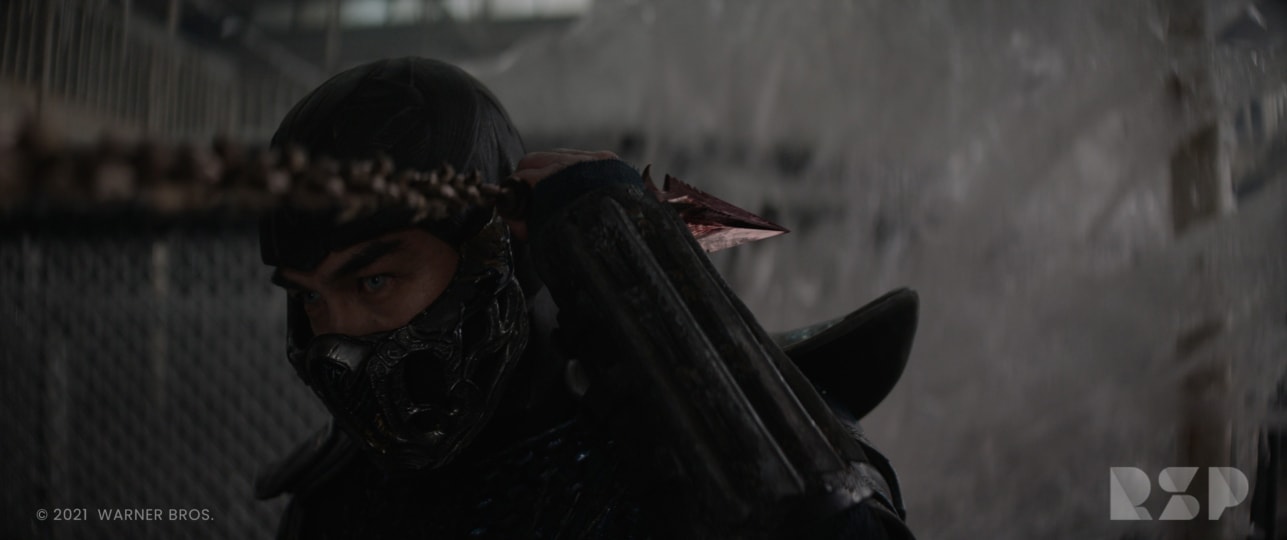 Another common feature adapted from the game are portals, dimensional gateways that allow characters to cross vast distances and move between realms. In general, portals appear as vortexes of swirling energy, but each instance of the effect is somewhat different. "The primary portal is dark and evil, and has a smoky, inky essence, but many of the characters have the power to generate portals of their own," explains Dan Bethell, who served as Co-VFX Supervisor alongside Jones.
"The portal produced by Lord Raiden, the God of Thunder, is built from shafts of lightning, while Scorpion creates a beautiful portal out of swirling fire. Each one needed its own creative and look development." RSP Co-VFX Supervisor, Dan Bethell.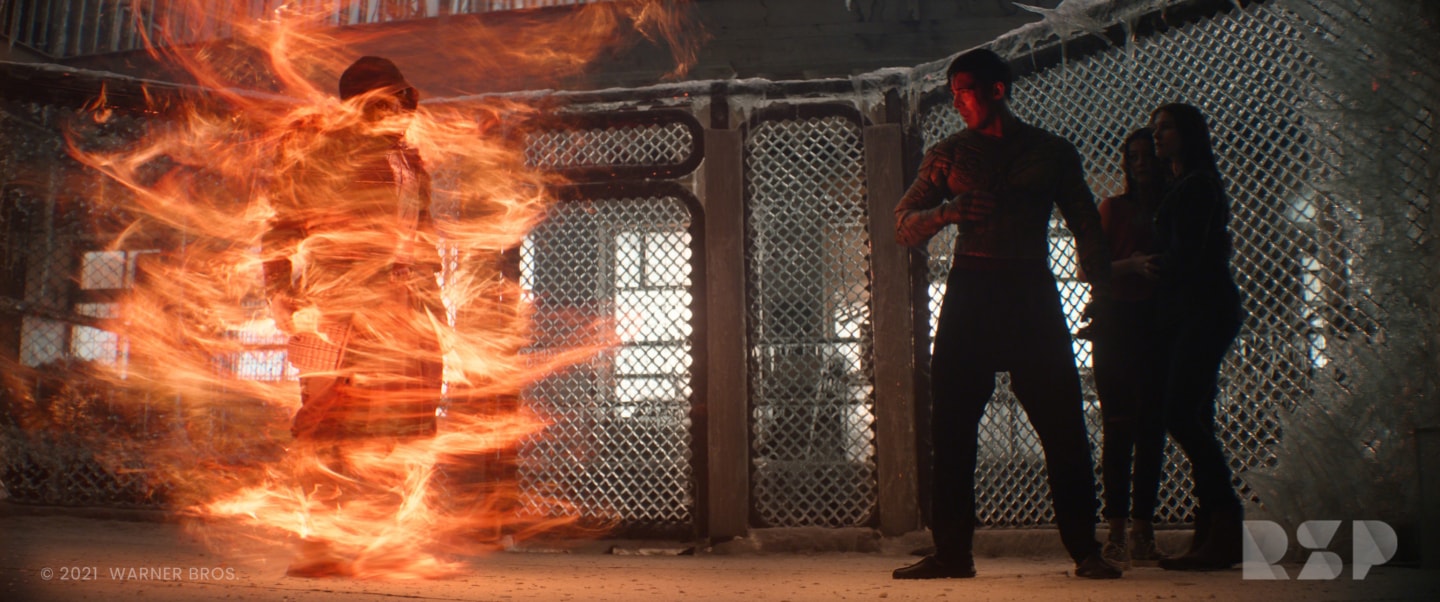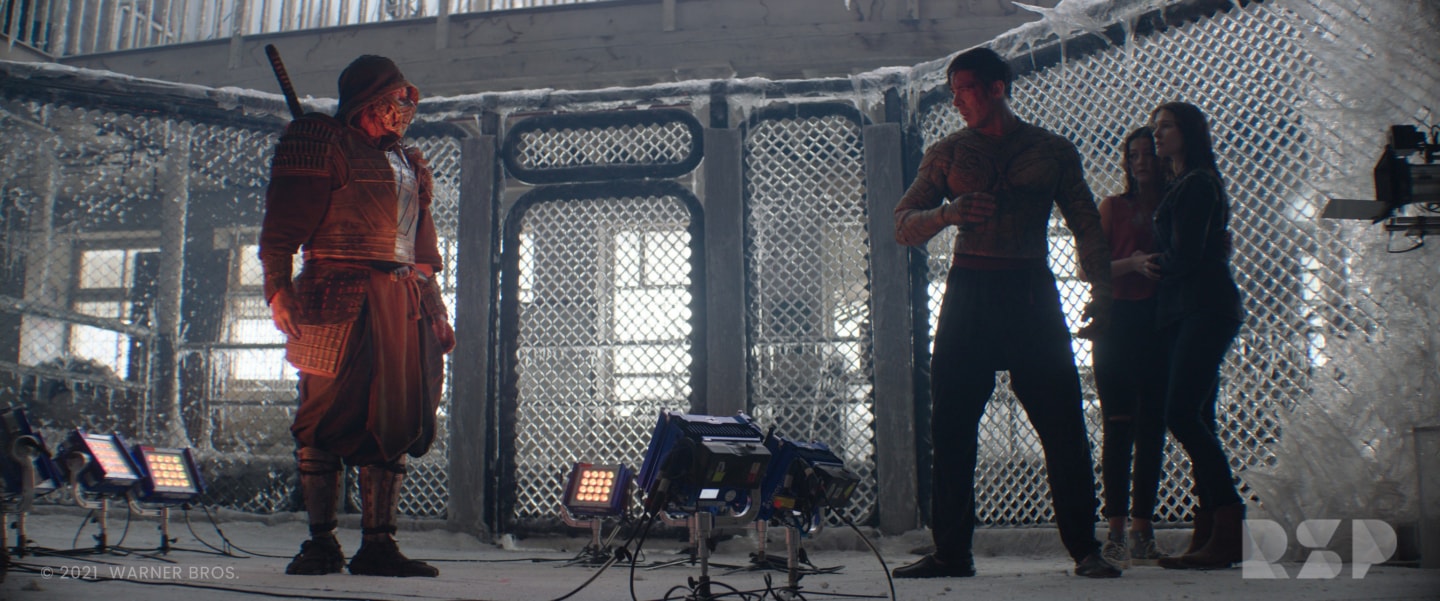 The ephemeral portal effects had to be carefully woven into the live action. Bethell points to a scene in which Mileena uses a purplish plasma portal in a fight with Cole. "Production shot some fantastic stunt choreography that we augmented in a variety of ways with effects," he says. "We did traditional stuff, like removing wires and safety nets, but also added effects that are driven by the physical performance."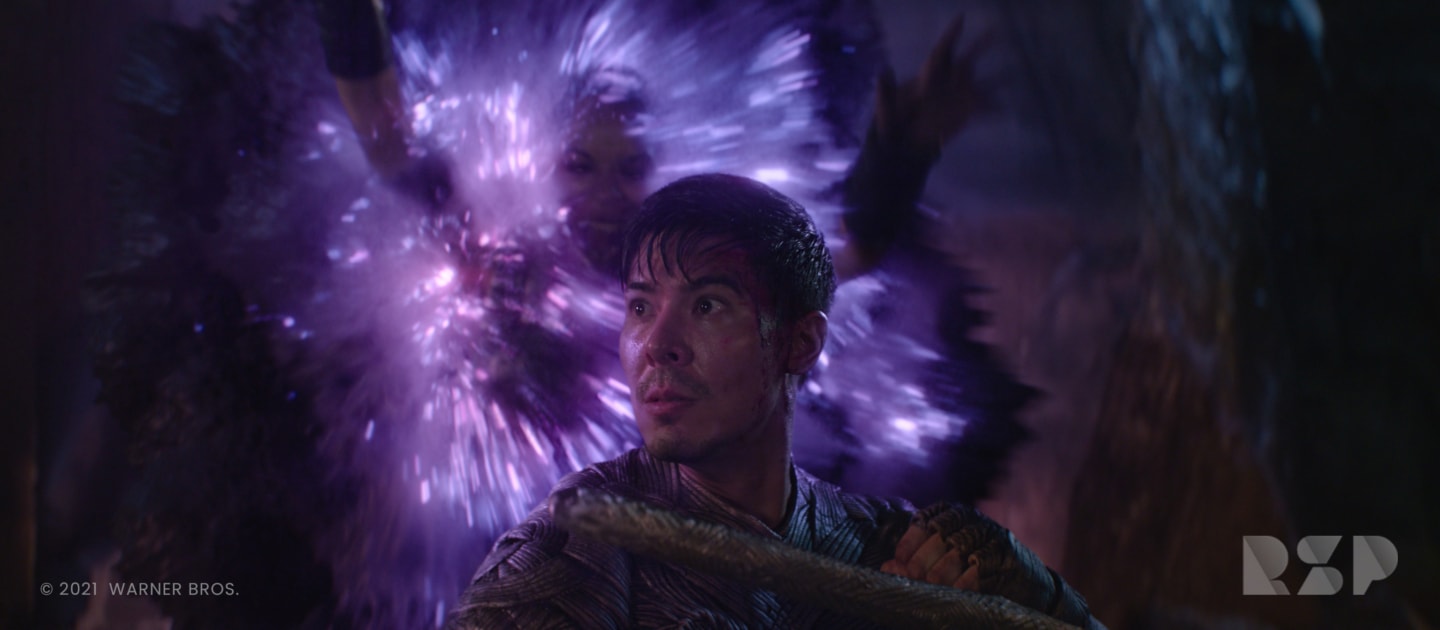 RSP created several CG characters for the film, notably the scaly humanoid Reptile and a dragon of fire. The former was based on well-known character from the game, but McQuoid wanted to develop its look further. "Simon had a concept for Reptile that was more animalistic than in the past," recalls James. "He described him as a 'mongrel.' To achieve that, we altered his appearance in subtle ways. We made him scarier and changed the way he carries himself and moves."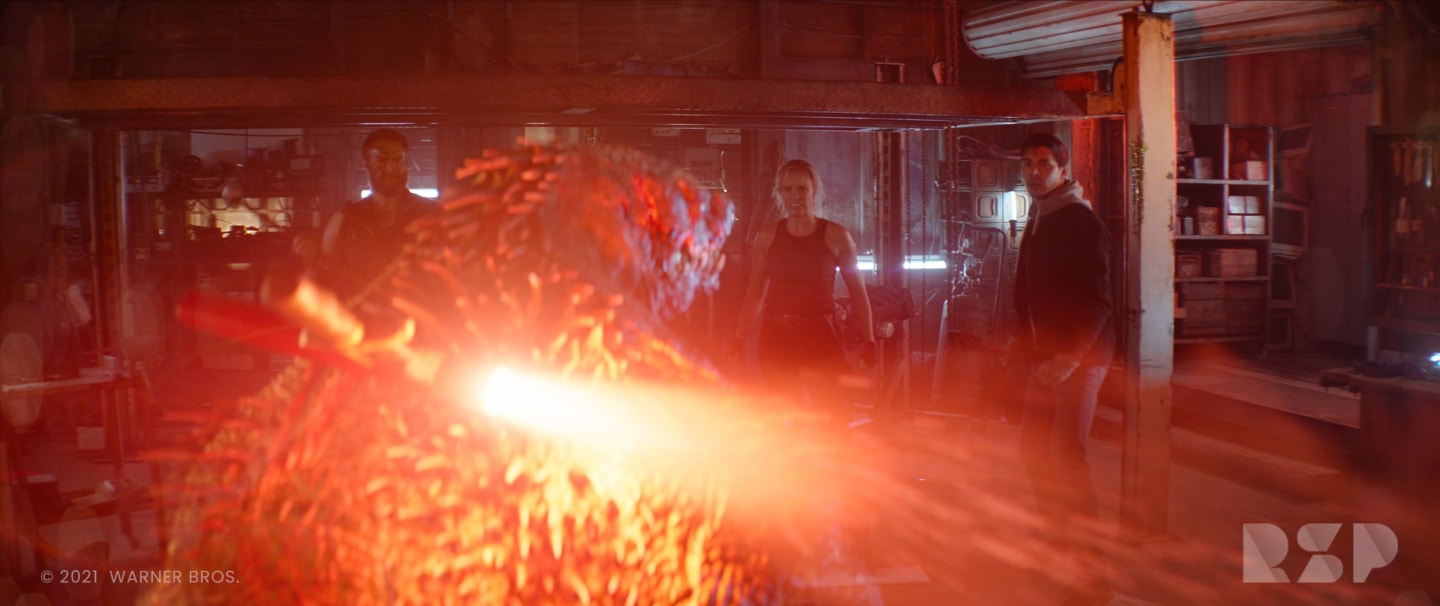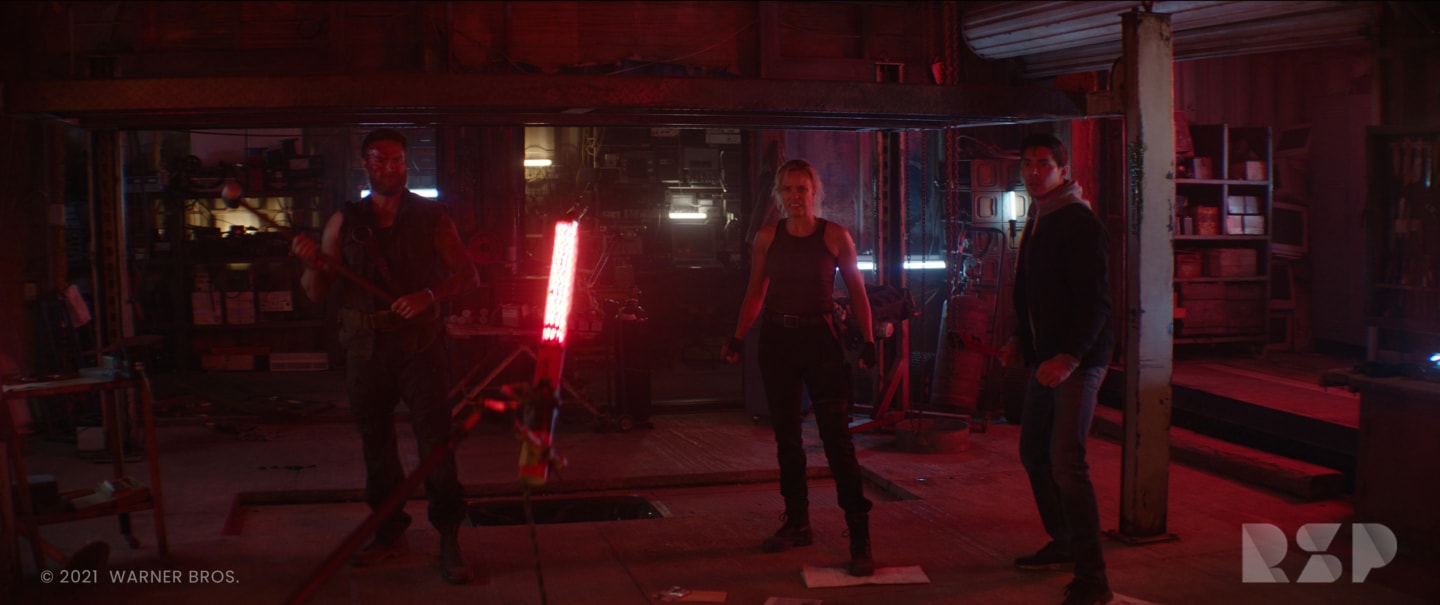 Reptile has a lizard-like camouflaging ability that allows him to become invisible, but in one sequence he suffers wounds that compromise that power. "You see inner parts of his body where he's wounded," explains Cole. "Tendrils, veins and bits of skeleton are revealed. We worked for several weeks in developing a compositing technique that allowed us to make that phenomena look natural and convincing. It's a rippling effect that emanates from the point of impact."
The film's extended final scene features an all-out confrontation pitting Cole and Scorpion against Sub-Zero with the characters deploying their powers and weaponry to awesome effect. "Sub-Zero uses his full complement of moves, each one instantly recognisable to fans of the game," says Kirby. "Our task was to be sure fans aren't disappointed by helping to make each moment as exciting as possible. We amplified the physical action with fire, actor augmentations and other types of effects. It went through numerous iterations as we shared elements with the production and editorial teams. It was a total collaborative effort."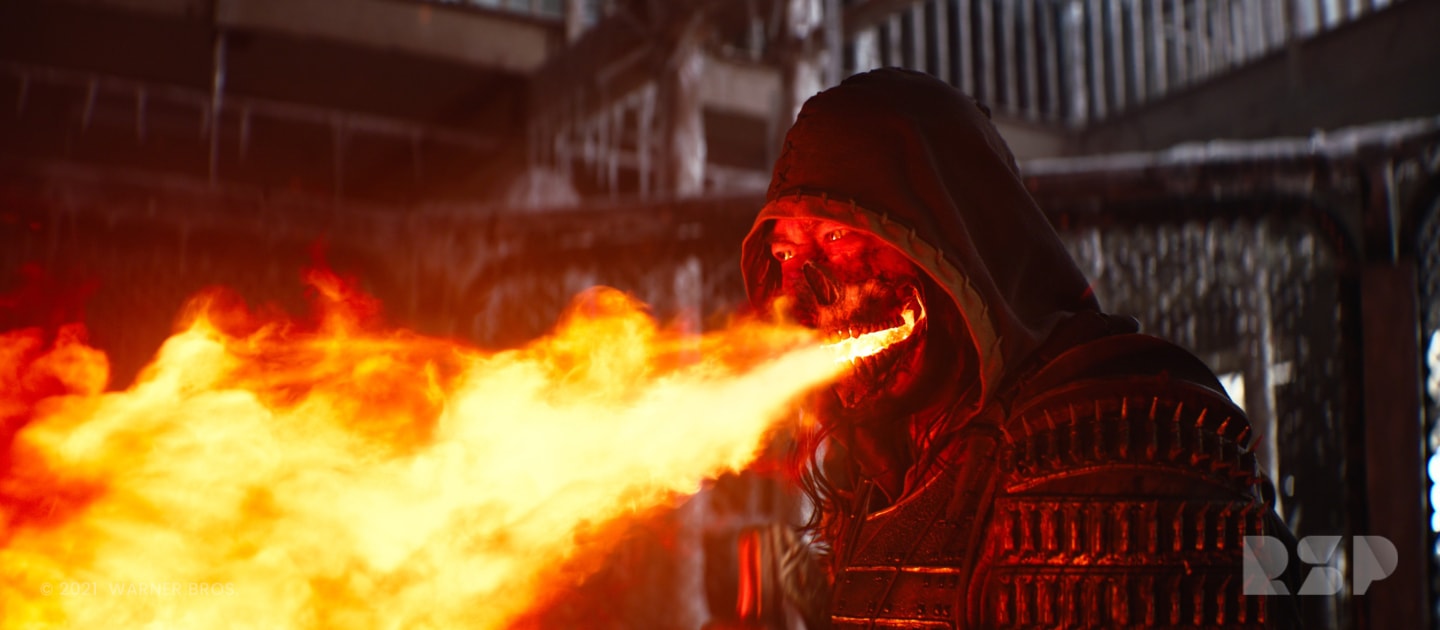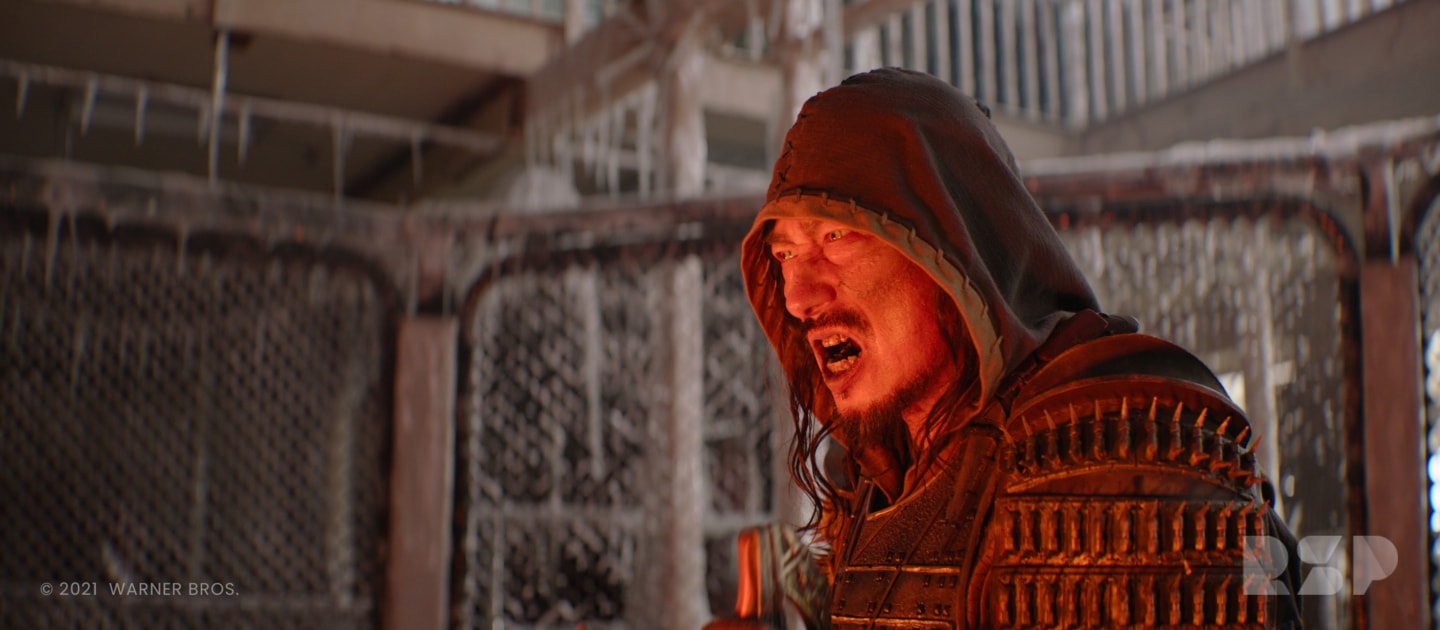 As a premium VFX studio, RSP has a reputation for delivering incredible visuals for its clients and this film is no exception.
"The key to our success was having a good internal workflow," says Bethell. "All departments worked closely to push assets through modeling, effects, lighting and rendering. Effects and look development for the ice sequences were especially challenging but we delivered beautiful, crystal ice. The results are a testament to the commitment of the team."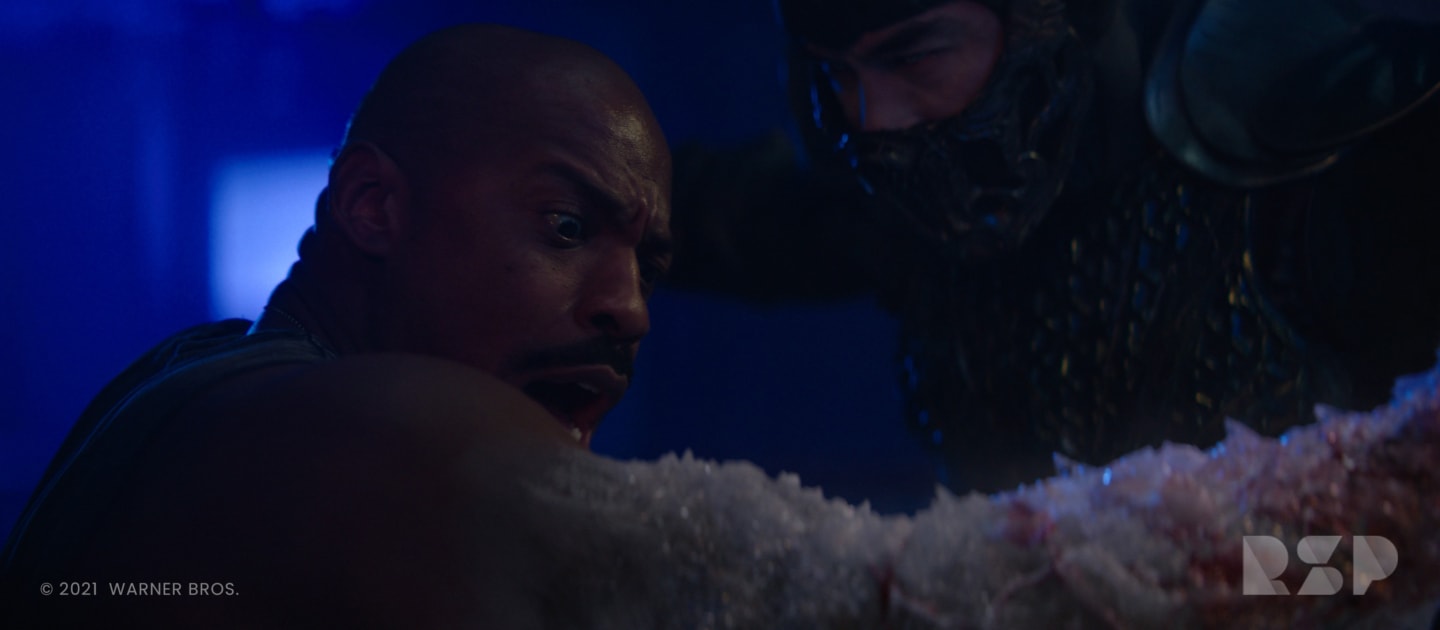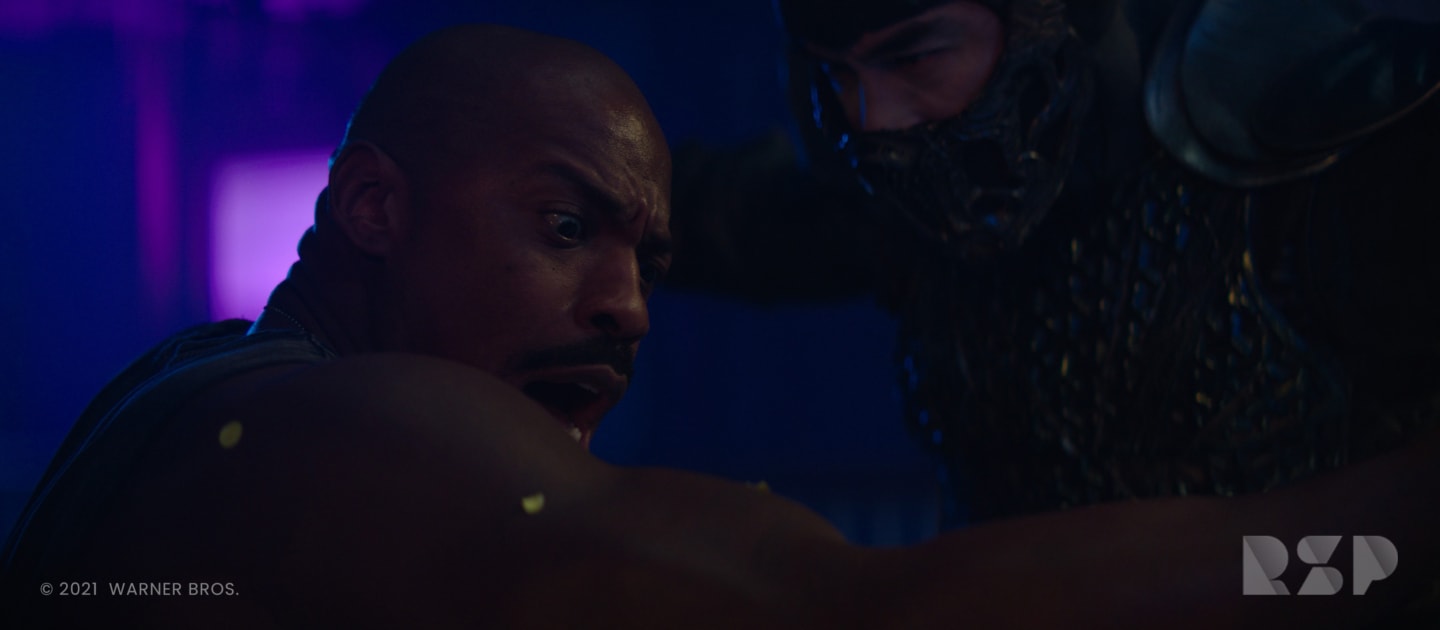 Accustomed to collaborating with productions based in Southern California, the UK and elsewhere around the globe, RSP relished the opportunity to contribute to a home-grown product.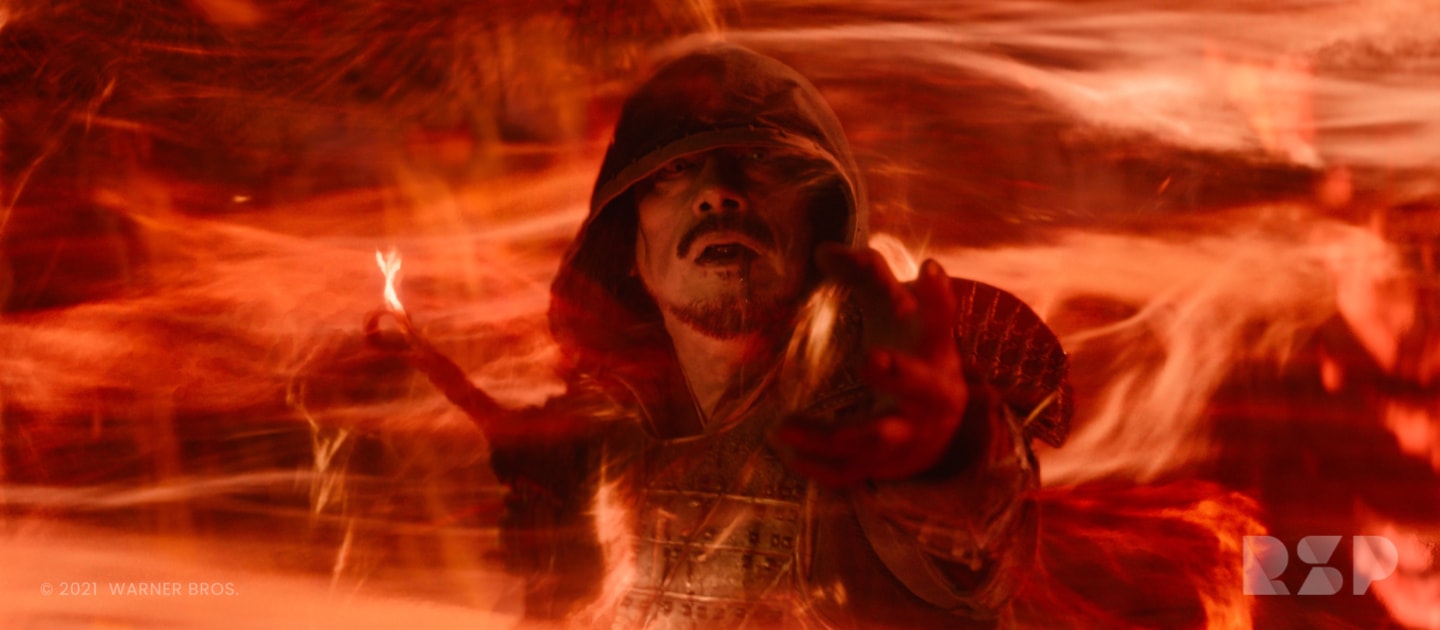 CREDITS + CREW
Rising Sun Pictures
ABBY NATH
ADAM PETTIGROVE
ADAM POTTER
ADHEENA GEORGE
ALANA NEWELL
ALBERT RADOSEVIC
ALES GARGULAK
ALEX MEDDICK
ALEX PINCHES
ALEXANDRA DAUNT WATNEY
ALI EHTEMAMI
ALISON SCHAHINGER
AMY NGUYEN
ANDREW BURLES
ANDREW FERGUSON
ANDREW GRAHAM
ANDREW PALMER
ANDREW SAVCHENKO
ANDREW WILLIAMS
ANDY PEEL
ANG LU
ANIL REDDY CH
ANNA HODGE
ANTHONY CHAPPINA
ANTHONY WINTER
ANTO BOND
ANTONY HABERL
ARTHUR MOODY
ASHLEIGH WHITE
ASHLEY MASON
ASHLEY MEARS
BEN COOKE
BEN DICKSON
BEN PASCHKE
BEN WARD
BENJAMIN HOLEN
BHAKAR JAMES
BRADLEIGH MCKAY
BRENT ST. MARY
BRETT REYENGER
BRIDGET DINNING
BRITTANY GRAHAM
BRODIE MCCROSSIN
CALEB KNOLL
CARA GATELY
CARLOS MARQUEZ
CELIA CLENNETT
CHANTELLE SEARLE
CHRIS KING
CHRIS ROSENHAIN
CHRISTINA RYAN
CHRISTINE KRUMPHOLZ
CONNOR SULLIVAN
CORINNE TENG
CRAIG FIELD
CRYSTEL NEWMAN
DALLY GARCIA ARREAZA
DAMIEN ROLLOND
DAN BETHELL
DAN WILLS
DANIEL NEES
DANIEL STEART
DANIEL VELIKOV
DANIEL WHITE
DANIELLE CARDELLA
DAVID CAUNCE
DEAN MRAZEK
DENNIS JONES
DILEN SHAH
DUNCAN LI
DYLAN BINNS
DYLAN SHAW
ELEISHA FRANCIS
ELENI TAYLOR
EMMA THOMPSON
ENRICO ZERBO
FABIAN HOLTZ
FIORDALISO BIANCULLI
FRANCESC DONAIRE
FRANCESCA MILDE
FRANCESCA SALVATORE
FRANCESCO CADONI
GEMMA WOOD
GREG WIEDER
GUIDO WOLTER
HANG LI
HAO TRUONG
HARRY MEDLIN
HARSHAL PATIL
HAYES BRIEN
HEATH DINGLE
HUAN LUONG
I-HSUAN LEE
IAN COPE
IAN JOLI
IAN PLUMB
IDA MCNAMARA
ILONA BLYTH
ISAAC TURIER
JACO PRETORIUS
JACQUELYN BOOTH
JADE HAMLEY
JAMES CLIFT
JAMES KHOU
JAMIE MACDOUGALL
JASON QUINTANA
JASON SCOTT
JEBB NG
JESS BURNHEIM
JOEL AGUILAR
JOEL MICHAEL
JOHANNES GROSS
JOHN BASTIAN
JOHN STEWART
JOHN TOTH
JONATHAN CARRE
JONATHAN SUM
JONATHAN WENBERG
JONATHON MCKENDRICK
JONATHON SUMNER
JOSEPH ROBERTS
JOSH ELLEM
JOYCE LIEW
JULIAN HUTCHENS
JULIETTE CHRISTIE
JUSTIN GREENWOOD
KALYAN CHAKRAVARTHY
KATE BERNAUER
KATHY CONSTANTIN
KIERAN OGDEN-BRUNELL
KIERAN SHEPHERD
KRANTHI KUMAR K
KUNAL BISWAS
KURT DEBENS
LACHLAN TOLLEY
LEEMA ANTHONY
LEIAH SEARS
LIAM GARE
LINDSAY HOPPE
LIUDMYLA CHORNA
LOIC MIERMONT
LOUIS DUNLEVY
LU, TING YUN
LUKE VALE
MADDISON GREEN
MALTE SARNES
MANSI SHAH
MARC H LANGBEIN
MARC VARISCO
MARCIN CHARLICKI
MARCUS WELLS
MAREE FRIDAY
MARK HONER
MARK STORY
MARK TOMCZYK
MARTIN ALVAREZ GARCIA
MARY LAPENA
MATEUSZ KRZASTEK
MATHEW MACKERETH
MATT GREIG
MATTHEW COOMBE
MATTHEW SHAW
MEIWA CHAN
MICHAEL FURNISS
MICHAELA DANBY
MIKE RING
MONICA QUAN
NAEEM CHUDAWALA
NAOMI MITCHELL
NATHAN JONES
NATHAN ZEPPEL
NEILL BARRACK
NICK BEINS
NICK PILL
NIK SLOTIUK
NIKHIL KAMBOJ
NIKHIL SHANKAR-NOBLE
NIKOLETTA EKKER
NOAH VICE
NURUL ARIF
OLIVIA MITCHELL
OWEN WILLIAMS
PARIS DOWNES
PATRICK NAGLE
PAUL DRIVER
PAUL TAYLOR
PETER KUMIC
PETR ROHR
PHIL PRATES
POL CHANTHASARTRATSAMEE
QAZI HAMZA JAVED
RAJBIR SINGH DHALLA
REBECCA DARLING
REBECCA MERCURIO
REBECCA WELLS
RENEE MARSLAND
RICHARD ALEC COLLIS
ROBERT BEVERIDGE
ROBERT VELIO GENITO
ROBIN REYER
RYAN KIRBY
RYAN WOODCOCK
SACHIN BANGERA
SAM HANCOCK
SAM HODGE
SAMANTHA ABDA
SAMANTHA MAIOLO
SAMUEL WILLIAMS
SARA HENSCHKE
SARAH BENEKE
SARAH SWANSON
SASKIA ELLIOTT
SHANE BERRY
SHAWN MCCARTEN
SIMON WALSH
SOPHIE ELDER
SREENIVAS ALAPATI
STEPHEN CLARK
STEVEN YOUNG HIANG SIANG
SUSANA TORREALBA
SVEN AHLSTROM
THOMAS BAXTER
THOMAS CANT
THOMAS LINUS MAHER
THOMAS STEINER
TIM CROSBIE
TIM MACKINTOSH
TIMOTHY QUARRY
TINA HUDSON
TONY COLE
TRACY DAVIDSON
TRACY MULLER
TROY TOBIN
TUREA BLYTH
VAHAN SOSOYAN
VAUGHN WHITE
VICTOR GLUSHCHENKO
VITALII STADNYK
VITTORIO DI TORO
WAYNE HOWE
YANGYANG XU
YULIA ROMANOWSKI
YULONG LIU
ZAC COSTER
ZHIYONG LIU