Rising Sun Pictures soars to new heights on Tim Burton's Dumbo.
For Dumbo, the reimaging of the classic film from Director Tim Burton and Walt Disney Pictures, Rising Sun Pictures (RSP) was tasked with creating an army of marching elephants for a scene that harkens back to one of the most magical moments from the animated original.
play
reel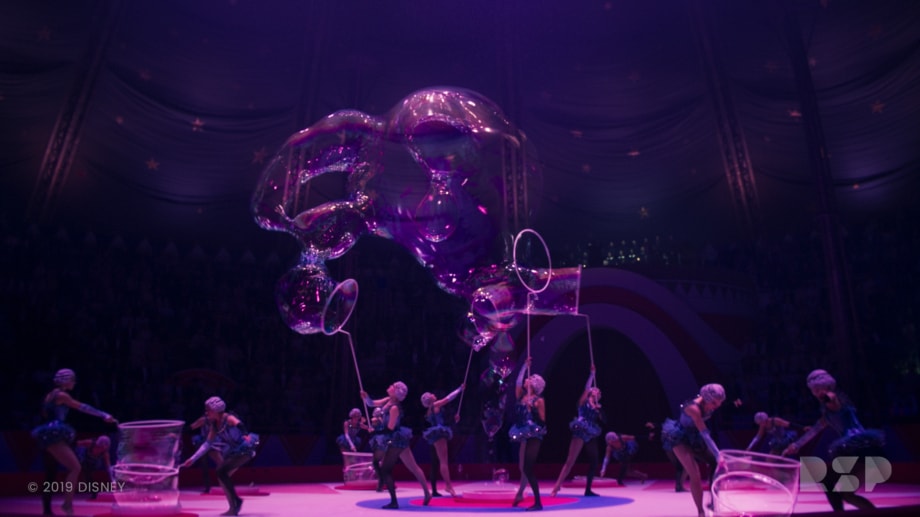 In the 1941 film, Dumbo and his friend, Timothy Q. Mouse, imagine pink elephants and other apparitions as part of a psychedelic music sequence. In the new film, a group of female dancers, performing in the mammoth entertainment park known as Dreamland, use hoops to create huge, wobbly bubbles that take the shape of pachyderms bouncing to a merry beat.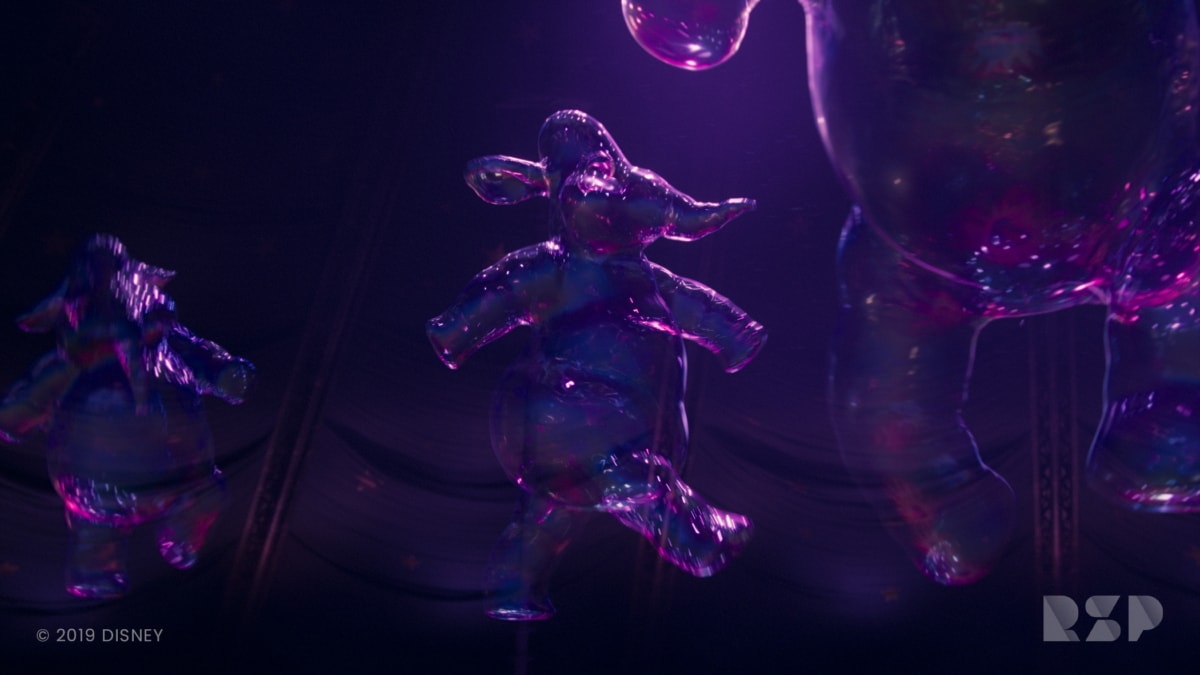 RSP worked under the direction of production VFX Supervisor Richard Stammers and VFX Producer Hal Couzens, in carrying out Tim Burton's playful vision. "It's a spectacular CG bubble show," says RSP VFX Supervisor Dennis Jones.
"It captures the essence of the magical place, Dreamland, welcoming you into a world where everything that happens is extraordinary." RSP VFX Supervisor, Dennis Jones.
Jones and his team, which included Lead Animator Victor Glushchenko, VFX Lead Sam Hancock, Lighting Lead Arthur Moody and Compositing Lead Andrew Savchenko, spent months establishing a look for the shimmering bubbles and choreographing their mesmerizing transformations. As they did so, the original concept for an 8-shot tableau evolved into a 52-shot extravaganza centered on a group of performing elephants. "It's slapstick, a bit bombastic and has an engaging, upbeat energy," observes Jones. "It was fun to watch it develop."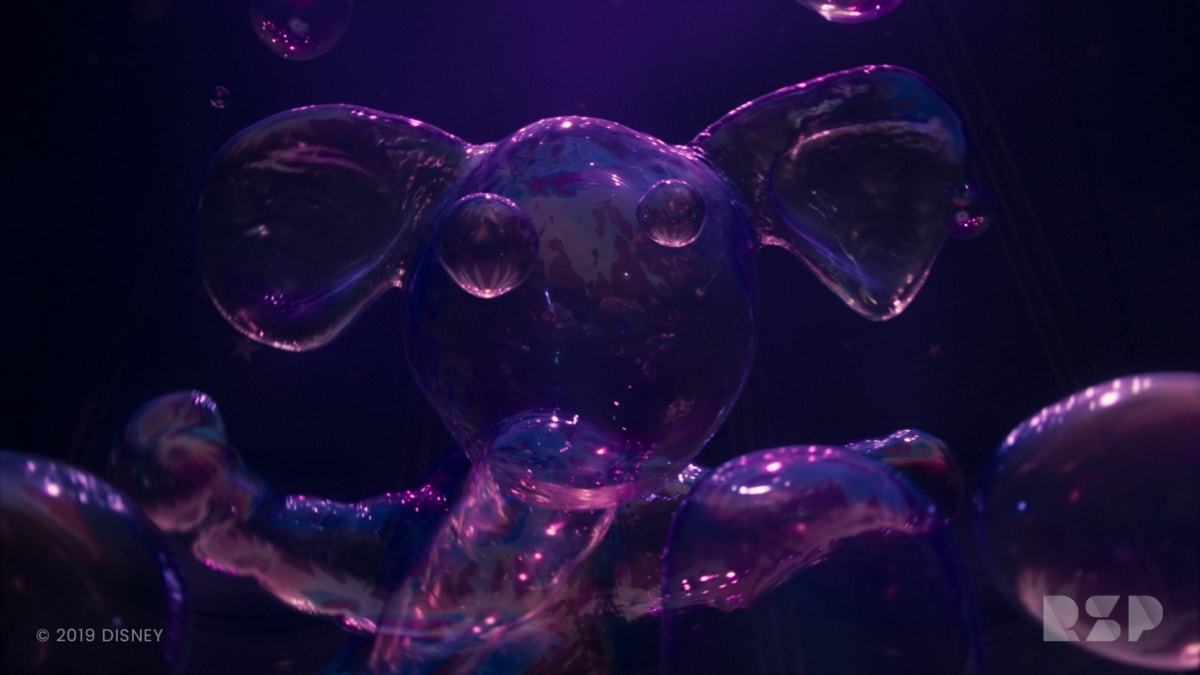 While the team was wrestling with the creative challenges of orchestrating the scene, they were also confronted with technical hurdles involved in pulling it off. Among the biggest was finding a way to make the irregularly shaped bubbles evolve smoothly into animal shapes. The methodology they ultimately chose involved breaking the animation into its component parts. "We built animation rigs that were used to control bubbles, and others that we used for legs, heads and other body parts," explains Jones. "That allowed us to blend a bubble into a leg, have the leg connect to another leg, and so on. We then applied skinning, surfacing and lighting."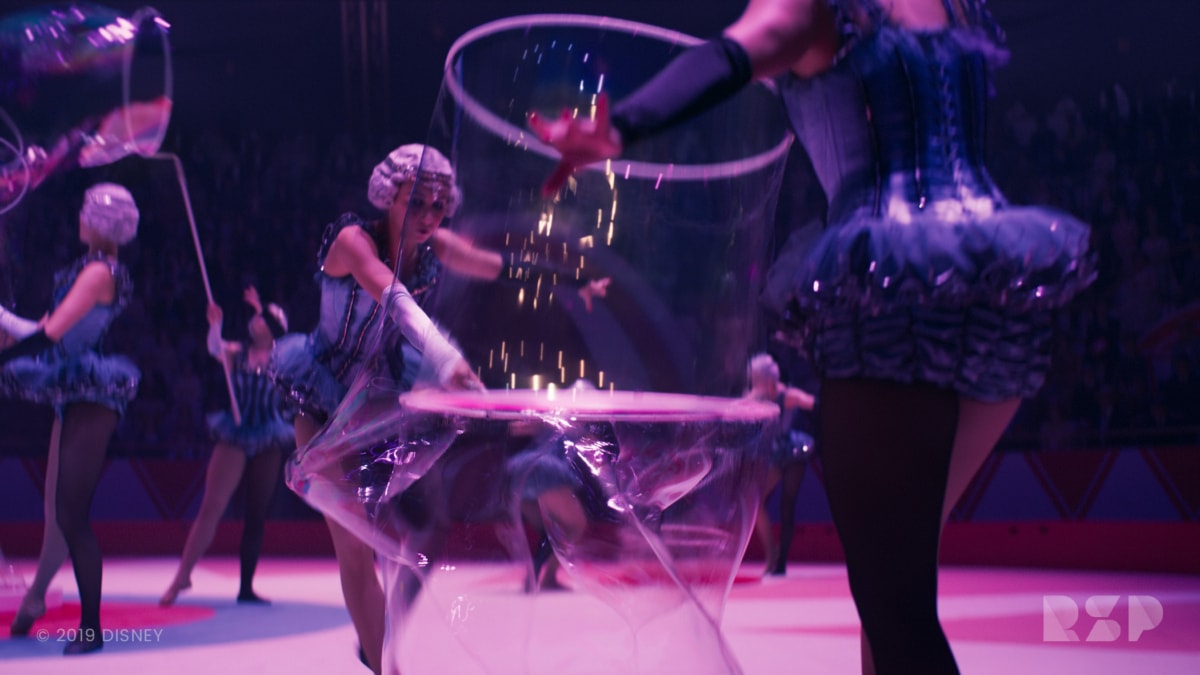 The technique enabled the animators to control bubbles and characters through a few simple commands, and manipulate their movement and shape-shifting in a manner similar to working a puppet. "An animator could trigger an effect by ticking a box," notes Jones. "Our guys had it so down pat, they could take animation to final, with colored surfacing, in just a few days." As a result, adds Jones, animators found it easy to experiment with movement and respond quickly to feedback from the director and production team.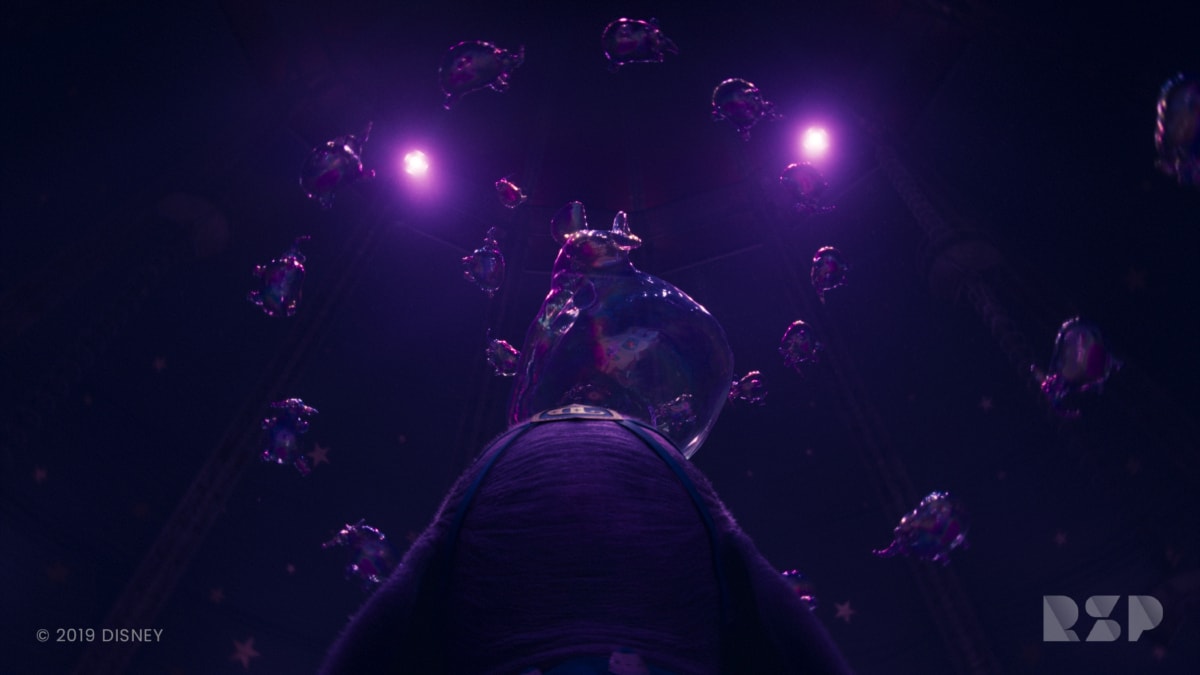 Finding the right balance between realism and magic also took great care. For example, as the bubbles transform into elephants, they retain some of the qualities of soap; and their shapes continue to wiggle. Production VFX Supervisor Richard Stammers suggested the addition of ripples to the elephants' skin to further their bubble-like quality. "That look was very difficult to get just right," recalls Jones. "If you went too smooth, it looked like blown glass. If you went too far the other way, their skin resembled rubber. Ultimately, we ended up a bit on the shiny side, with lots of high-frequency ripples moving through the surface, generated by the characters' performances."
dumbo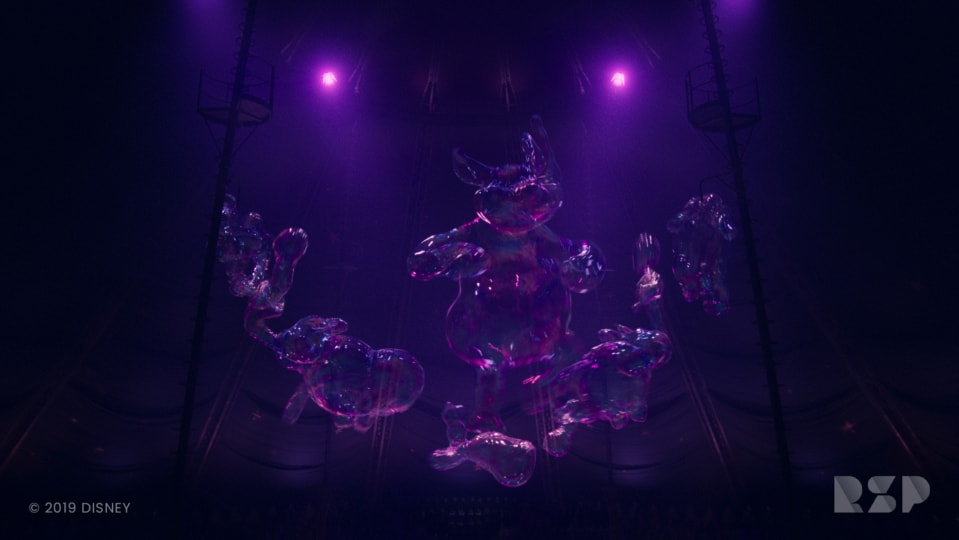 Due to the ephemeral quality of such effects, Jones adds, RSP chose to produce the scene in native 3D. "The CG is very reflective and transmissive; rendering the sequence in true 3D helped to preserve those qualities," he explains. "The plates are being dimensionalized for the final release, but we rendered our scene in true 3D with stereo camera setups."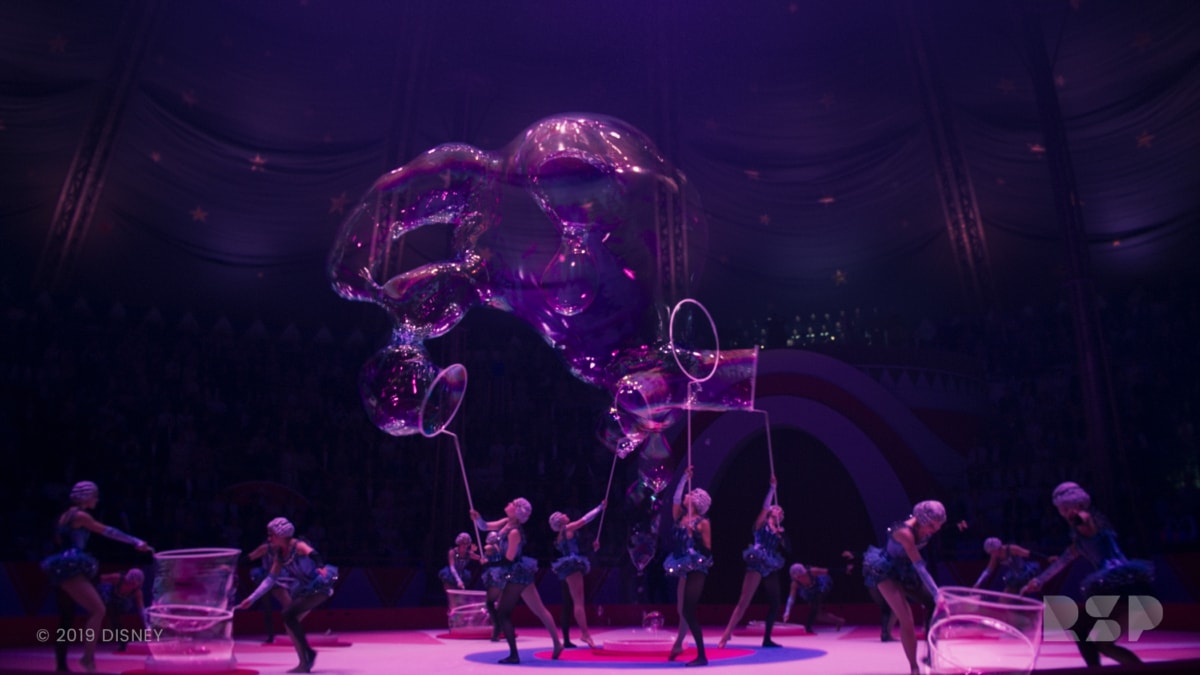 Jones says the team was guided throughout by Tim Burton and his distinctive aesthetic vision and he expects audiences will be delighted with the results. "This scene follows a dramatic moment in the film and offers the audience a breather and a laugh," he says. "It's a big spectacle and a bit of fun that certainly stands out."
CREDITS + CREW
Rising Sun Pictures
AANIKKA HOLDER
ABBY NATH
ABHISHEK PANDEY
ADAM POTTER
ADVAIT KAMBLE
ALANA NEWELL
ALBERT RADOSEVIC
ALEX MEDDICK
ALEXANDRA DAUNT WATNEY
ALYSSA BLACKWELL
ANDREA DUTTI
ANDREW PALMER
ANDREW SAVCHENKO
ANDY PEEL
ANG LU
ANIL REDDY CH
ANNA HODGE
ANTHONY PAUL CHAPPINA
ANTHONY SMITH
ANTHONY WINTER
ANTO BOND
ARTHUR MOODY
ARTHUR TERZIS
ARWEN MUNRO
ASHLEIGH WHITE
BEN DICKSON
BEN PASCHKE
BENJAMIN HOLEN
BENJAMIN KAY
BRICE LEHMANN
BRITTANY GRAHAM
BRODIE McCROSSIN
CAITLYN THOMAS
CAMERON VAN DEN BESSELAAR
CARA GATELY
CARL ST-PIERRE
CARLOS LEMUS-TEJADA
CELIA CLENNETT
CHANTELLE SEARLE
CHELSEA MIRUS
CHRIS KING
CHRIS ROSENHAIN
CHRISTINA RZEWUCKI
CHRISTOPHER JANSSEN
CLAIRE HOEY
CLAIRE LE TEUFF
CORINNE TENG
CORINNE TENG
CRAIG FIELD
CRYSTEL NEWMAN
DALLY GARCIA ARREAZA
DAMIAN DOENNIG
DAN WILLS
DANIEL HARKNESS
DANIEL STEART
DANIEL VELIKOV
DANIELLE CARDELLA
DAVID BEMI
DAVID CAUNCE
DAVID PEKAREK
DAVID SCHULZ
DEMIAN ASTUR
DENNIS JONES
DILEN SHAH
DIPESH V. PALAN
DYLAN BINNS
ED WILKIE
ELEISHA FRANCIS
EMMA HILDESTRAND
EMMA THOMPSON
FABIAN HOLTZ
FLORENT REVEL
FRANCESC DONAIRE
FRANCESCA JOCELYN MILDE
FRANCESCO CADONI
GAIL FULLER
GARETH ERIKSSON
GEMMA WOOD
GEOFF ALLAN
GEORGIE BROWN
GILLIAN HOWE
GREG WIEDER
HANG LI
HAO TRUONG
HARRY MEDLIN
HARSHAL PATIL
HEATH DINGLE
HUI-WEN WU
IAN COPE
IGNACIO LAORGA
ILONA BLYTH
IVY LI
JAMES CLIFT
JAMIE MACDOUGALL
JAROSLAVA CHALÁSOVÁ
JASON SCOTT
JAYDEN BEVERIDGE
JEBB NG
JENNIE ZEIHER
JESSICA LIN
JOEL MICHAEL
JOHN SALEEM
JOHN TOTH
JONATHAN BLIESCHKE
JONATHON MCKENDRICK
JONATHON SUMNER
JONO COY
JORDAN VANDERLINDEN
JOSEPH ROBERTS
JOSH ELLEM
JOSHUA GOETZ
JOSIP PETERKOVIC
JULIA CAPLIN
JULIAN HUTCHENS
JULIEN TATON
JULIETTE CHRISTIE
JUSTIN GREENWOOD
KATE BERNAUER
KATHY CONSTANTIN
KIAN ZAND
KIERAN OGDEN-BRUNELL
KIRSTY PARKIN
KURT DEBENS
LACHLAN TOLLEY
LEIAH SEARS
LIAM GARE
LU, TING YUN
LUAN NGUYEN
LUKE FLANAGAN
MANUJ BASNOTRA
MARC H LANGBEIN
MARCUS WELLS
MAREE FRIDAY
MARIE-EVE GELINAS
MARK HONER
MARK STORY
MATEUSZ KRZASTEK
MATHEW MACKERETH
MATTHEW SHAW
MAUDE DESCHENES
MEHERZAD MINBATTIWALA
MERINDA JANSE VAN RENSBURG
MICHAEL FURNISS
MICHAEL JOHNS
MICHAELA DANBY
MOHAMED LABBAI
NAEEM CHUDAWALA
NATHAN JONES
NATHAN PERKINS
NATHAN ZEPPEL
NICK BEINS
NICK PILL
NIKHIL KAMBOJ
NIKHIL SHANKAR-NOBLE
NIKOLAS SLOTIUK
NOAH VICE
NOEMIE CRUCIANI
OLEG MAGRISSO
OWEN WILLIAMS
PARIKSHAT TYAGI
PARIS DOWNES
PATRICK CASHEL
PAUL BOYD
PAUL TAYLOR
PETER MCINULTY
PETR ROHR
PHILLIP FRASCHETTI
POL CHANTHASARTRATSAMEE
QAZI HAMZA JAVED
RAJBIR S DHALLA
REBECCA MERCURIO
RENEE MARSLAND
REUBEN MONTGOMERY
ROBERT BEVERIDGE
ROBERT JUNGGEBURT
ROBERTO VELIO GENITO
ROBIN REYER
RODRIGO GUERECHIT-RATTI
ROLAND DOBSON
ROSS NOVAK
RYAN KIRBY
SAM HODGE
SAMANTHA ABDA
SAMUEL HANCOCK
SAMUEL HECHT
SANDEEP ROY
SARA HENSCHKE
SARAH BENEKE
SARAH FOURNIER-NEVEU
SEAN FERNANDES
SEBASTIAN TRAN
SHANE BERRY
SHANE MIRANDA
SHAWN MCCARTEN
SIMON WALSH
SITHIRISCIENT KHAY
SITHIRISCIENT KHAY
SOPHIE ELDER
STEPAN PAZDERKA
STEWART ALVES
SUMMER SWANSON
THOMAS MAHER
THOMAS BAXTER
TIM CROSBIE
TIM MACKINTOSH
TIMMY LUNDIN
TIMOTHY QUARRY
TOM WOOD
TONY CLARK
TROY TOBIN
TUREA BLYTH
VAHAN SOSOYAN
VICTOR GLUSHCHENKO
VITALII STADNYK
WAYNE HOLLINGSWORTH
WAYNE HOWE
WAYNE LEWIS
WENDY NETHERCOTT
ZAC COSTER