Rising Sun Pictures Recreates Las Vegas for Baz Luhrmann's "Elvis"
The Adelaide-based studio also uses innovative machine learning tech to magically blend actor Austin Butler with the real Elvis in vintage movie clips.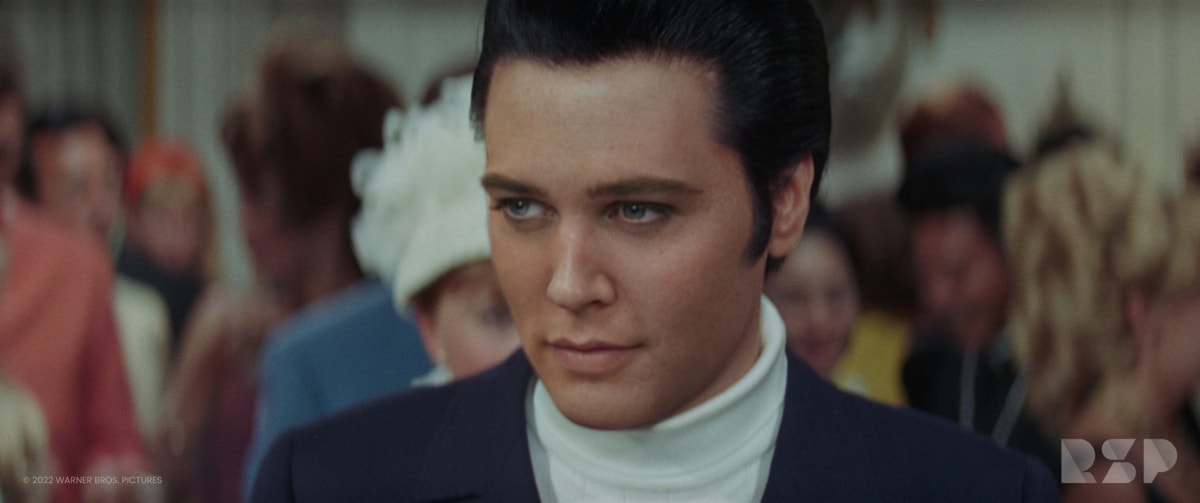 June 2022 - Rising Sun Pictures (RSP) was a key visual effects provider and creative partner for Elvis¸ the much-anticipated new film from Oscar-nominated director Baz Luhrmann and Warner Bros. Pictures. Encompassing more than 160 shots, RSP's work included large-scale, historic reproductions of the Las Vegas Strip and the Daytona Beach Boardwalk. The studio also employed groundbreaking artificial intelligence technology to integrate actor Austin Butler (who plays Elvis) into actual clips from Presley's movies. The South Australian Government also supported the visual effects for this film through its 10 percent PDV incentive.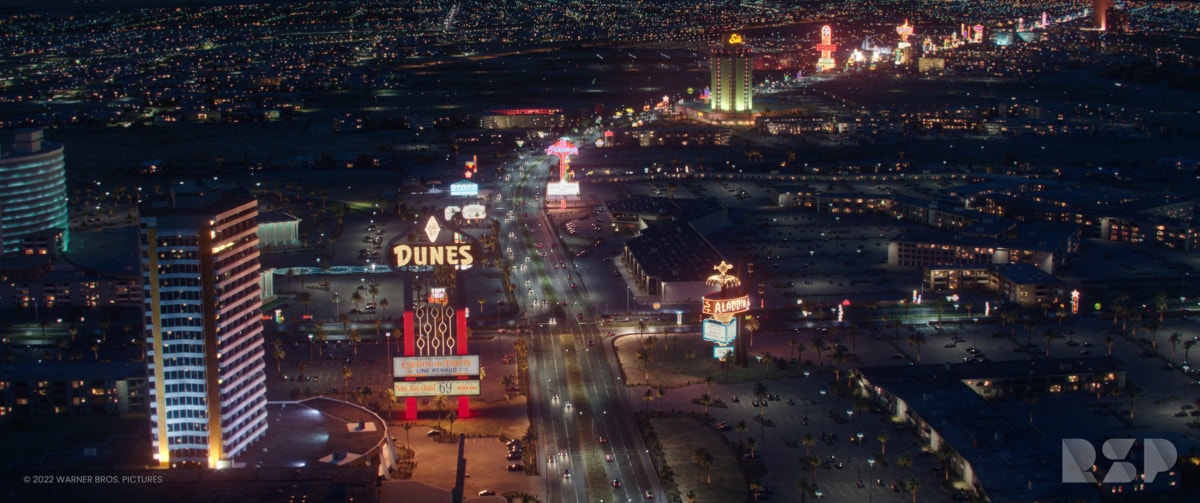 RSP's team was led by VFX Supervisor Julian Hutchens, VFX Producer Jeanne-Elise Prevost, CG Supervisor Mathew Mackereth, Compositing Supervisor Guido Wolter and Executive Producer Meredith Meyer-Nichols.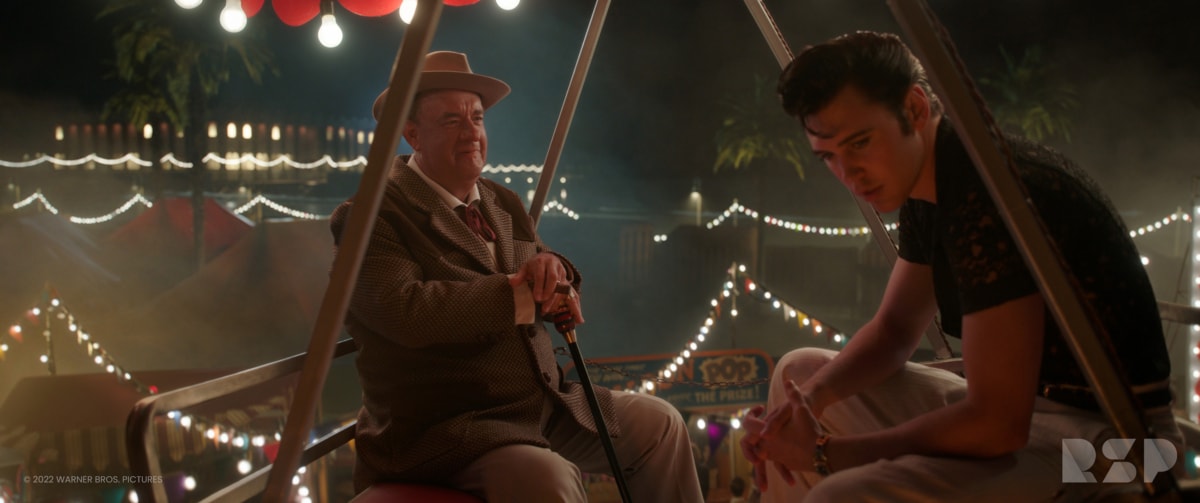 RSP's principal task involved the building of a massive digital reproduction of the International Hotel, its surrounds and the Las Vegas Strip as it appeared in the late 60s and early 70's. The extensive CG environment is featured during many pivotal scenes throughout the film and also witnessed through the windows of a penthouse apartment on the 30th floor of the International Hotel, where Elvis lived during his legendary residency there. Live action portions of the hotel interior were shot on sets at Village Roadshow Studios in Oxenford, Queensland.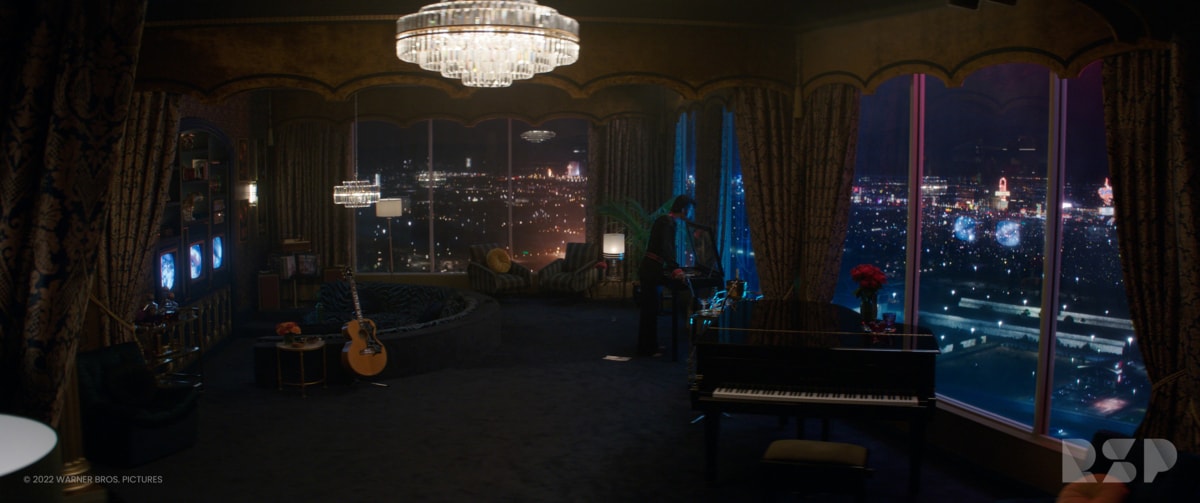 The Las Vegas exterior was created with an eye toward photo-realism and historical accuracy. RSP modelled the geometry for the International Hotel by referencing the original blueprints used in its construction. Surrounding casinos, hotels, streets, neon signage and other features were based on voluminous photographic, archival footage and satellite imagery, including vintage postcards and travel brochures.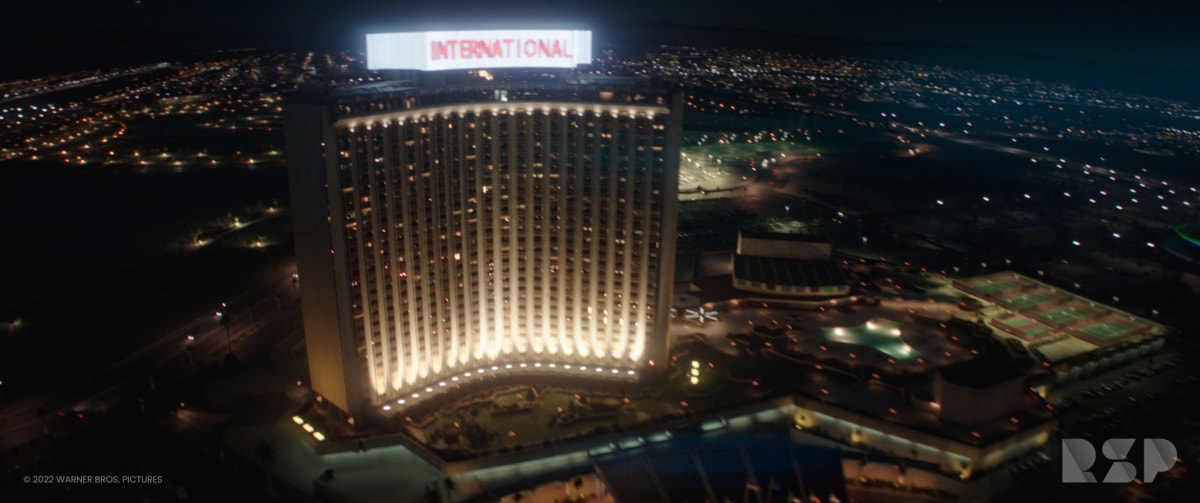 RSP drew on current geographical data to accurately reproduce the topography of Las Vegas and its environs. "We mapped out the streets all the way to the rugged surrounding mountains, then reduced the urban sprawl back to 1969 levels by lining up cameras to vintage aerial photography, explains Hutchens.  "We then used a combination of photography and data collected on the street to place structures where they were situated in the sixties."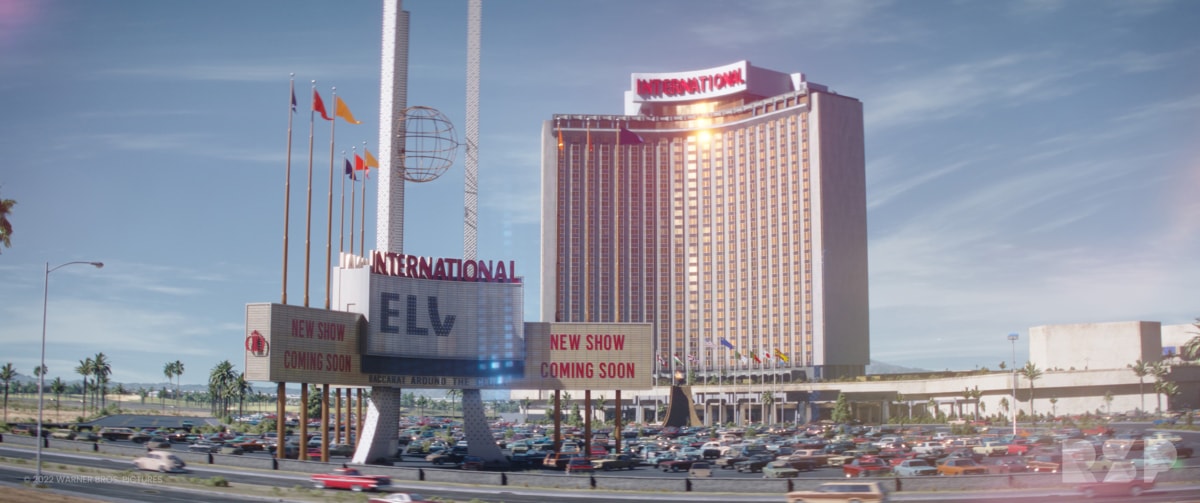 "This was primitive technology, and it was important when recreating it digitally to capture that visual quality even down to the occasional malfunctioning or broken bulb. Our modellers counted every bulb and our look development artist analysed each sign's unique neon cycle to capture the authentic look and motion from that period." RSP VFX Supervisor, Julian Hutchens.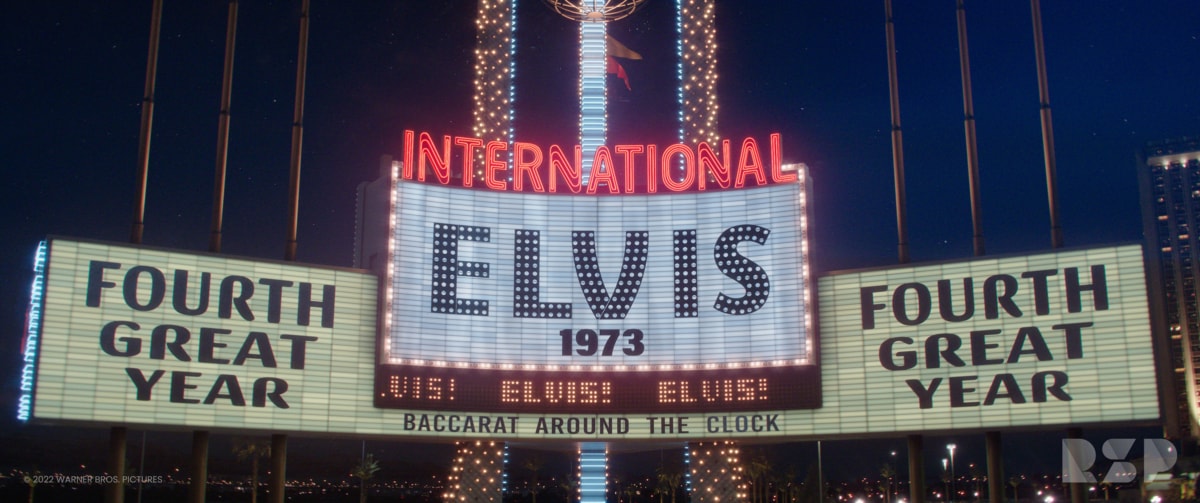 The RSP artists were meticulous in matching the iconic neon lighting employed in Las Vegas at the time, including the giant Elvis sign that stood in the car park of the International Hotel. "We went to great lengths to make the signs look like neon, which included the analog flicker that they produce." Hutchens says.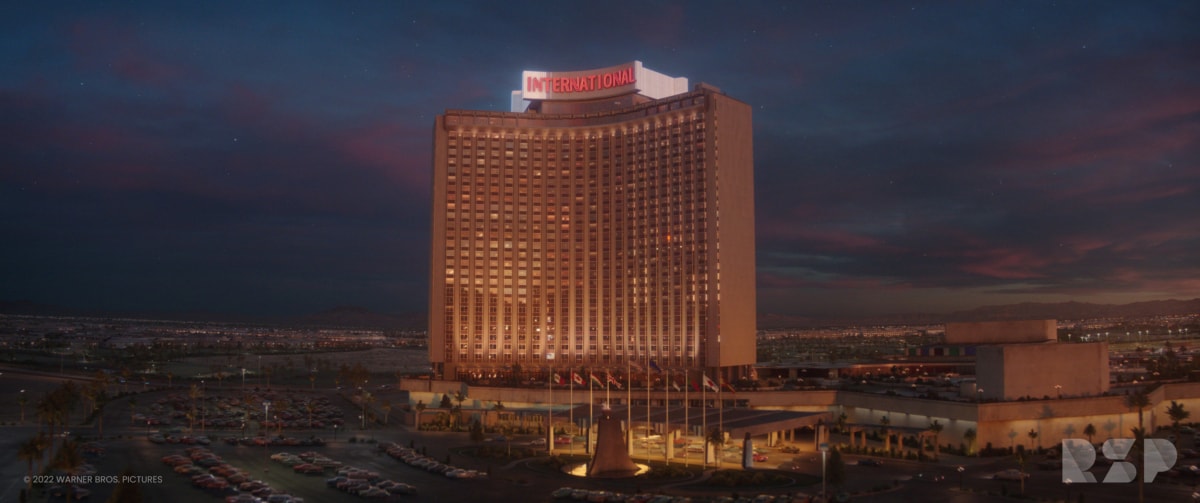 Other details included 1960s-era cars and trucks, billboards, traffic signs and palm trees glimpsed on the streets below the hotel.
"Some of the wide shots include more than 30,000 individual lights," notes Mackereth.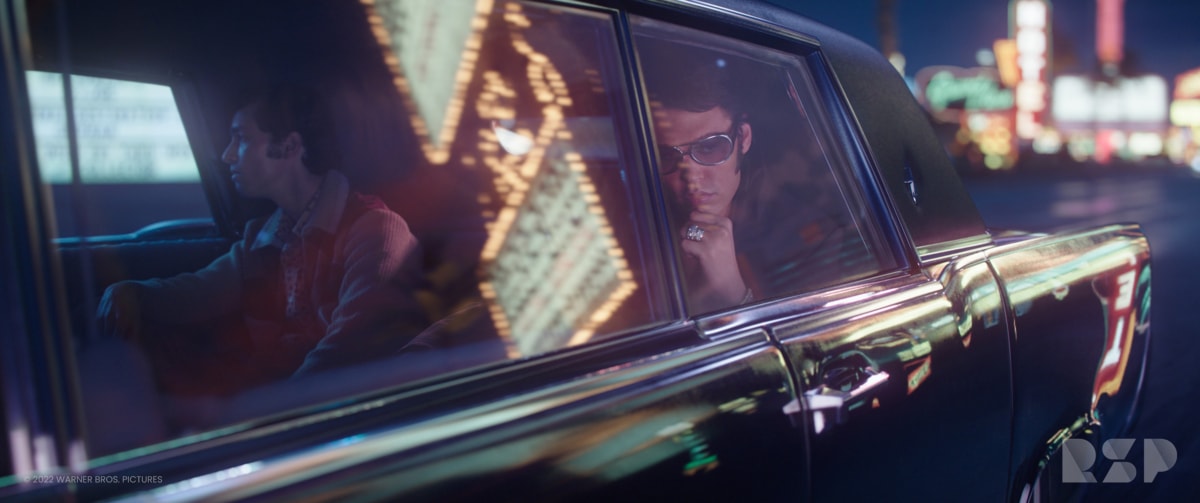 "Every city street was built individually with its own streetlights and computer-generated Cadillacs, Lincolns, Chevys and Buicks. While the scope and detail of the cityscape is amazing, it's not intended to draw the audience's eye. Rather, it's meant to add breadth to the foreground cinematography, which is stunning, and support the magical atmosphere of the story." RSP CG Supervisor, Mathew Mackereth.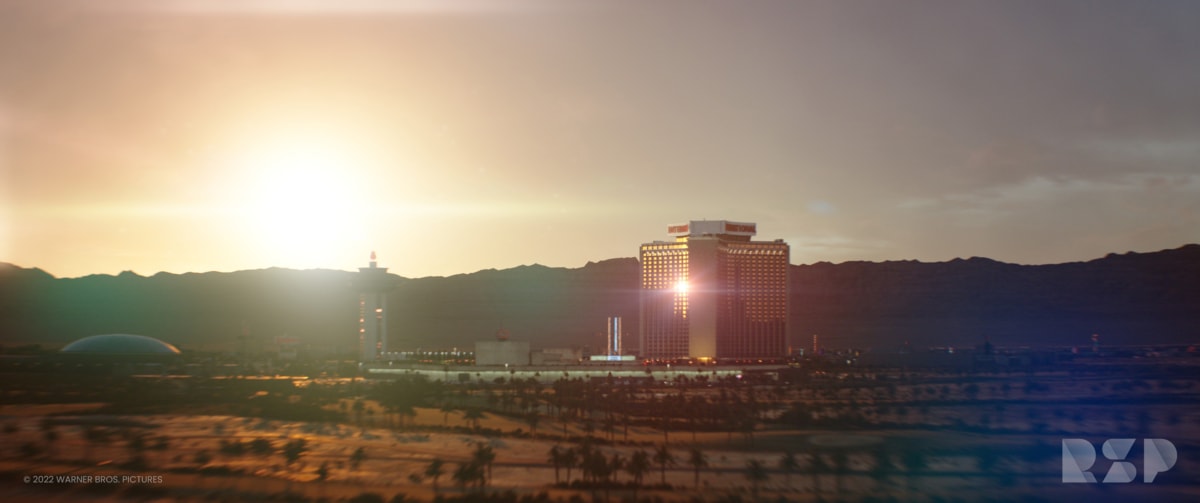 The environment was built in a procedural manner so that features could be generated as needed and the scene was made to mirror camera angles and camera movement, which was taking place in the foreground cinematography. This resulted in seamless integration and an uncannily natural look, but it came with rendering challenges. "The visual goal was clear, but several months of R&D were necessary to get the required results. Hutchens observes. "Once we had overcome those challenges, we could compose shots and deliver beautifully rich results."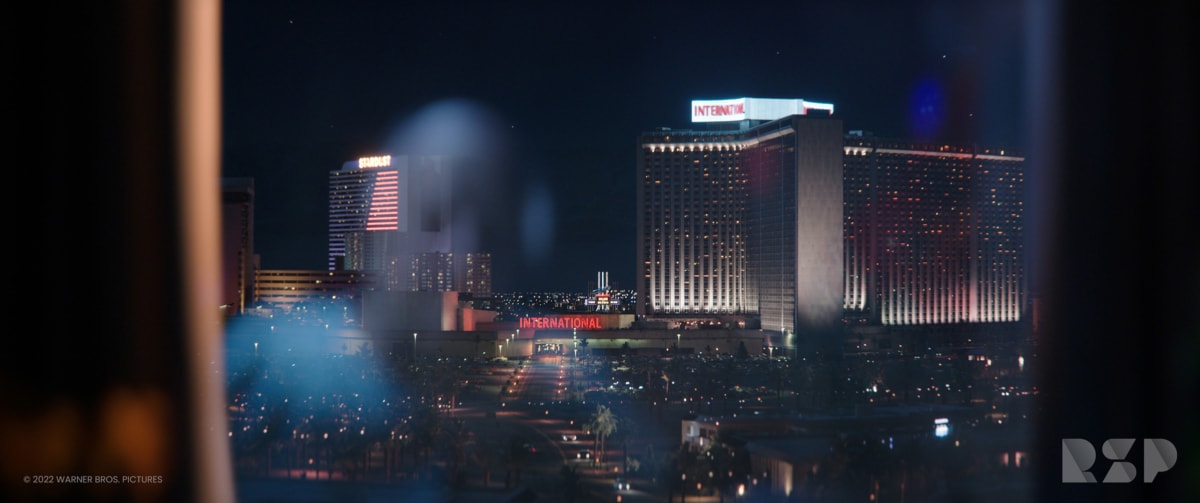 The size and complexity of the Las Vegas environment also presented logistical hurdles. "Building an environment that huge takes time," says Prevost. "Close coordination with the production team, editorial and other vendors was essential, especially during the early stages. We have a strong pipeline and a lot of experience in managing complex turnover, review and delivery schedules. We also plan ahead to ensure resources are available when they are needed."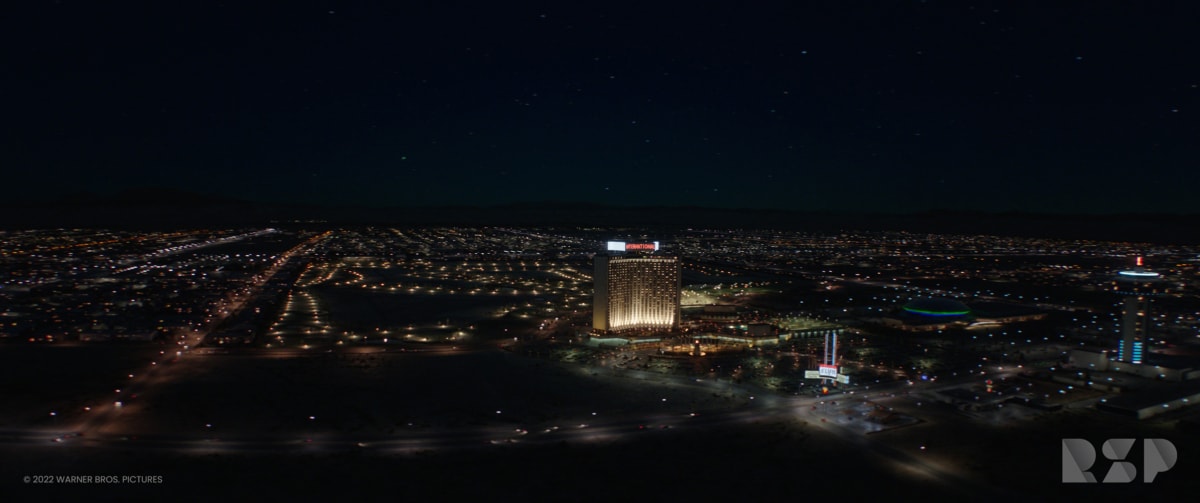 The Daytona Beach Ferris wheel sequence required a similar combination of artistic flair and pinpoint technical execution. The extended scene depicts a meeting between Presley and Colonel Parker in the mid-1950s where they discussed the singer's future. As with the Las Vegas build, RSP produced a CG recreation of the boardwalk environment based on archival imagery and in this case also enriched by the lavish details referenced from the live-action set. However, the creative challenge was less dependent on historic accuracy and detail and more focused on composing coherent backgrounds to support a continuous journey around the wheel.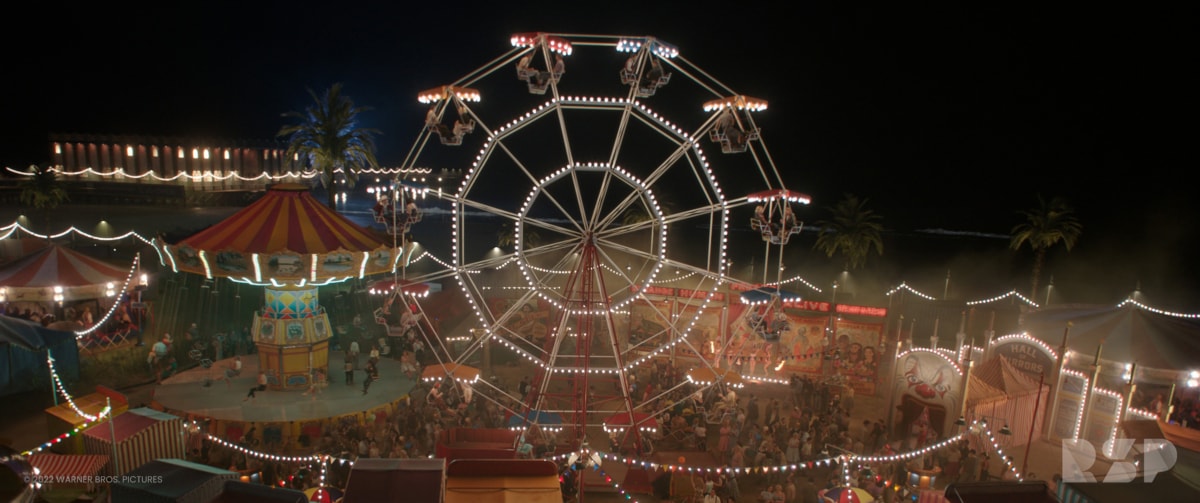 For this sequence, a practical reproduction of the 1950s Ferris wheel was used in filming some of the establishing wide shots, whilst most of the foreground elements of the two actors were shot within a swaying gondola on a blue screen set. A combination of RSP's digital backgrounds and an array of footage were used throughout.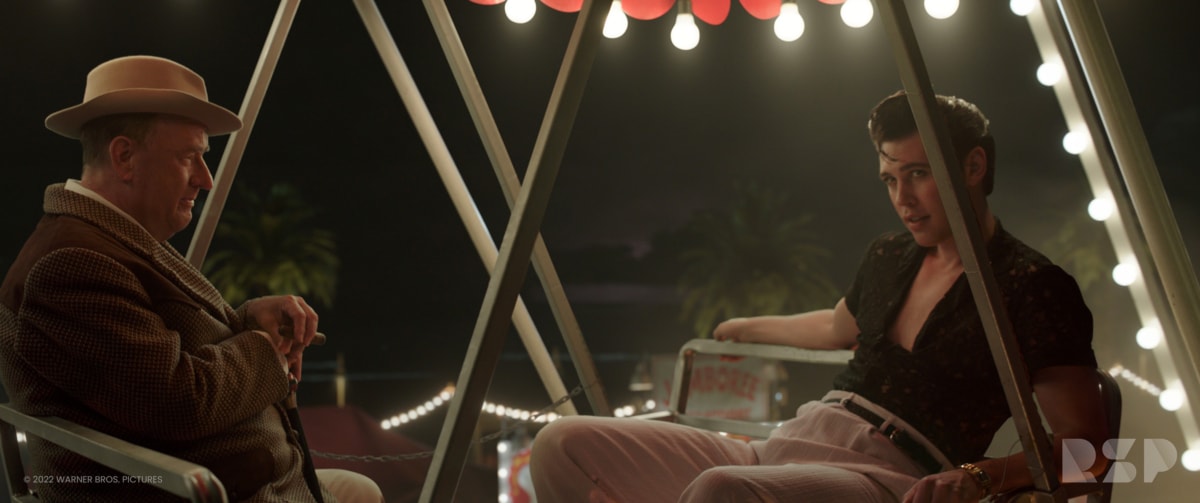 Synchronising the background imagery with the movement of the Ferris wheel required precise planning. "We had to determine exactly where the characters were on the wheel at each moment within the edit," explains Hutchens. "Wonderful array footage was shot journeying around the wheel capturing the rich live-action portion of the set. In some cases, if abstract enough, this was used as the background, whilst other shots required a fully digital background."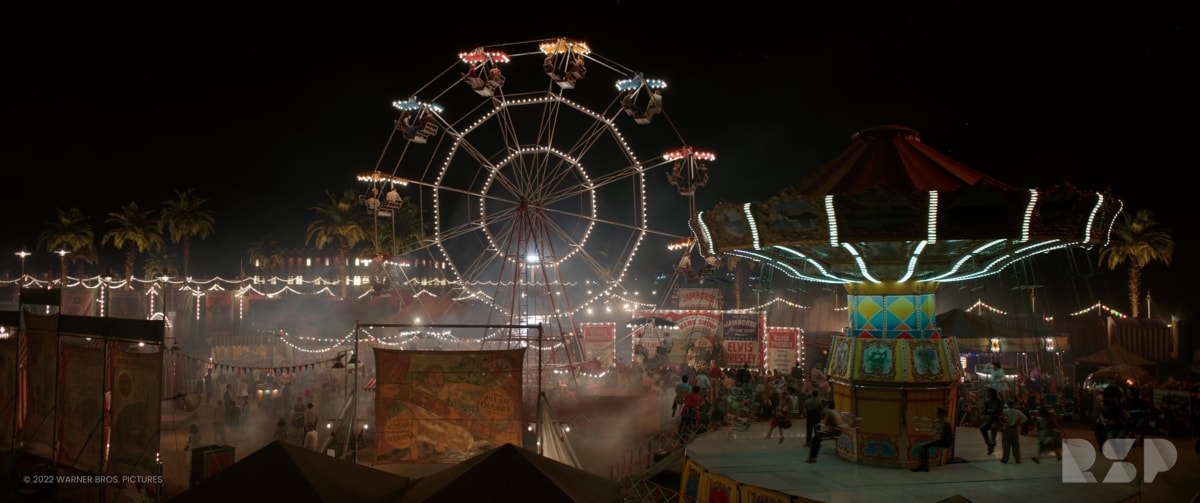 Artists were careful to ensure those background elements were correctly placed in terms of space, perspective and motion, even in close-ups where only a small part of the surrounding environment can be seen. "In some shots, you see the tops of the carnival or the ocean in the distance, while in others, the background is a blur," explains Mackereth. "It was challenging to get the continuity right, but the results look fantastic. Everything contributes to making it feel like a coherent scene."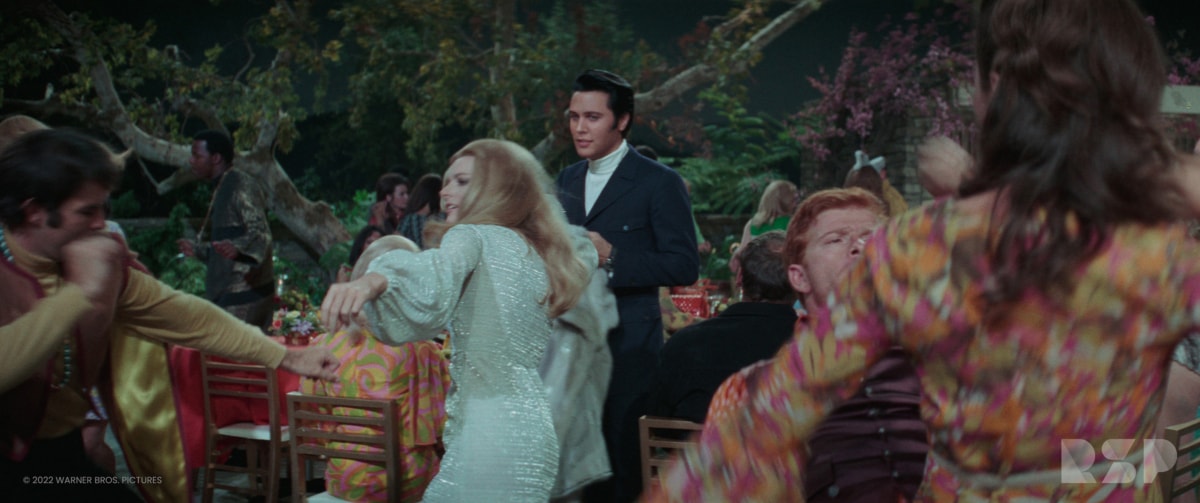 RSP's most novel work involved augmenting clips from several of Presley's movies, including Live a Little, Love a Little and Girls! Girls! Girls!, by using machine learning to fuse Austin Butler's features with Presley's. The studio employed a stack of proprietary deep-learning software to analyse the facial features and expressions of both Presley and Butler.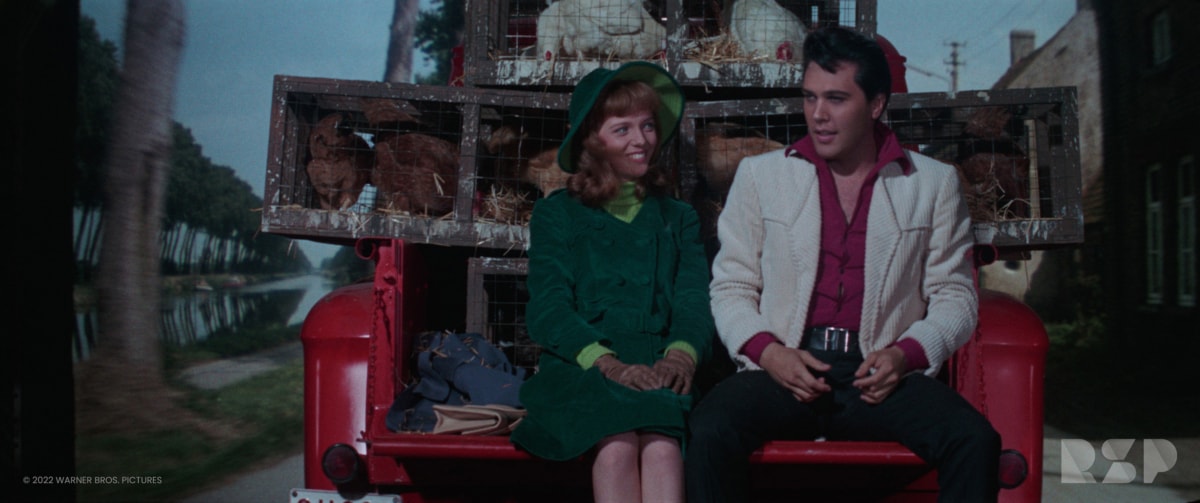 "Our technique combines machine learning and traditional visual effects," notes Hutchens. "We did a lot of compositing work to adjust for small differences in physical appearance between Austin and Elvis. Austin has a slightly smaller frame and a narrower neck and shoulders. His cheekbones are higher. It was an interesting blending of techniques and, ultimately, quite successful."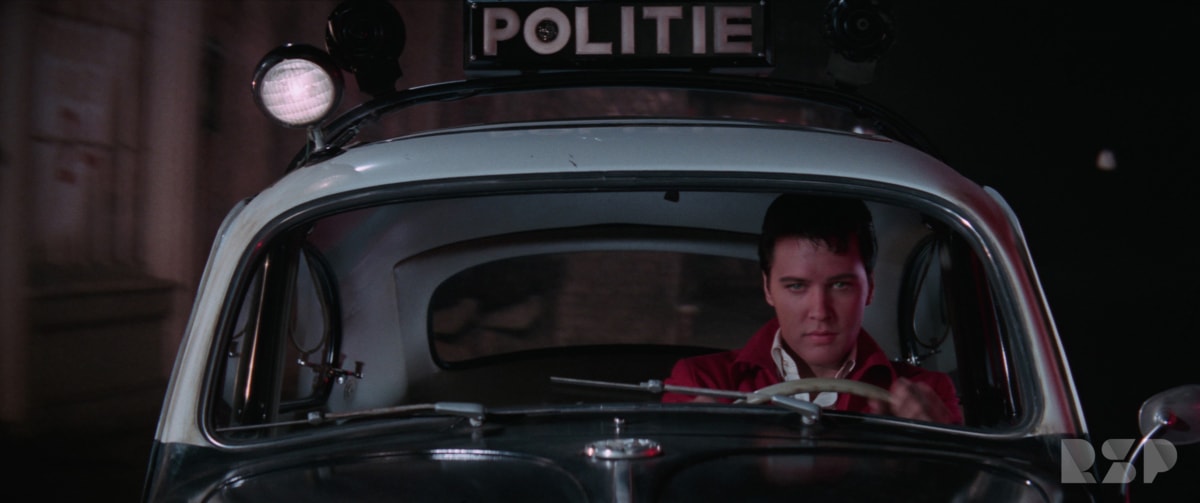 RSP worked closely with Luhrmann's production team through the months it took to develop, design, produce and deliver the visual effects. "We were honoured to work on this production in such a demanding and important role," notes Meyer-Nichols. "Our team invested their hearts and souls, and they were thrilled when our first work-in-progress shots for the Las Vegas environment received an enthusiastic response from Baz and his team. We knew then that they trusted us to deliver something cool."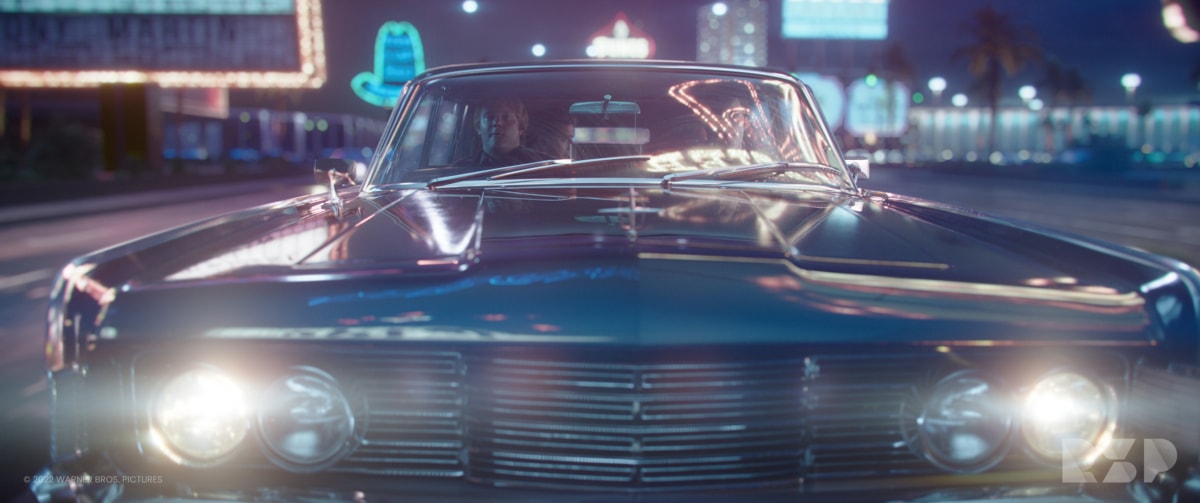 Hutchens called it a magnificent project for him and the whole RSP team.
"Baz Luhrmann always brings a very lavish visual palette to the screen. He has a unique storytelling style and it was a fantastic opportunity to contribute to his vision. The moment I read the script, I knew how wonderful this film was going to be…the camerawork, editing, costumes, art direction, music and visual effects, blending together in a rich tapestry to tell the story of Elvis." RSP VFX Supervisor, Julian Hutchens.
"It was important to encapsulate the rich visual tapestry of lights, colours and textures from a more primitive analogue Vegas, we wanted to ensure all visual ingredients were established so that we could compose dynamic compositions and camera moves to help support and enrich the story." notes Hutchens.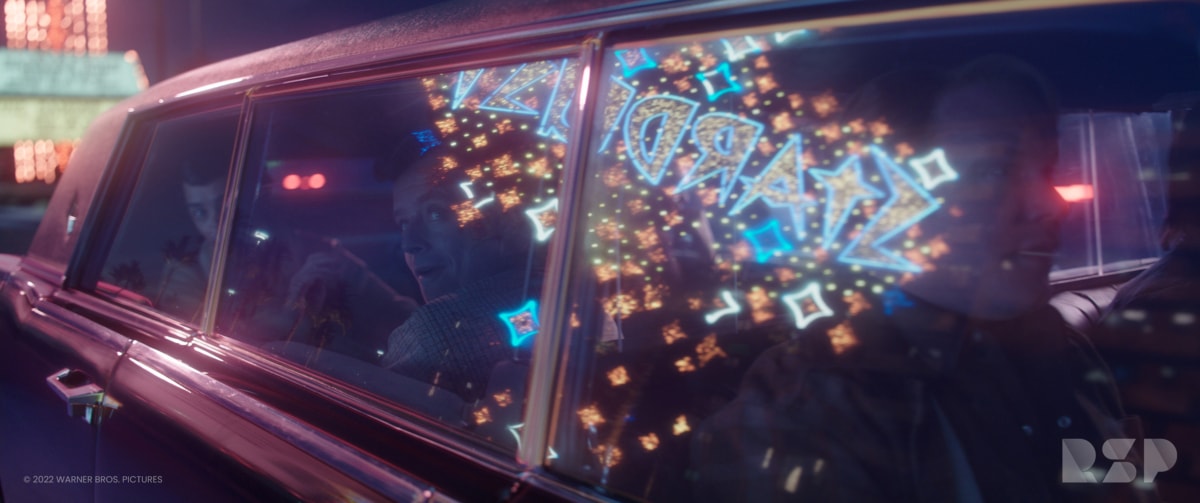 However, an asset is only a base. To really bring the shots alive, careful attention was taken to analyse vintage lenses and their various characteristics to emulate all the imperfections and optical qualities, to suggest that what the audience is viewing could be mistaken for found footage." adds Hutchens.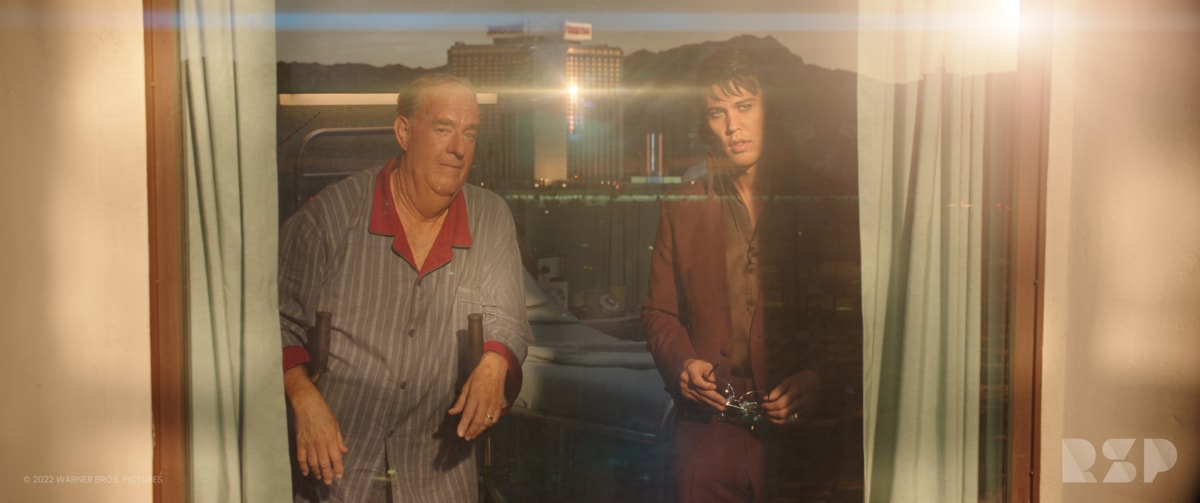 CREDITS + CREW
RSP CREW
ADAM PETTIGROVE
ADAM POTTER
ADARSH LANGTHASA
AKSHAY SACHDEVA
ALEX FOX
ALEX MEDDICK
AMBER WILSON
ANDREW BURLES
ANDREW FERGUSON
ANDREW PALMER
ANDREW PEEL
ANDREW WILLIAMS
ANG LU
ANNA HODGE
ANTHONY WINTER
ANTO BOND
ASHLEIGH WHITE
ASHLEY MEARS
AW KWANG THENG
BENJAMIN WARD
BRADLEIGH MCKAY
BREE WHITFORD-SMITH
BRENT ST MARY
BRIDGET DINNING
BRITTANY GRAHAM
CAMERON BROWN
CHARLES KIM
CHRIS KING
CHRISTOPHER BOWMAN
CHRISTOPHER CROWELL
CONNOR SULLIVAN
CRAIG FIELD
CRYSTEL NEWMAN
DALLY GARCIA ARREAZA
DANIEL CARLIN
DANIEL NEES
DANIEL VELIKOV
DANIELLE CARDELLA
DAVID ARSCOTT
DAVID CAUNCE
DAVID OZOLS
DOMINIC STEPHENSON
DYLAN SHAW
EMILY BOUBERT
EMMA SULLIVAN
FABIAN HOLTZ
GARETH ERIKSSON
GEORGIE BROWN • TUSHAR SONKER
GREGORY SHIMP
GUIDO WOLTER
HAMISH BELL
HAO TRUONG
HARRY MEDLIN
HO TING NG
JACK WEST
JACKIE FOX
JADE HAMLEY
JAMES DEAN
JAMES KHOU
JASON QUINTANA
JEAN-LUC AZZIS
JEANNE-ÉLISE PRÉVOST
JENNIE ZEIHER
JESS BURNHEIM
JIAQI HU
JM CHEN
JOHANNES GROSS
JOHN BASTIAN
JONATHAN WENBERG
JULIAN HUTCHENS
JULIETTE CHRISTIE
KATE BERNAUER
KIM FOGELBERG
KRANTHI KUMAR K
KUNAL BISWAS
LEIAH SEARS
LOUIS DUNLEVY
MADDISON GREEN
MARC VARISCO
MAREE FRIDAY
MARK HONER
MARK TOMCZYK
MATHEW MACKERETH
MATT GREIG
MATT WESTBROOKE
MATTHEW COOMBE
MATTHEW SHAW
MEREDITH MEYER-NICHOLS
MICHAEL HOLMES
MICHAEL JOHNS
MONICA QUAN
MORGAN PETRIE
NATHAN ZEPPEL
NICK PILL
NURUL ARIF
PARIS DOWNES
PAUL TAYLOR
PETER KUMIC
PHILLIP OUTEN
RENEE MARSLAND
RICHARD ALEC COLLIS
RICHARD SAADE
ROBIN REYER
RYAN WOODCOCK
SAMANTHA ABDA
SARA HENSCHKE
SARAH BENEKE
SARAH BOND
SASKIA ELLIOTT
SCOTT BULEY
SHANE BERRY
SIMON WALSH
STEFANIA CANCEMI
TAIGA ISHIBASHI
THOMAS BAXTER
TIM MACKINTOSH
TONY CLARK
TRACY DAVIDSON
TRENT ADAMCZYK
TROY TOBIN
VAUGHN WHITE
VICTOR GLUSHCHENKO
WENDY NETHERCOTT