Rising Sun Pictures Journeys to Another Dimension with "Spider-Man: Far From Home"
In its first contribution to the Spider-Man franchise, studio produces hologram that reveals the origin of 
the Elementals.
Rising Sun Pictures delivered more than 100 visual effects shots for Columbia Pictures' and Marvel Studios' superhero epic Spider-Man: Far From Home, one of this year's most anticipated blockbusters. The studio's work included a memorable holographic sequence that reveals one of the film's biggest mysteries: the origins of The Elementals, four monstrous creatures from a parallel universe with the ability to control fire, earth, water and wind.
PLAY
REEL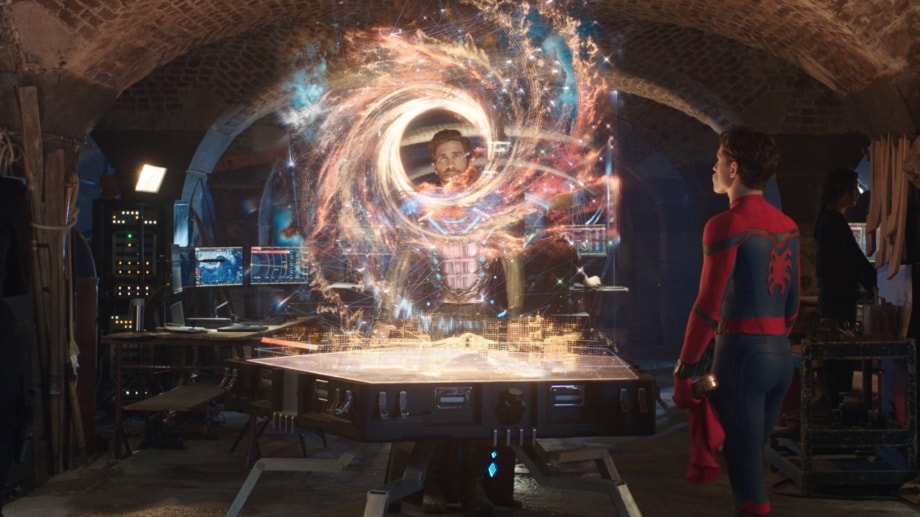 Directed by Jon Watts, Spider-Man: Far From Home is a sequel to 2017's Spider-Man: Homecoming and its story is set in the aftermath of Marvel Studios' mega-hit from earlier this year, Avengers: Endgame. Grieving over the death of Tony Stark, Peter Parker (Tom Holland) sets off on a European vacation, but his plans change when he meets spymaster Nick Fury (Samuel L. Jackson) and the enigmatic Quentin Beck/Mysterio (Jake Gyllenhaal), who warn him of new threat to planet Earth. The film's cast also includes Zendaya, Marisa Tomei, Jon Favreau and Jacob Batalon. RSP worked under the direction of Watts, production VFX supervisor Janek Sirrs and VFX producer Cyndi Ochs.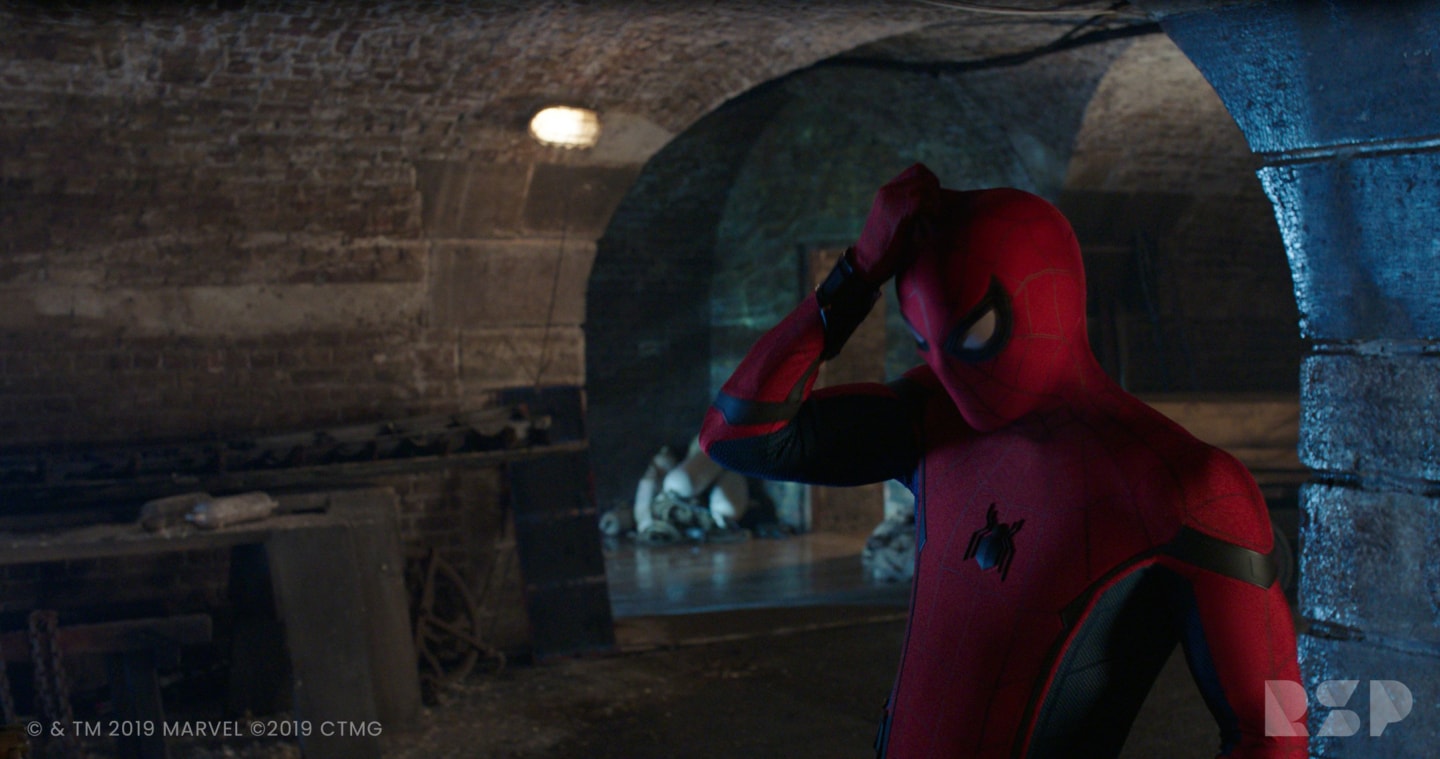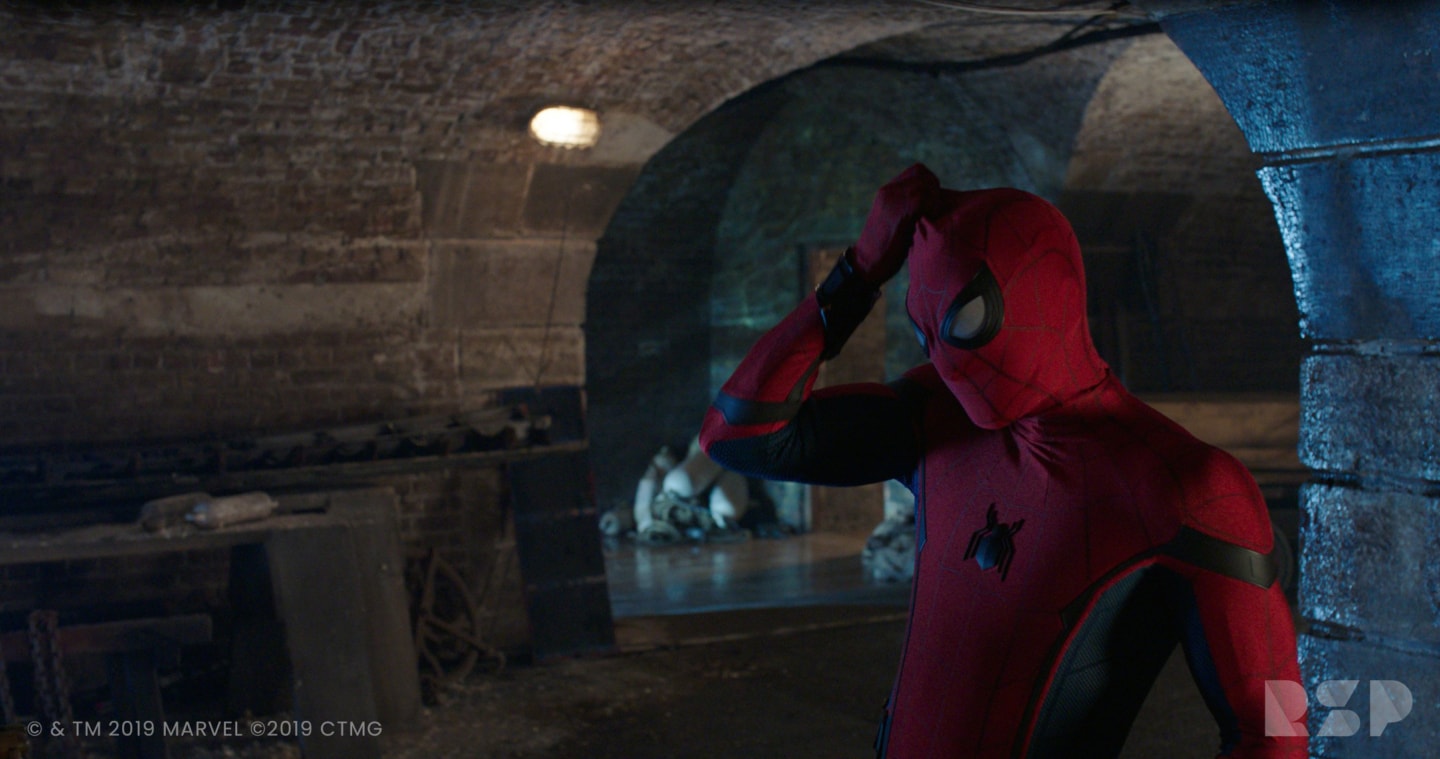 Although Spider-Man: Far From Home marks RSP's first involvement in the Spider-Man franchise, the studio was able to draw on its experience on other Marvel Studios films including Captain Marvel and Thor: Ragnarok. "Captain Marvel also had several complicated hologram effects, and we built on that," notes RSP executive producer Gill Howe. "Marvel Studios has high expectations and distinct creative sensibilities. To meet them you need to be agile and have a strong pipeline. We earned our stripes on Captain Marvel and Thor: Ragnarok. That helped a lot with this film."
SPIDER-MAN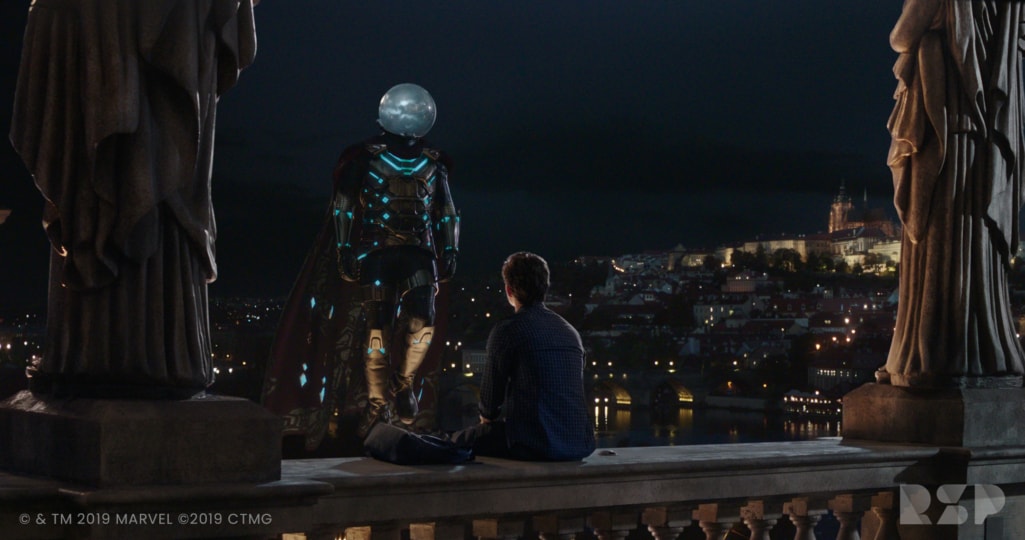 RSP's most complex work for Spider-Man: Far From Home involved a scene set in Quentin Beck's subterranean bunker in Venice, Italy, where he invites Spider-Man and Fury to explain the existential danger posed by the Elementals. Beck plays a hologram depicting the creatures' origin in a parallel dimension, their involvement in Earth's distant past and their role in the destruction of his home planet.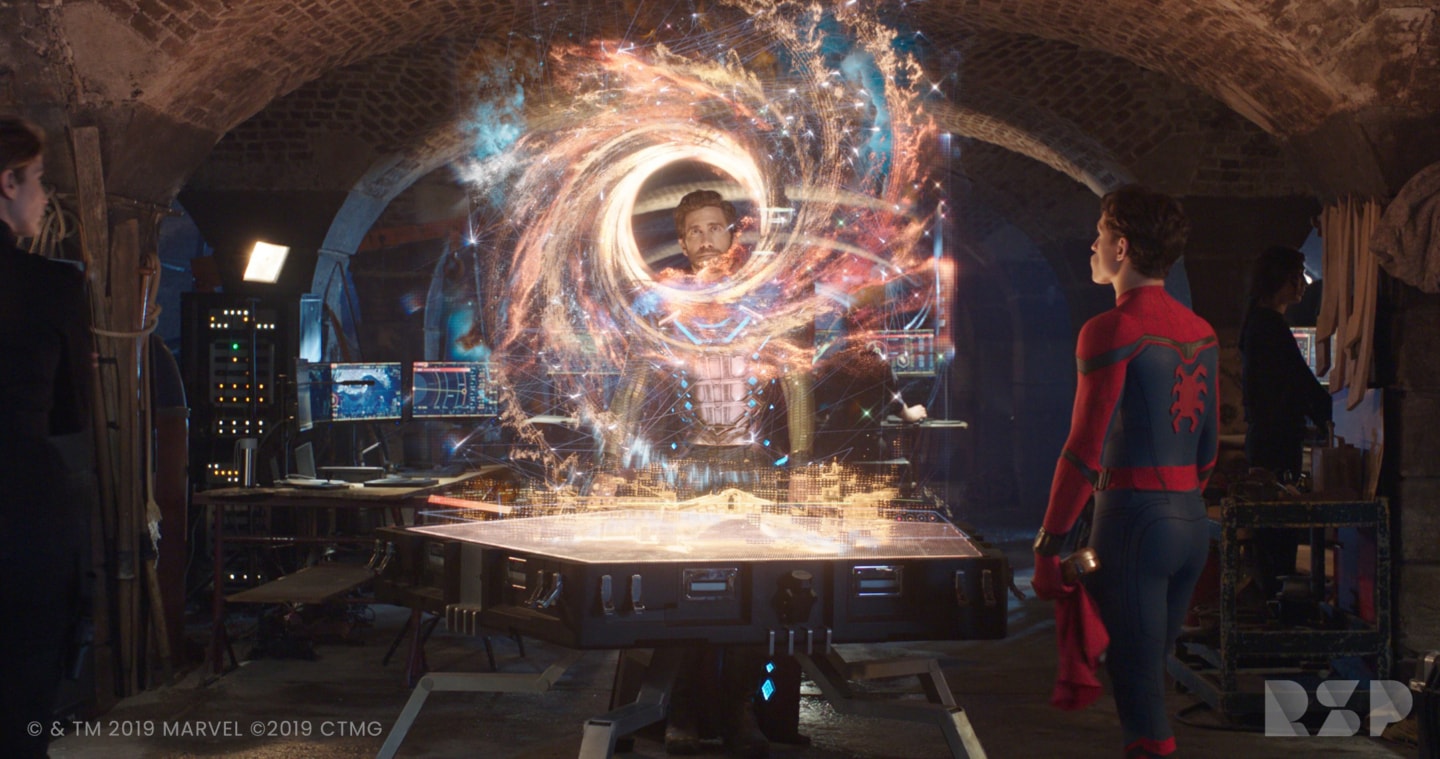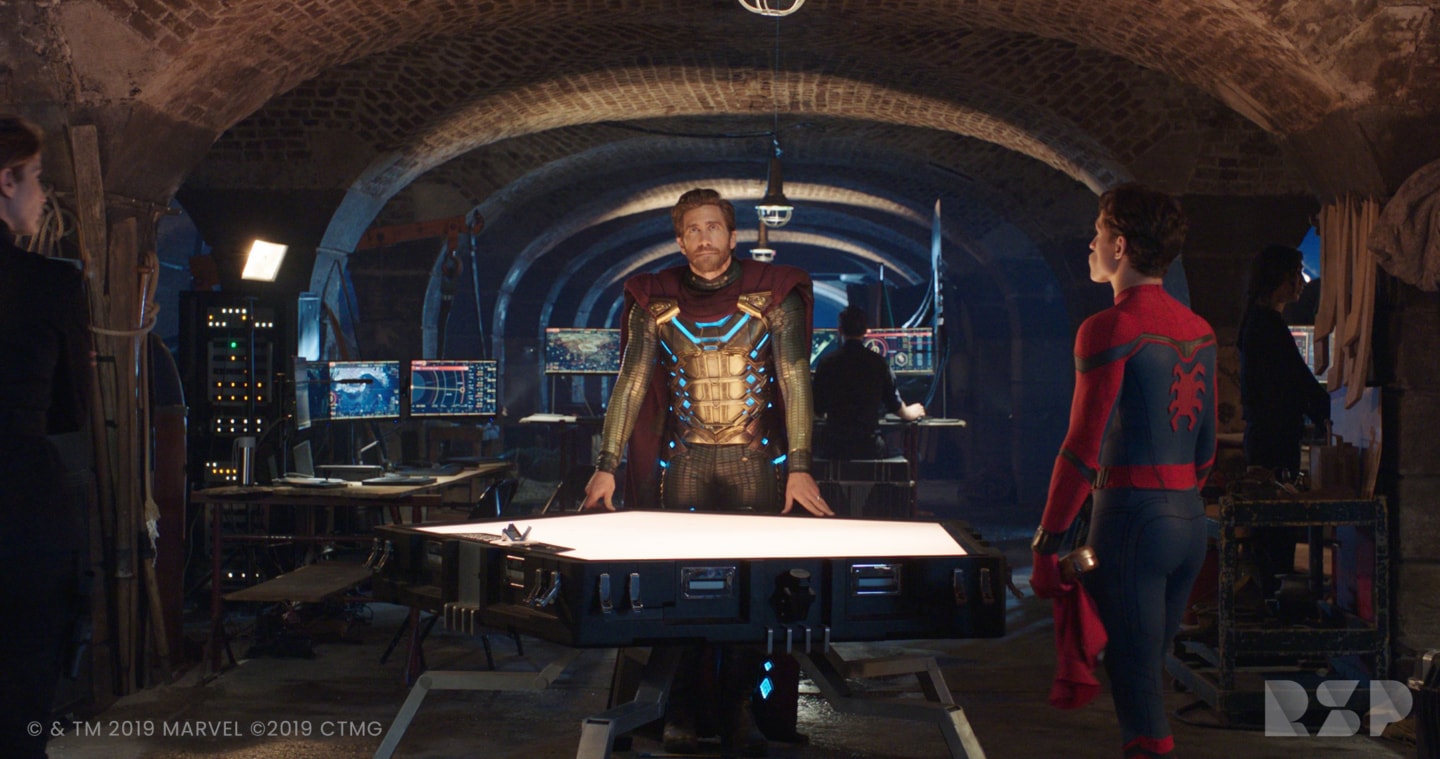 RSP's team created visuals for the scene to match the story told by Beck. In it, the extradimensional Elementals are shown as having emerged from black holes. To bring that to life, artists drew inspiration from the latest scientific hypotheses regarding the appearance and behavior of black holes, as well as previous depictions of the phenomena in Marvel films. "Visualising black holes was immensely challenging, both creatively and in terms of rendering it out," says RSP VFX supervisor Tom Wood. "We combined the latest theories from physics—how black holes distort light and time—and brought that into the dynamism of the Marvel Cinematic Universe. We also had to consider what audiences expect from black holes. The design process involved a delicate balance."
The hologram goes on to depict the Elementals as having a hidden role in Earth's past, connecting them with pagan gods associated with fire, earth, water and wind. For that sequence, artists studied ancient statuary and totems. "We did extensive research into deities associated with the primal elements," recalls CG Supervisor Ryan Kirby. "Our CG department created elements based on artifacts from Japan, Hawaii and other parts of the world."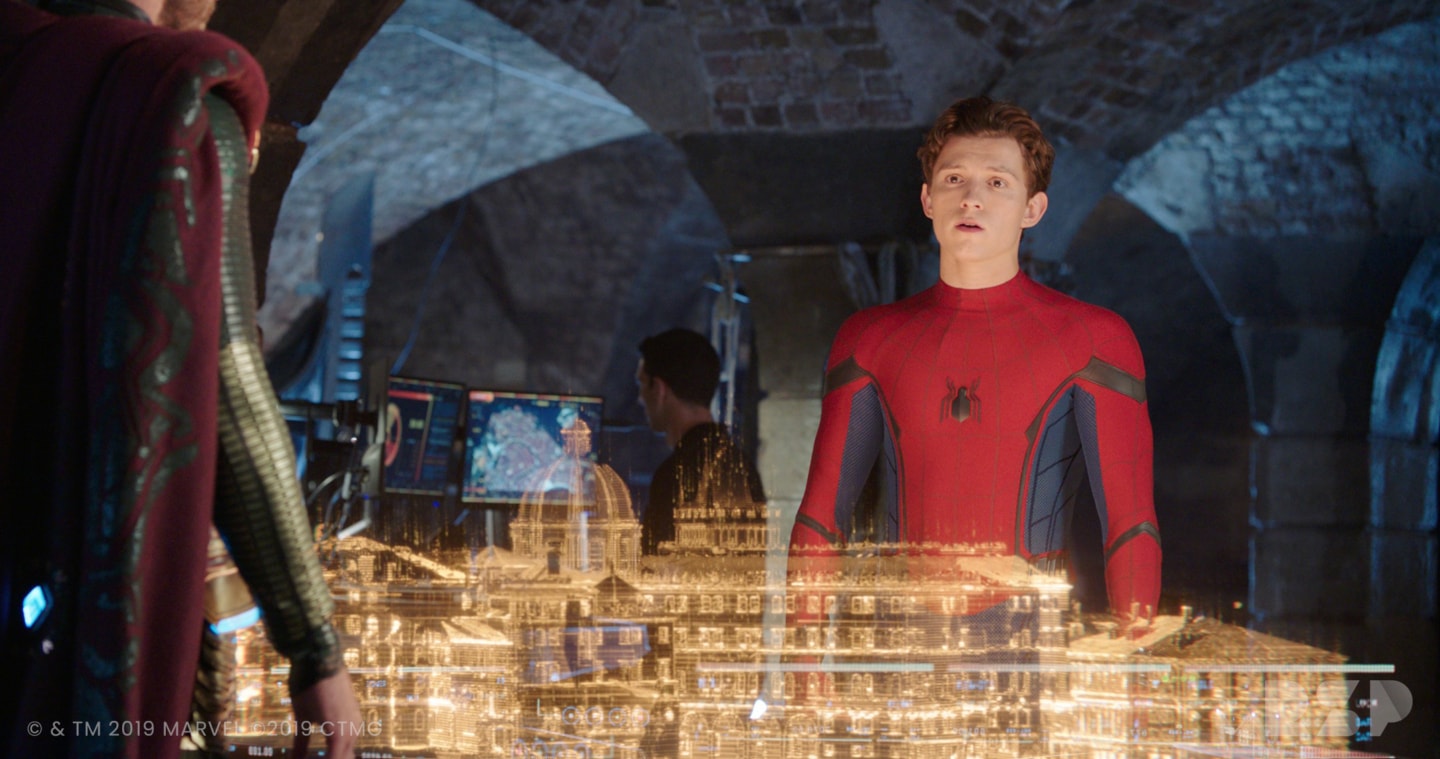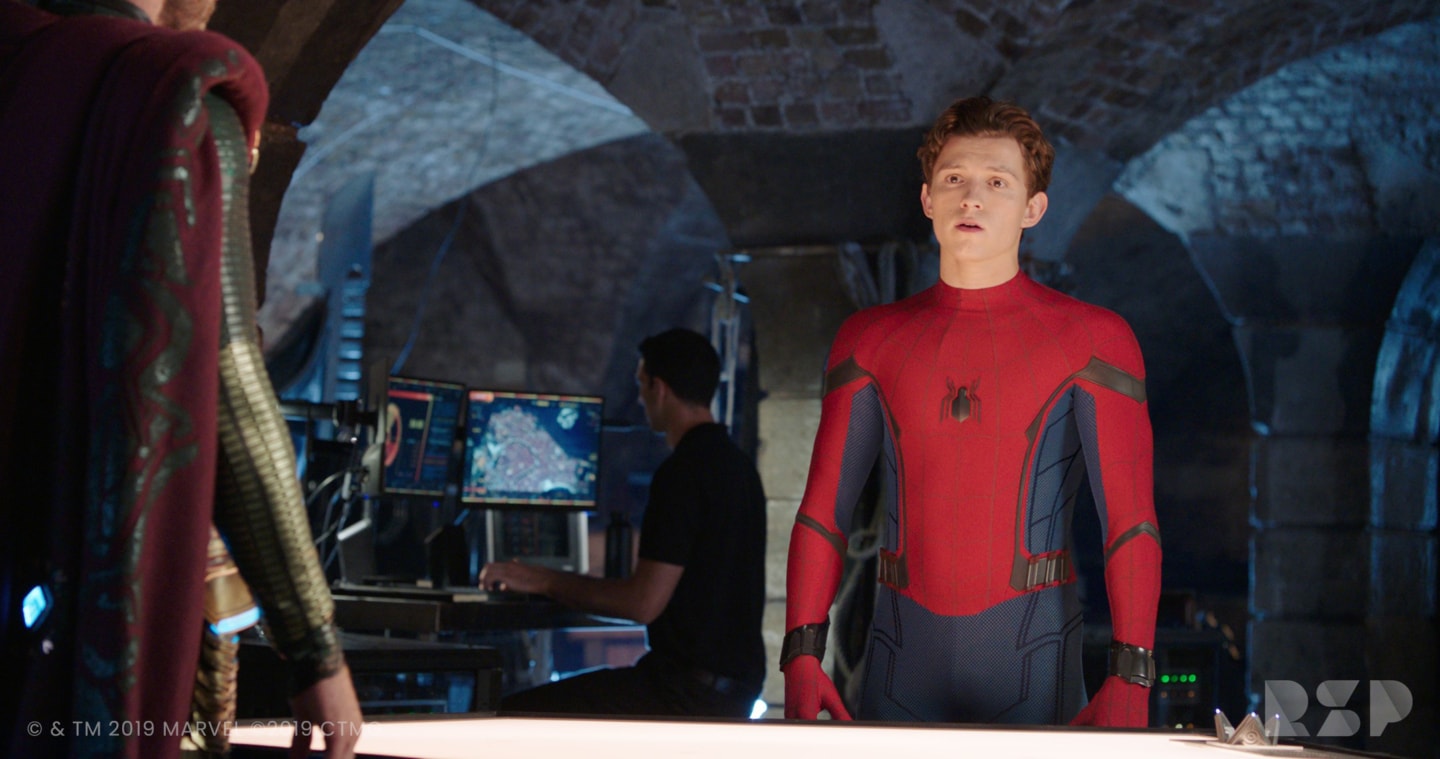 The studio's 2D department was tasked with added effects, compositing live action and CG elements, and finalising the sequence. "With elements being generated by layout, FX, look dev, lighting and comp, it was essential to keep everyone involved in the process on the same page," notes Head of 2D Jess Burnheim. "If there was a change made in one department, it had a knock-on effect with everyone else. Everyone supporting the creative vision was key."
The sequence ends with Beck's planet being consumed in fire. All this imagery had to be further processed to give it the ephemeral look of a hologram. In the context of the scene, the hologram is projected from a large table with Beck, Fury and Spider-Man standing alongside. In many shots, the actors can be glimpsed behind and through the holographic display. "We used volumetric renders to make the imagery appear to hang in space," explains Wood.
"The table itself presented a further challenge. It was essentially a lightbox that lit the faces of the actors. We had to get rid of that light, dim it or add layers to it so that it conformed to changes in the hologram." VFX Supervisor, Tom Wood.
The hologram also had to align with holographic systems depicted in other Marvel films. "We've previously seen Tony Stark's hologram technology and Guardians of the Galaxy technology," explains Wood. "Additionally, as this film takes place post-Endgame, we had to account for its technology. Our hologram needed to be consistent with them, while adding something interesting and new."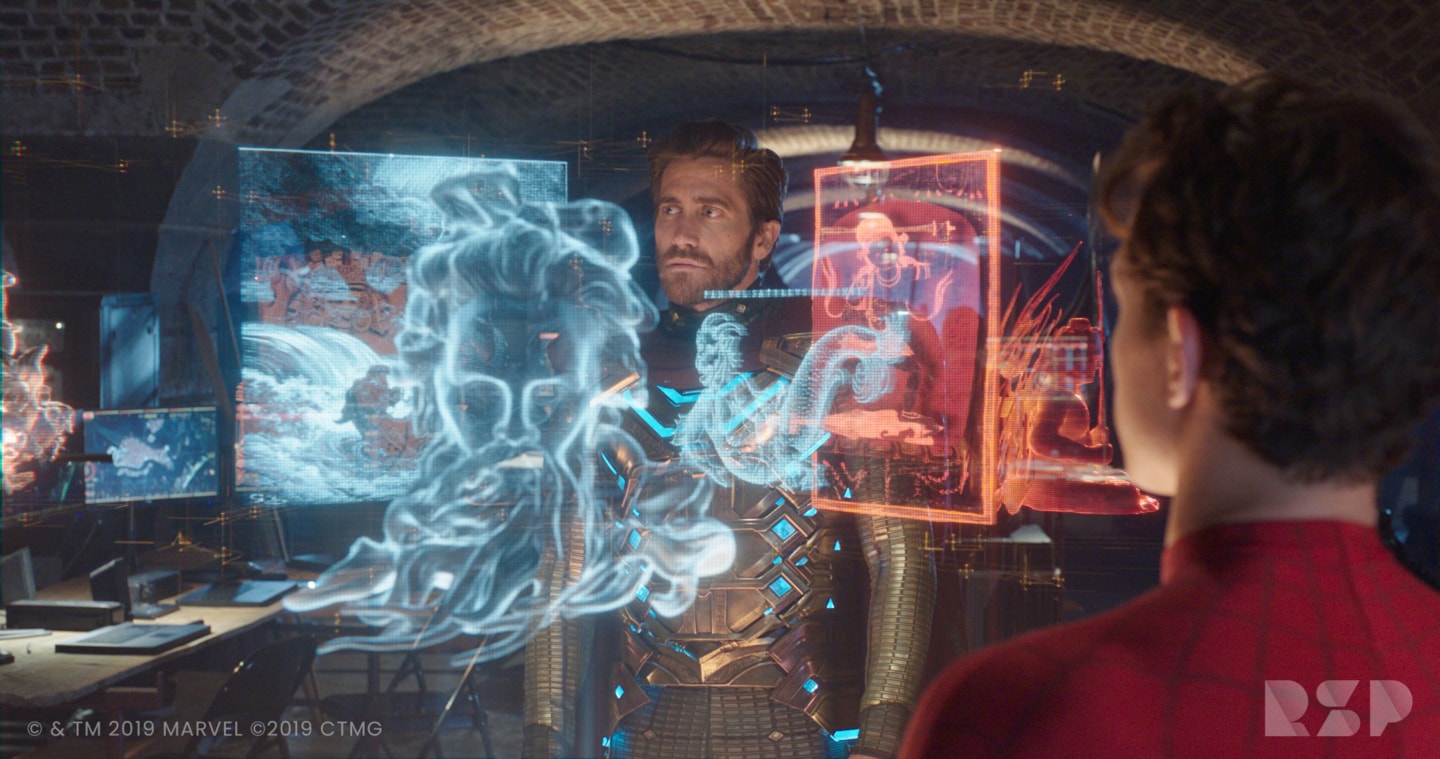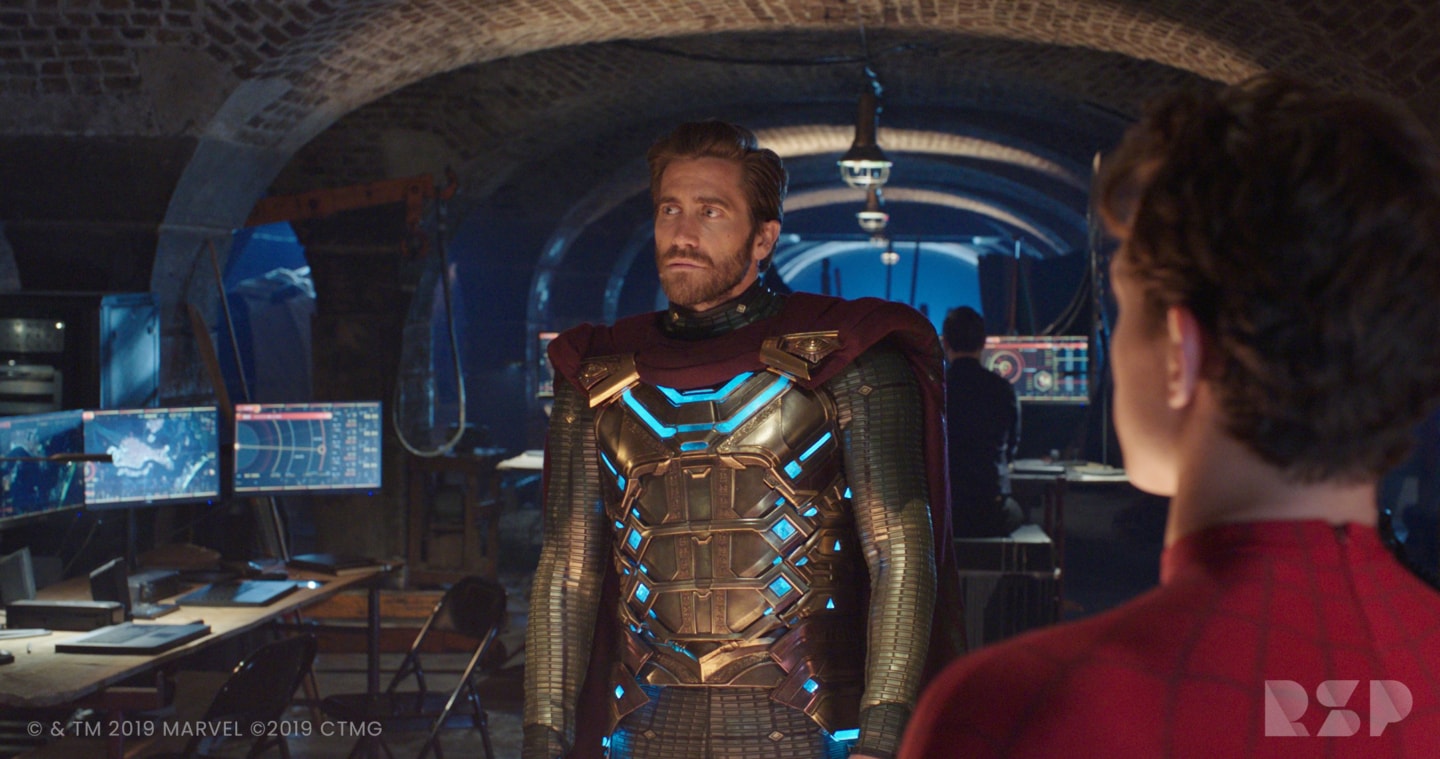 Other work included the scene where Fury makes his first appearance, also surprising Peter Parker by turning up out of nowhere in his bathroom while he is brushing his teeth. The studio's compositing team integrated a tranquilizer dart that Fury uses to quiet Ned as well as several holograms that Fury watches on a portable display. The compositing department did extensive work on a scene set in front of a massive fireplacein an old building in Venice that involved split screens and clean-up. For a night-time scene with Peter Parker looking out at the city of Prague, the team created a CG character of Mysterio flying and added a digital urban landscape.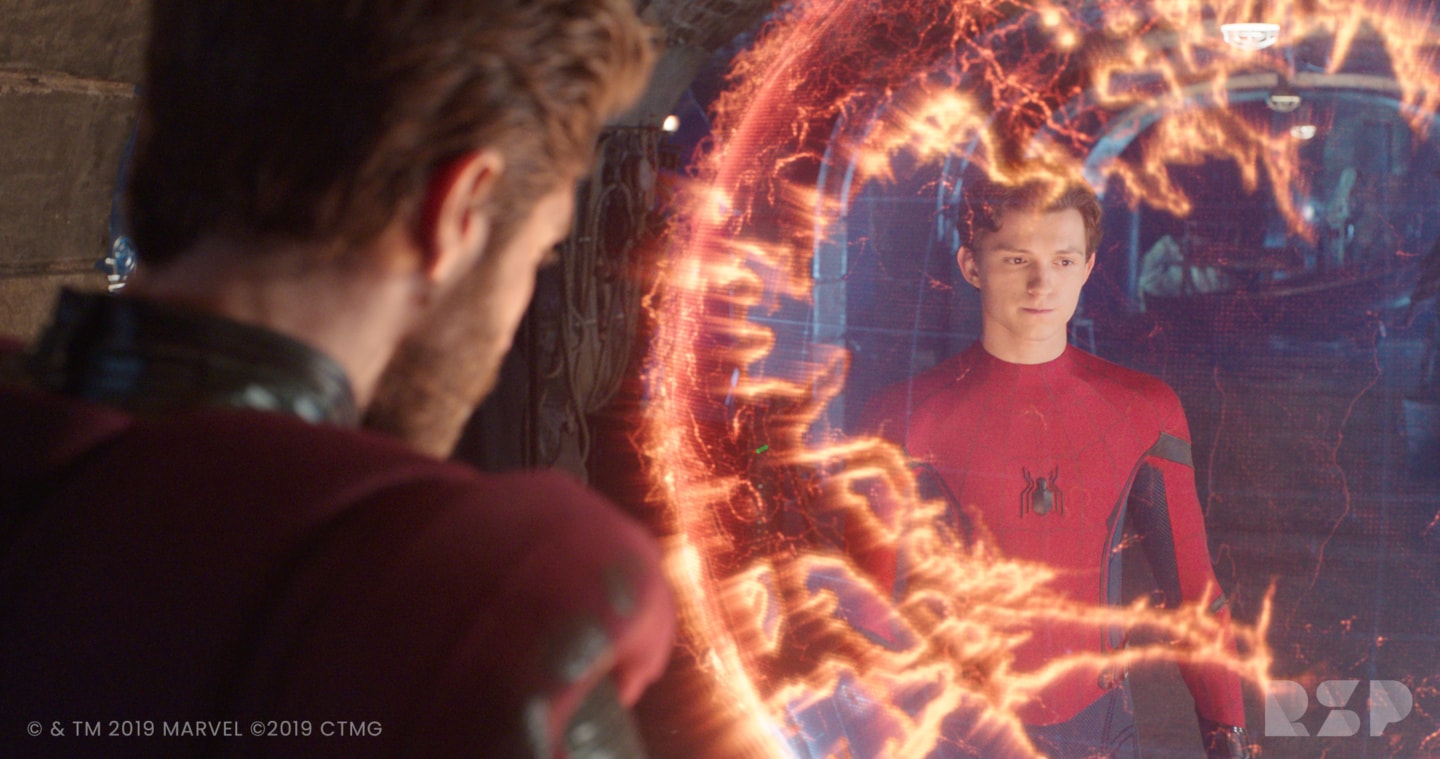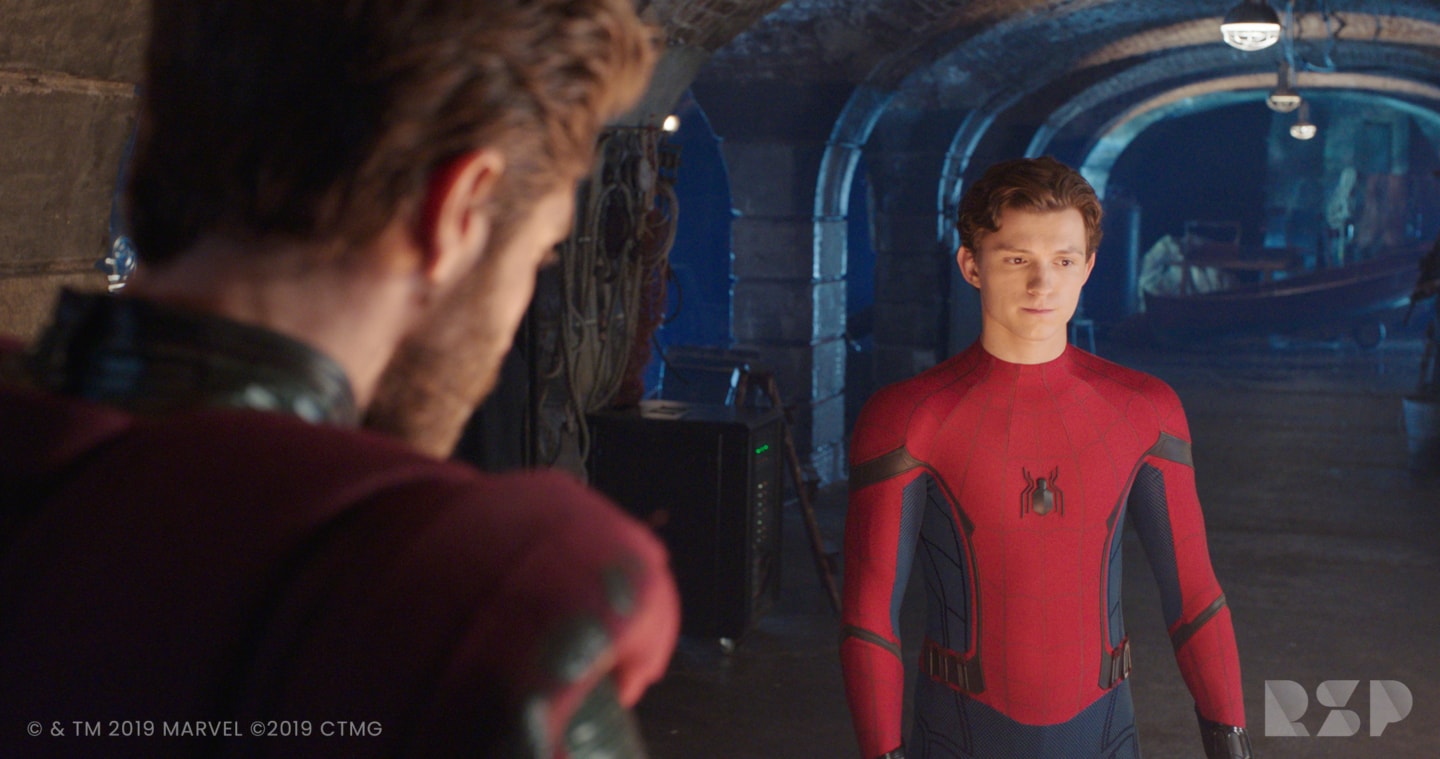 "The high volume complex work that we have been creating over the past few years has produced a robust pipeline, this is underpinned by our effective forecasting and scheduling. Says Howe. "We assign teams even before the work comes in through the door. We know what volume to expect and what skillsets are required, and that gives us flexibility to react quickly to changes and additional requests."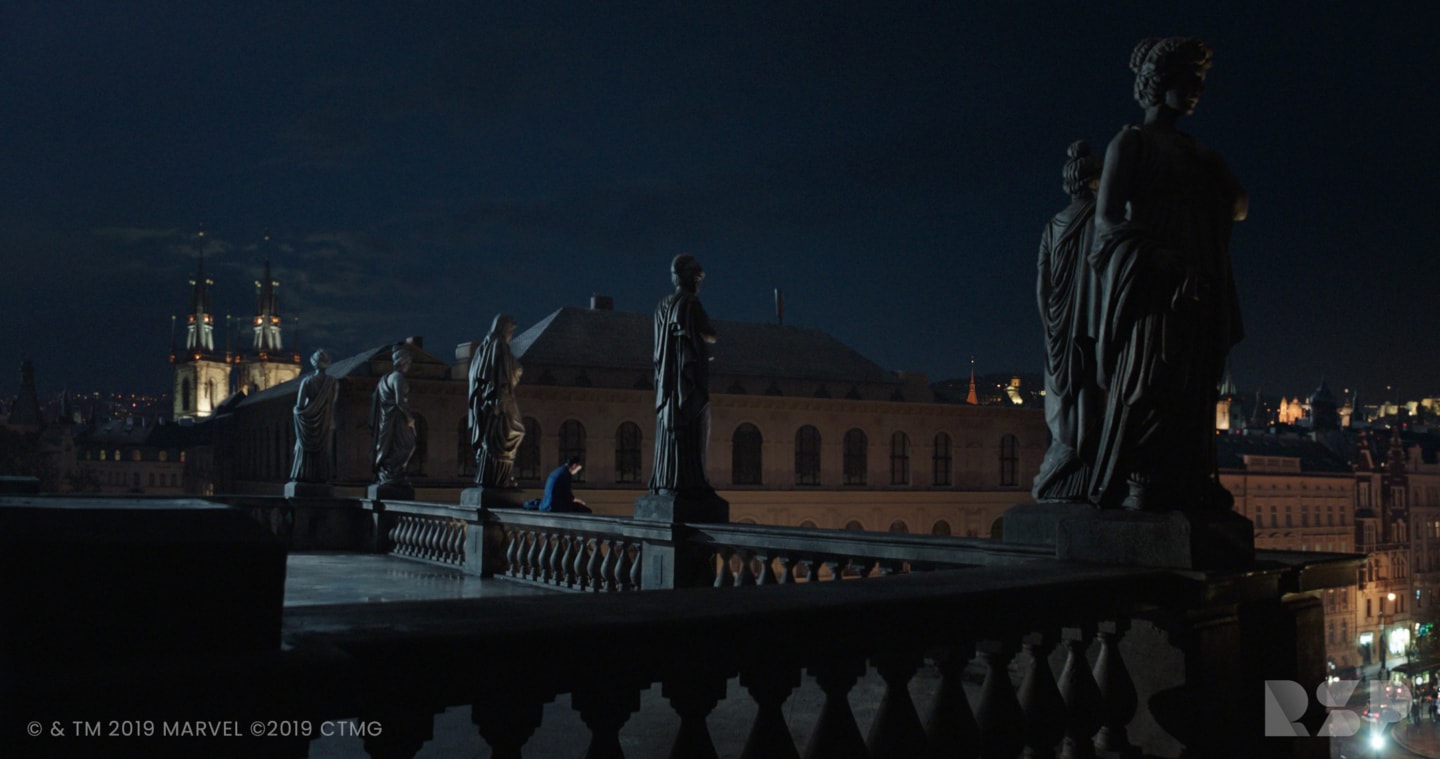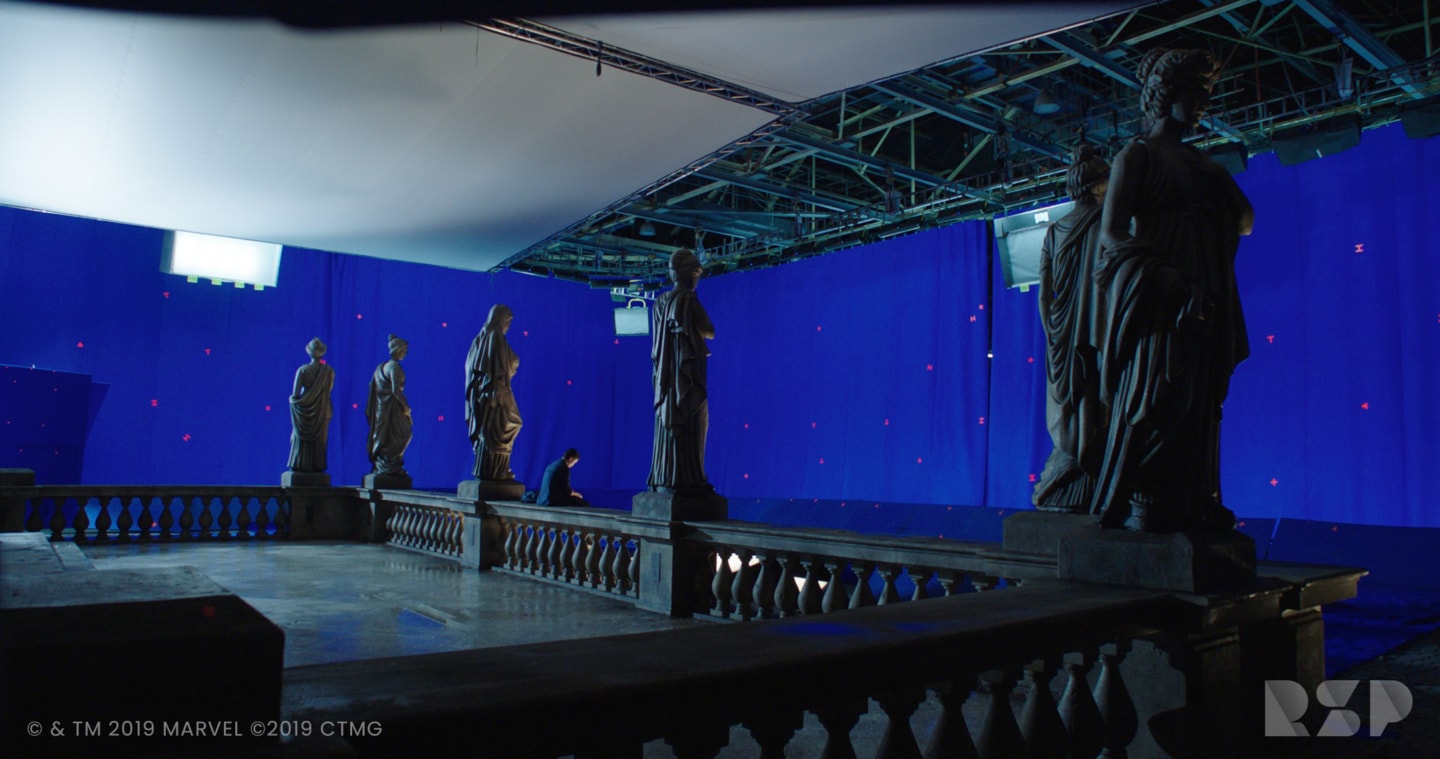 Throughout its eight months of work on the project, RSP remained in close contact with the production team and other visual effects vendors as shots developed and its workload evolved. "It was seamless," notes VFX producer Arwen Munro. "Janek Sirrs, Cyndi Ochs, associate VFX producer Bryan Searing, VFX coordinator Val Andino and the rest of the production team were awesome. We're especially proud of the hologram sequence, from initial pre-vis through to delivery, the team created inspirational work, resulting in a sequence that is vital to the story."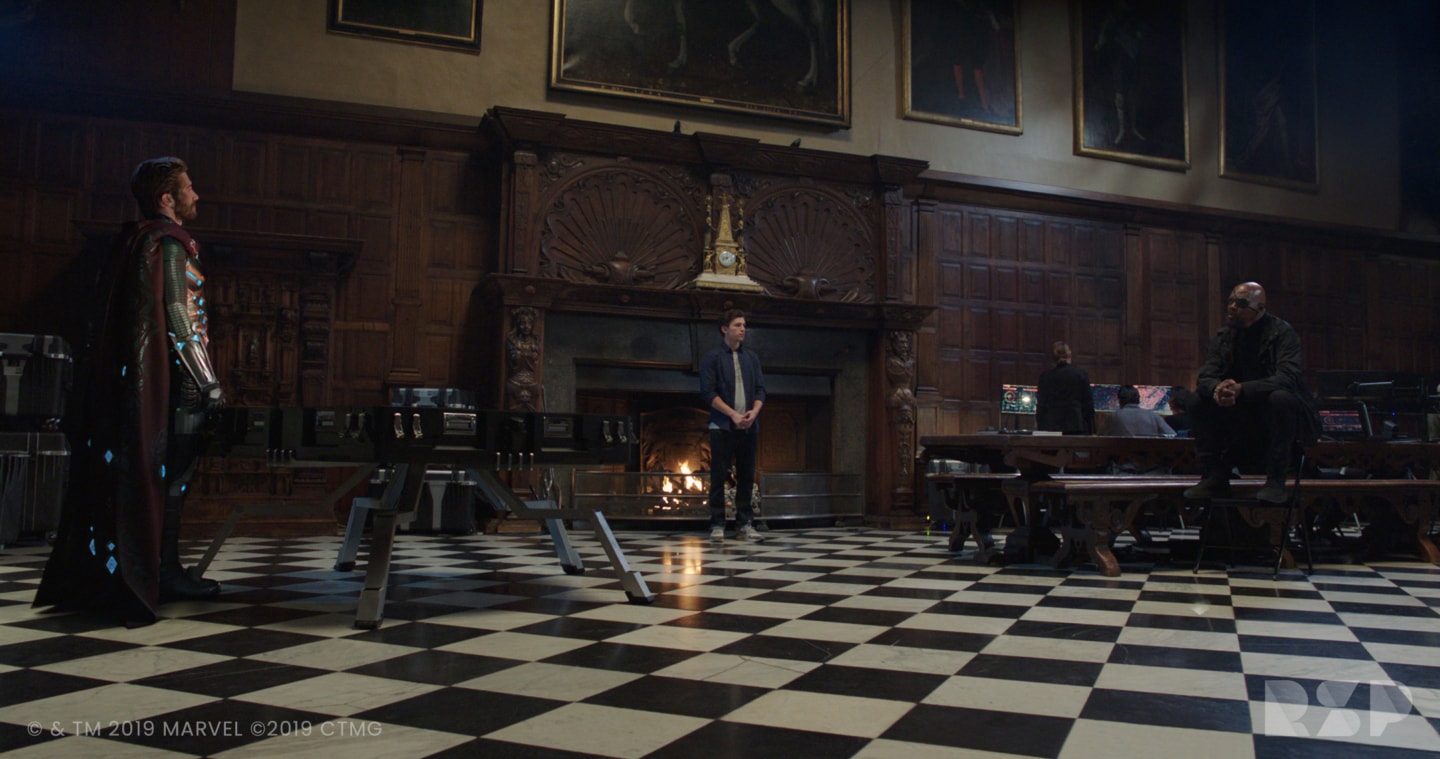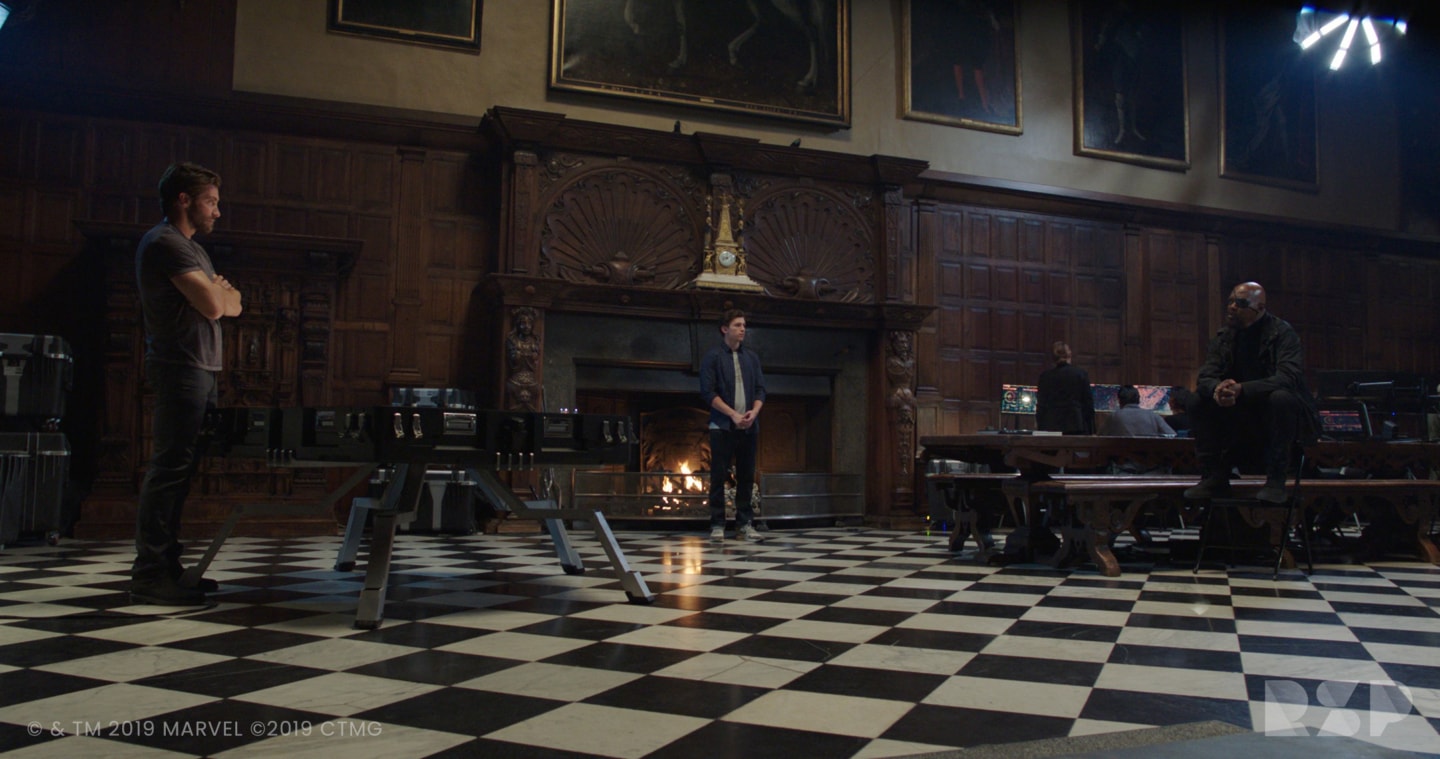 CREDITS + CREW
Rising Sun Pictures
ABBY NATH
ABHISHEK PANDEY
ADAM POTTER
ADVAIT KAMBLE
ALANA NEWELL
ALEX MEDDICK
ALEXANDRA DAUNT WATNEY
ALYSSA BLACKWELL
ANDREA DUTTI
ANDREA PEVERELLI
ANDREW PALMER
ANDREW SAVCHENKO
ANDY PEEL
ANIL REDDY CH
ANNA HODGE
ANTHONY SMITH
ANTHONY WINTER
ANTO BOND
ANTONY HABERL
ARTHUR TERZIS
ARWEN MUNRO
ASHLEIGH WHITE
ASHLEY MASON
BEN PASCHKE
BRICE LEHMANN
BRITTANY GRAHAM
BRODIE MCCROSSIN
CARA GATELY
CELIA CLENNETT
CHANTELLE SEARLE
CHELSEA MIRUS
CHRIS KING
CHRIS ROSENHAIN
CHRISTINA RZEWUCKI
CLAIRE LE TEUFF
CRAIG FIELD
CRYSTEL NEWMAN
DALLY GARCIA ARREAZA
DAMIAN DOENNIG
DAN WILLS
DANIEL HARKNESS
DANIEL STEART
DANIEL VELIKOV
DANIELLE CARDELLA
DAVID BEMI
DAVID CAUNCE
DAVID PEKAREK
DAVID SCHULZ
DEMIAN ASTUR
DENNIS JONES
DILEN SHAH
DIPESH V. PALAN
DYLAN BINNS
ED WILKIE
ELEISHA FRANCIS
EMMA THOMPSON
FABIAN HOLTZ
FLORENT REVEL
FRANCESC DONAIRE
FRANCESCA JOCELYN MILDE
FRANCESCO CADONI
GAIL FULLER
GARETH ERIKSSON
GEMMA WOOD
GEORGIE BROWN
GILLIAN HOWE
GREG WIEDER
GUIDO WOLTER
HANG LI
HAO TRUONG
HARRY MEDLIN
HARSHAL PATIL
HEATH DINGLE
I HSUAN LEE
IAN COPE
IGNACIO LAORGA
ILONA BLYTH
IVY LI
JAMES CLIFT
JAMIE MACDOUGALL
JAROSLAVA CHALÁSOVÁ
JASON SCOTT
JAYDEN BEVERIDGE
JEBB NG
JENNIE ZEIHER
JESS BURNHEIM
JESSICA LIN
JOEL MICHAEL
JOHN SALEEM
JOHN TOTH
JONATHAN CARRE
JONATHAN SUM
JONATHON MCKENDRICK
JONATHON SUMNER
JONO COY
JOSEPH ROBERTS
JOSH ELLEM
JULIAN HUTCHENS
JULIANNE SIMPSON
JULIETTE CHRISTIE
JUSTIN GREENWOOD
KATE BERNAUER
KATHY CONSTANTIN
KIERAN OGDEN-BRUNELL
KIRSTY PARKIN
KURT DEBENS
LACHLAN TOLLEY
LEIAH SEARS
LIAM GARE
LIU YULONG
LU, TING YUN
LUKE FLANAGAN
MALTE SARNES
MANUJ BASNOTRA
MARC H LANGBEIN
MARCUS WELLS
MAREE FRIDAY
MARIE-EVE GELINAS
MARK HONER
MARK STORY
MATEUSZ KRZASTEK
MATHEW MACKERETH
MATT GREIG
MATTHEW SHAW
MEHERZAD MINBATTIWALA
MERINDA JANSE VAN RENSBURG
MICHAEL FURNISS
MICHAEL JOHNS
MICHAELA DANBY
NADIA ASCIONE
NAEEM CHUDAWALA
NATHAN JONES
NATHAN PERKINS
NATHAN ZEPPEL
NICK BEINS
NICK PILL
NIKHIL KAMBOJ
NIKHIL SHANKAR-NOBLE
NIKOLAS SLOTIUK
NITIN AMIN
NOAH VICE
OLEG MAGRISSO
OWEN WILLIAMS
PARIS DOWNES
PATRICK CASHEL
PAUL DRIVER
PAUL TAYLOR
PETER JURCA
PETR ROHR
POL CHANTHASARTRATSAMEE
QAZI HAMZA JAVED
RACHEL BIANCULLI
RAJBIR S DHALLA
REBECCA BOGERT
REBECCA MERCURIO
RENEE MARSLAND
REUBEN MONTGOMERY
ROBERT BEVERIDGE
ROBERT JUNGGEBURT
ROBERTO VELIO GENITO
ROBIN REYER
RODRIGO GUERECHIT
ROLAND DOBSON
ROSS NOVAK
RYAN KIRBY
RYAN MUGAN
SAM HODGE
SAM WILLIAMS
SAMANTHA ABDA
SAMUEL HANCOCK
SARA HENSCHKE
SARAH BENEKE
SEAN FERNANDES
SEBASTIAN TRAN
SHANE BERRY
SHAWN MCCARTEN
SIMON WALSH
SITHIRISCIENT KHAY
SOPHIE ELDER
SOPHIE TAYLOR
STANLEY MARSHALL JONES
STEWART ALVES
SUMMER SWANSON
THOMAS BAXTER
THOMAS MAHER
TIM CROSBIE
TIM MACKINTOSH
TINA HUDSON
TOM WOOD
TONY CLARK
TROY TOBIN
TUREA BLYTH
VAHAN SOSOYAN
VICTOR GLUSHCHENKO
VITALII STADNYK
WAYNE HOLLINGSWORTH
WAYNE HOWE
WAYNE LEWIS
WENDY NETHERCOTT
YULIA ROMANOWSKI
ZAC COSTER
ZOE LAMAERA