Rising Sun Pictures

Leaps into Thor: Love & Thunder
Adelaide, South Australia—2 August 2022—Rising Sun Pictures' latest collaboration with Marvel Studios is its most expansive in scope and visually stunning. The studio delivered more than 300 visual effects shots for the studio's new blockbuster hit, Thor: Love and Thunder, directed by Taika Waititi, including its sensational opening and closing scenes.
Play
reel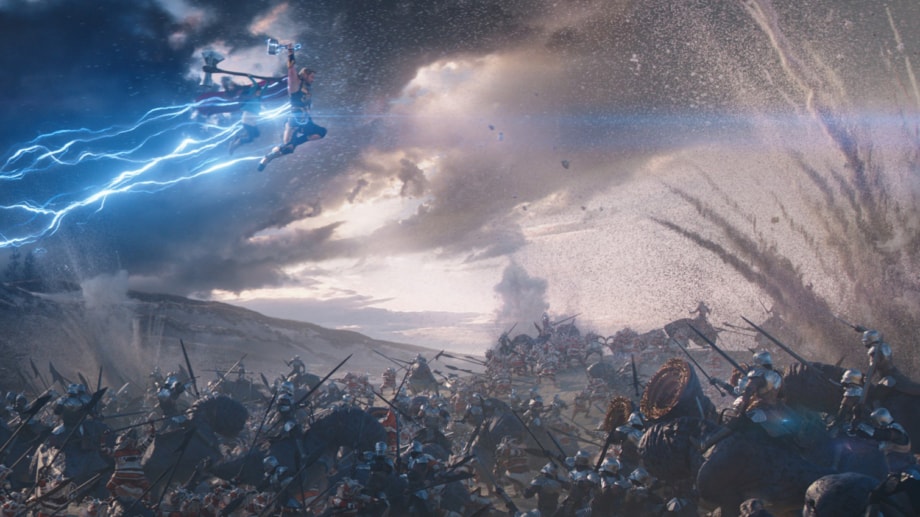 Marvels fourth Thor movie, Love and Thunder finds the hammer-wielding hero (Chris Hemsworth), aided by his former girlfriend, Jane Foster (Natalie Portman), in facing his greatest challenge yet, the supervillain Gorr the God Butcher (Christian Bale). Working under the direction of production VFX Supervisor Jake Morrison and VFX Producer Lisa Marra, RSPs team of more than 150 artists across three locations was led by VFX Supervisor Dan Bethell (who also served as Main Unit VFX Supervisor) and Senior VFX Producer Ian Cope.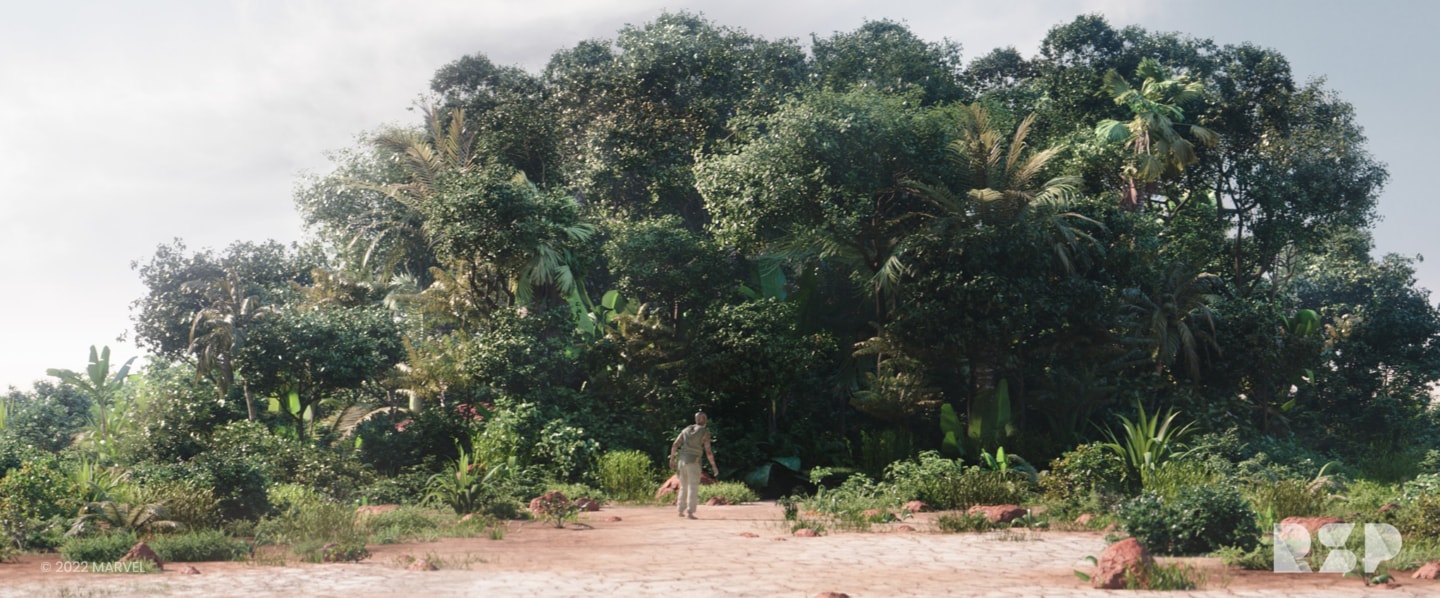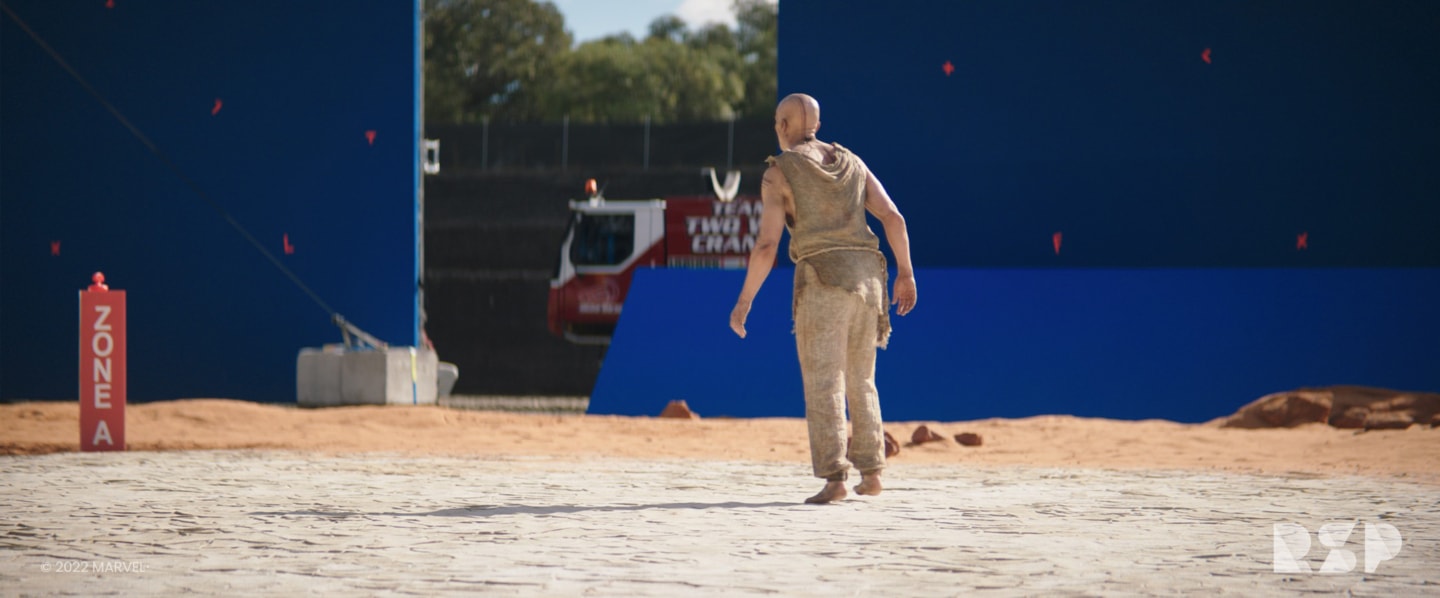 "For years I've enjoyed creating previously unimaginable visuals with Rising Sun Pictures but on Thor: Love and Thunder they truly raised the bar. This film is a wildly unprecedented journey across the galaxy with an insane amount of VFX. RSP's shots literally start and end the movie - with plenty in between. It's a testament to our complete trust in their team." Production VFX Supervisor, Jake Morrison.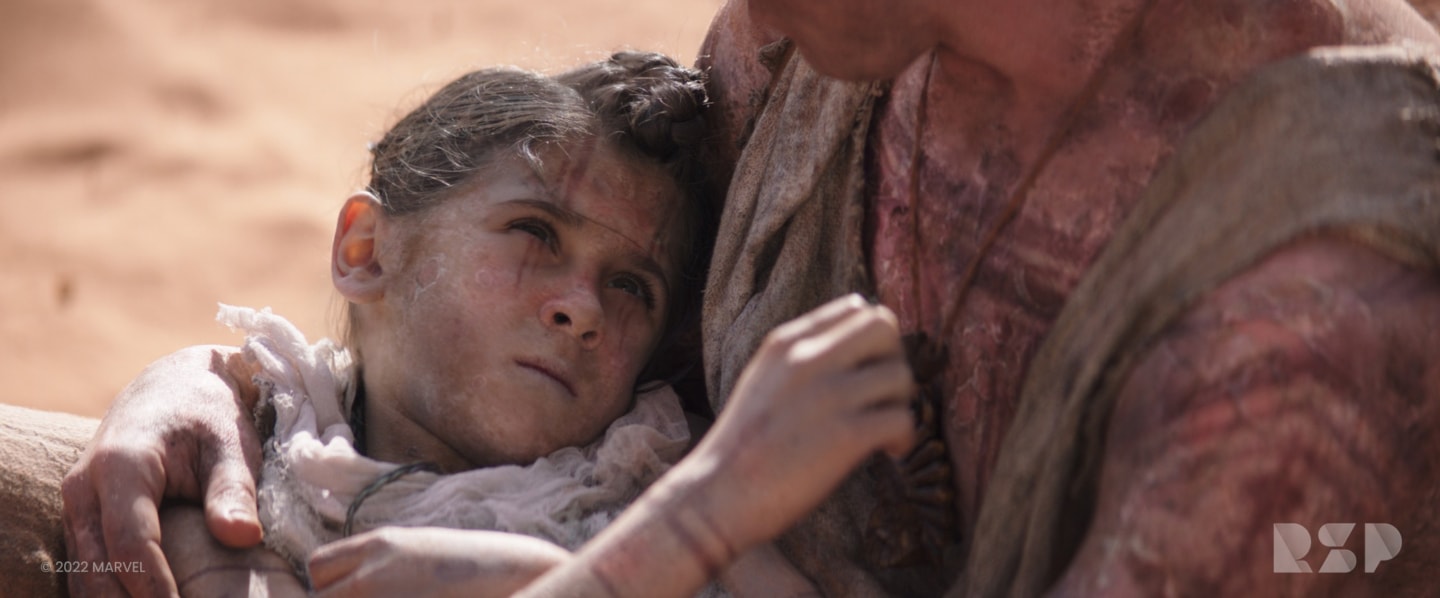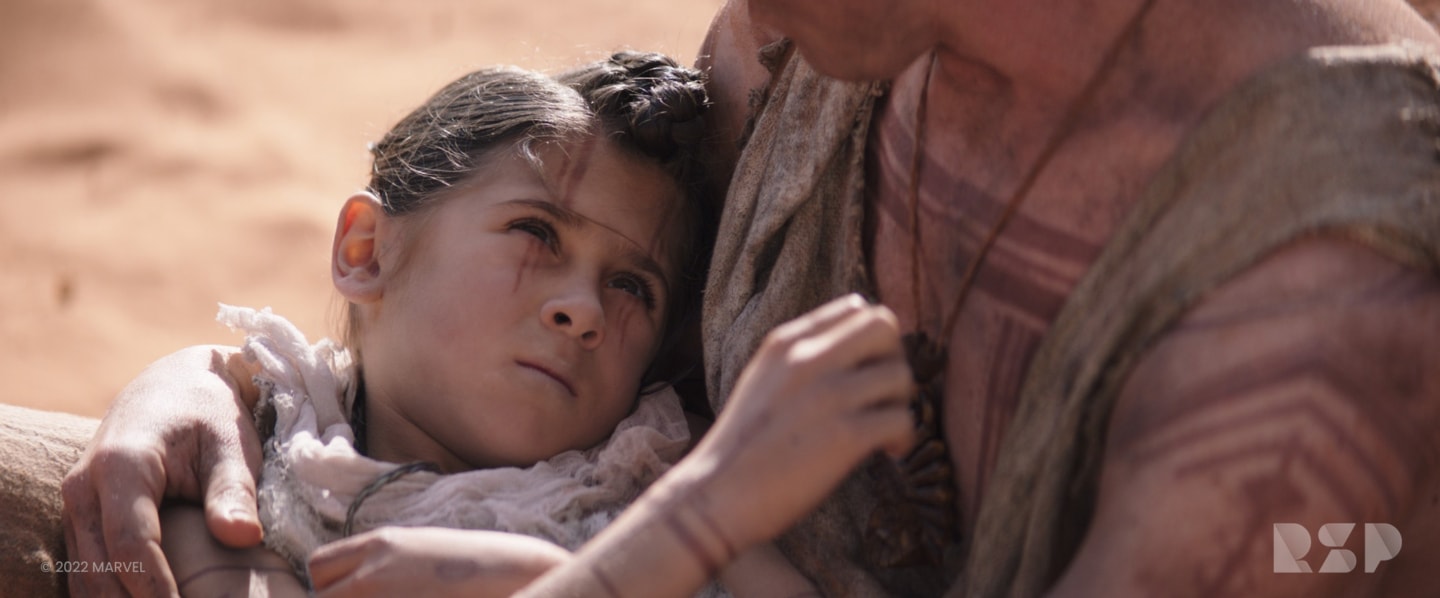 RSP was involved in the project from the beginning, assisting in a range of tests, developing concepts and devising technical approaches for its many larger-than-life visuals. Bethell spent more than 80 days on the set—at Fox Studios, Sydney, and on location—working with the production team in capturing background plates and live action elements.
"Visual effects is all about collaboration. Working so closely with the filmmakers was rewarding and led to better end results. It helped us serve Taika's vision and, having a big picture view, allowed me to lead the RSP team in an informed fashion as we navigated several very complex sequences." RSP VFX Supervisor, Dan Bethell.
The studio's most complex work involved the film's 150-shot opening sequence. Setting the tone for the narrative, it begins with Gorr and his daughter wandering in a desert. Artists augmented the production imagery (shot on the set in Sydney) with environment extensions and dust and sand simulations. They also enhanced Gorr's practical make-up to create his disturbingly emaciated look.
The sequence climaxes with a confrontation between Gorr and the menacing Rapu (Jonathan Brugh), whom Gorr accuses of abandoning his people.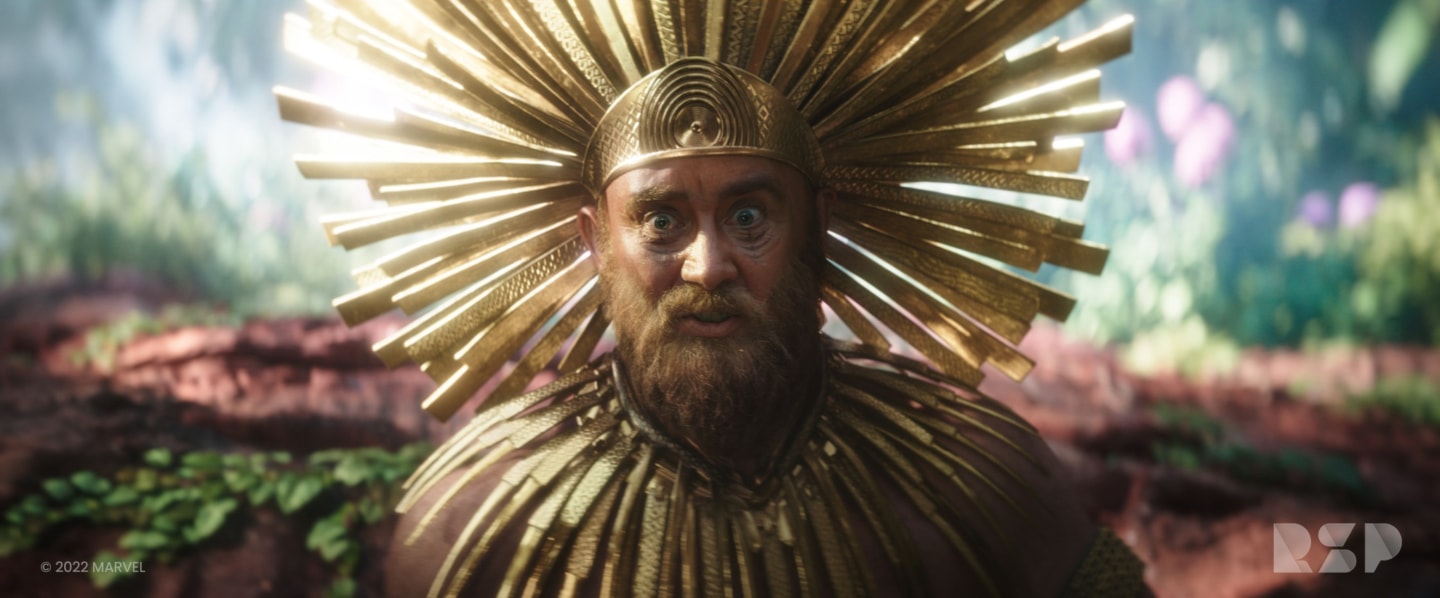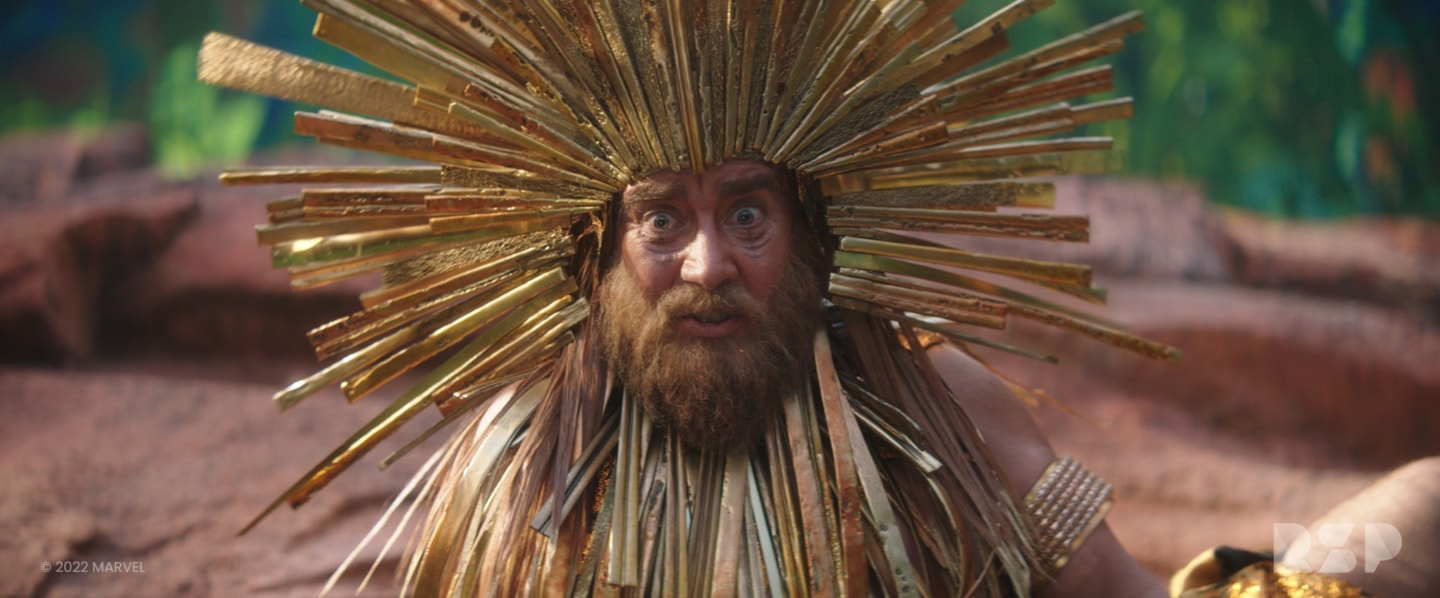 RSP augmented the practical set with an expansive digital oasis, filling it with plants and trees as well as magical 'flower Gods', composed from effects-driven flowers. "It's a very lush, green, tropical environment," notes CG Supervisor Ryan Kirby. "We drew on a wide range of references from the Amazon rainforest and other jungles to create colorful plant-life that adds richness and variety to the frame. It's grounded in reality while having a fabulous, surreal quality. It's meant to make audiences wonder 'How could something so stunning actually exist?'"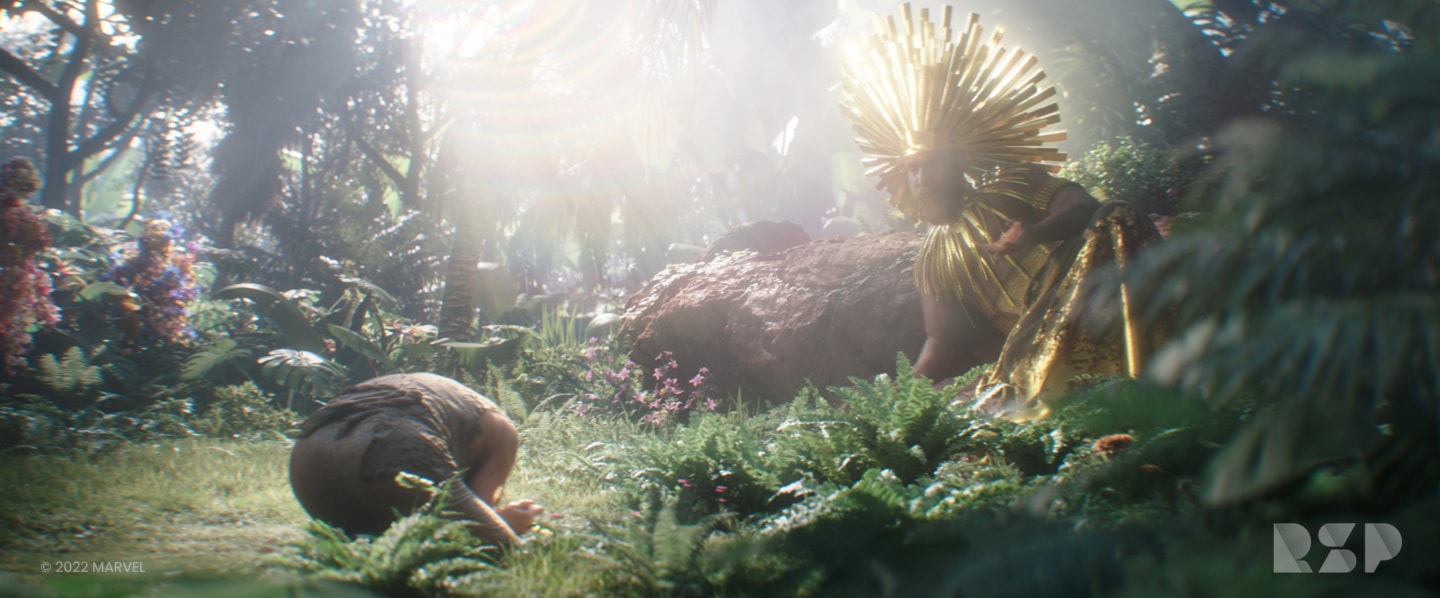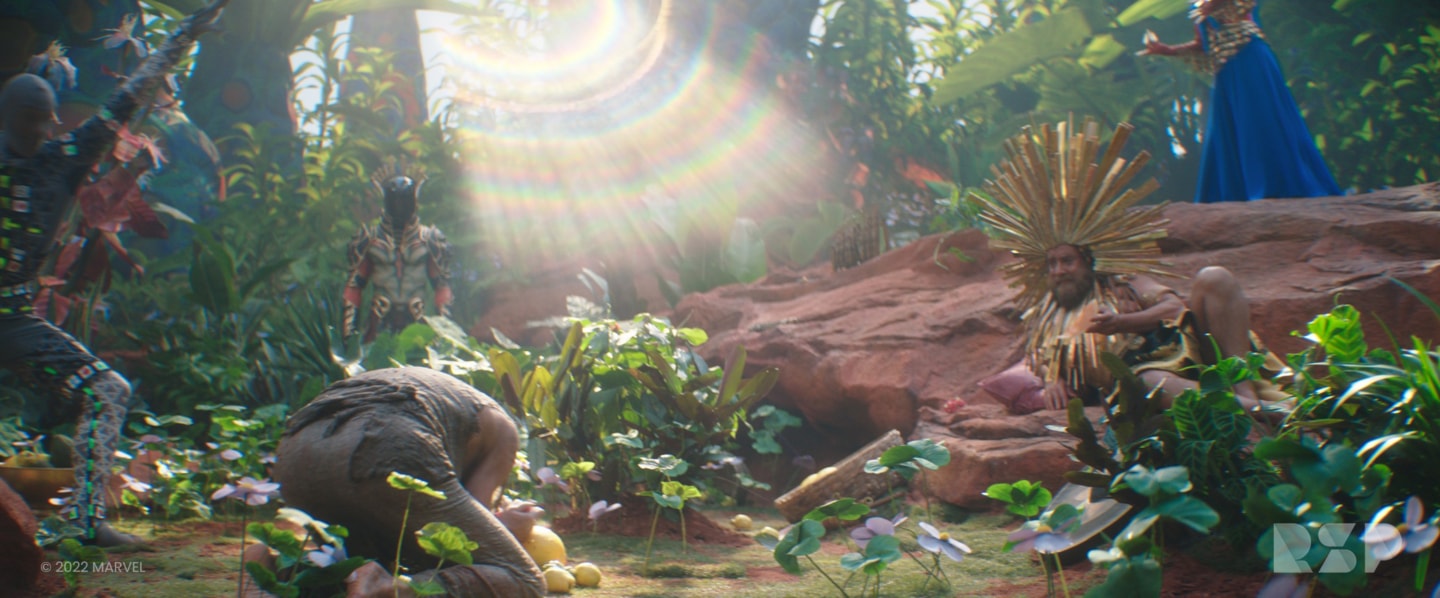 Work on the sequence was shared among artists across RSP's main studio in Adelaide and satellite offices in Sydney and Brisbane. "There are huge benefits in our remote pipeline," explains Compositing Supervisor Francesco Cadoni. "It allows us to tap a large talent pool and diverse skill set. During the pandemic, we learned how to efficiently work remotely while maintaining camaraderie and collaboration. It paid off handsomely on this project, which was massive in scale and posed numerous, unique challenges."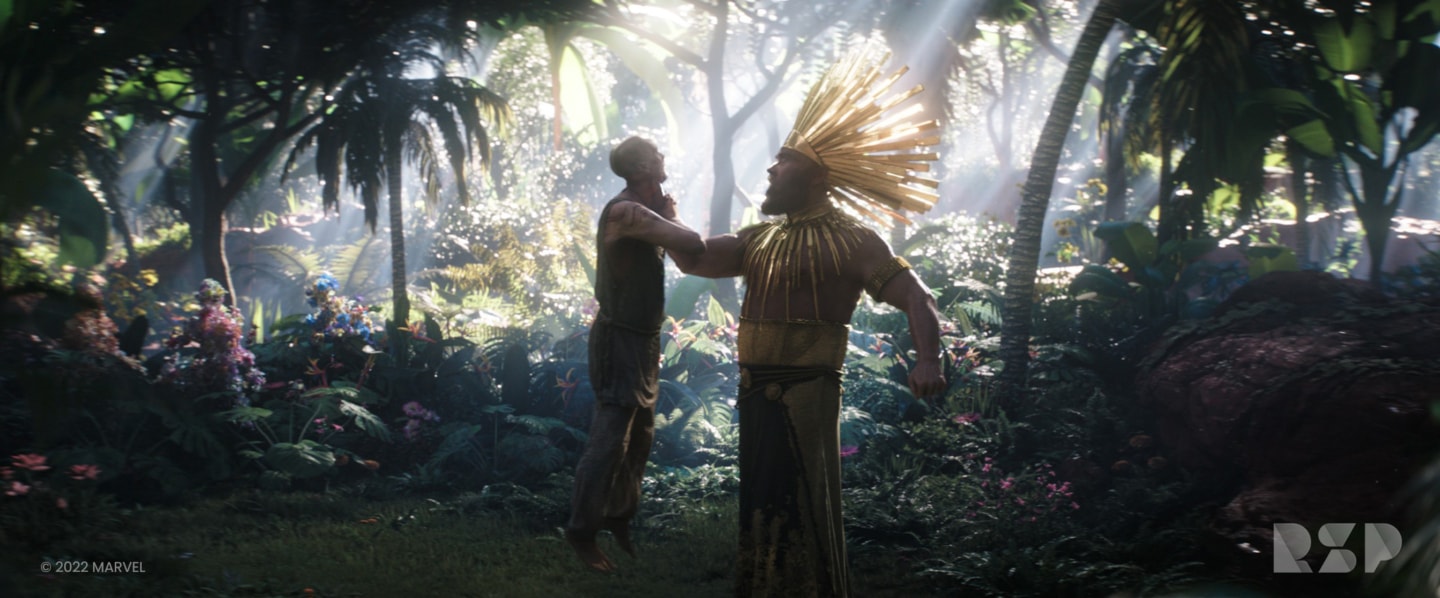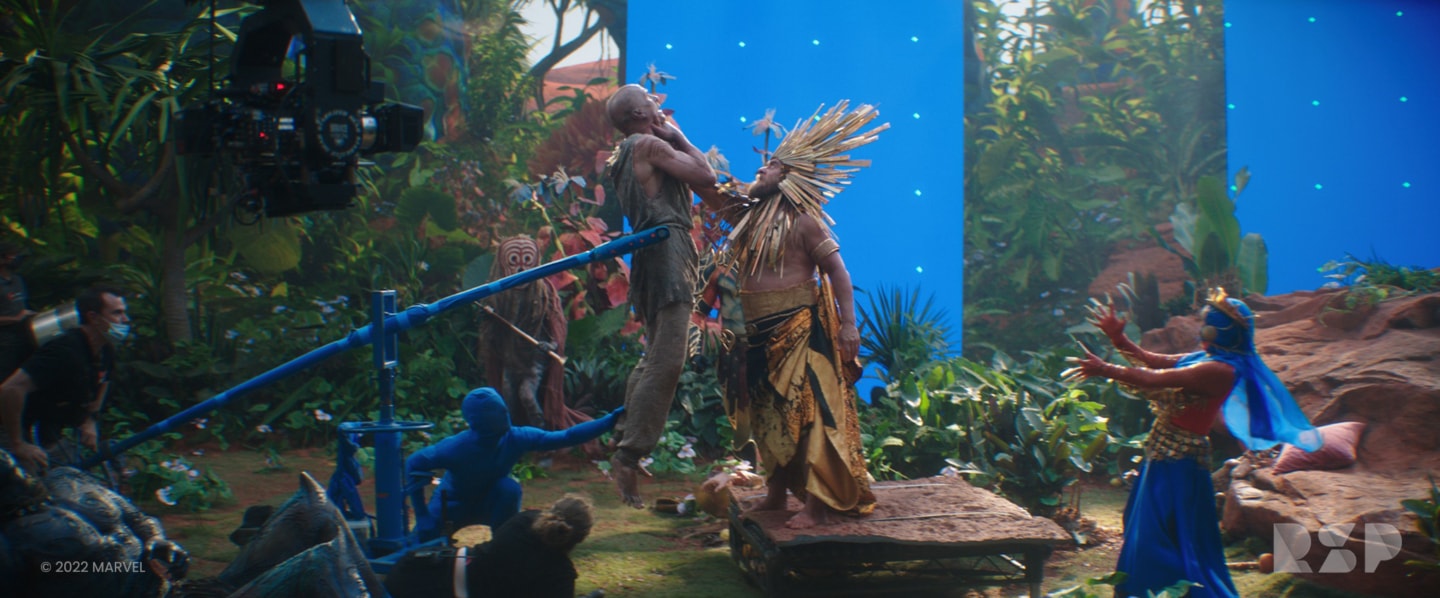 One of those challenges involved "Baby Thor," introduced in an extended flashback montage. The baby is a wholly-digital character, based on the real-life infant of a Marvel executive, created through animation and artificial intelligence. "The advantage of this technique over standard 'deep fake' methods is that the performance derives from animation enhanced by a learned-library of reference material," explains Cope. "The result is a full screen photo-real Baby Thor storming in to battle."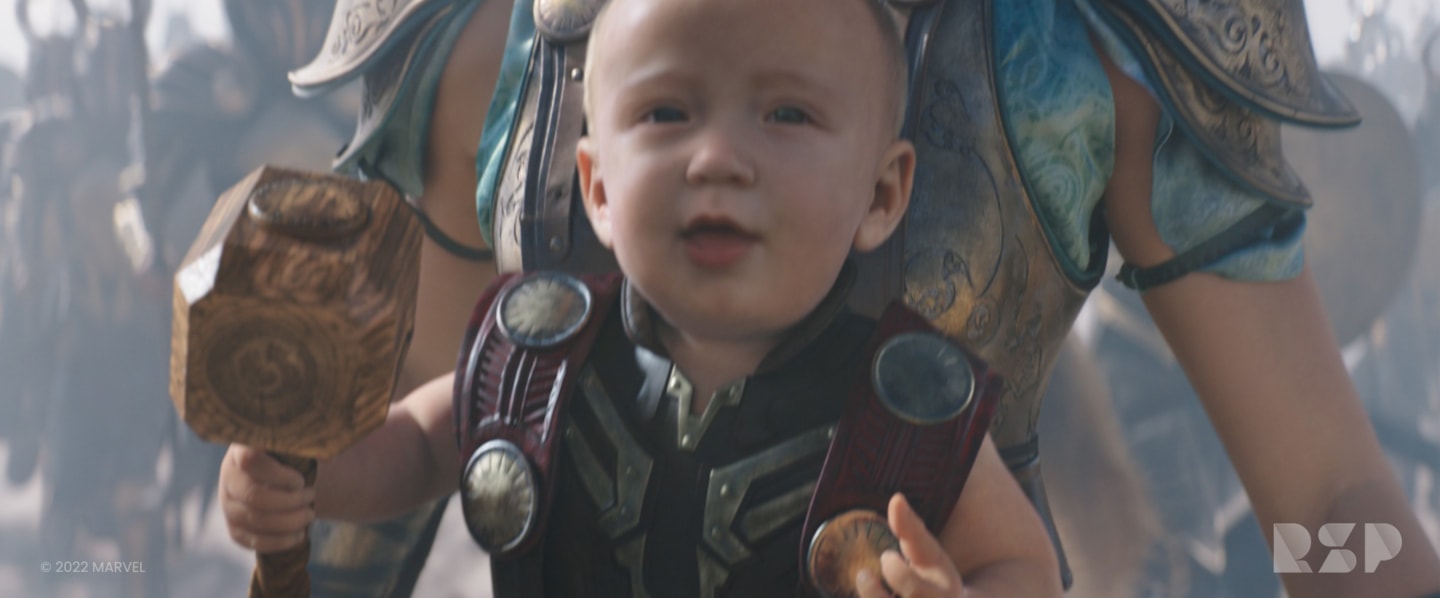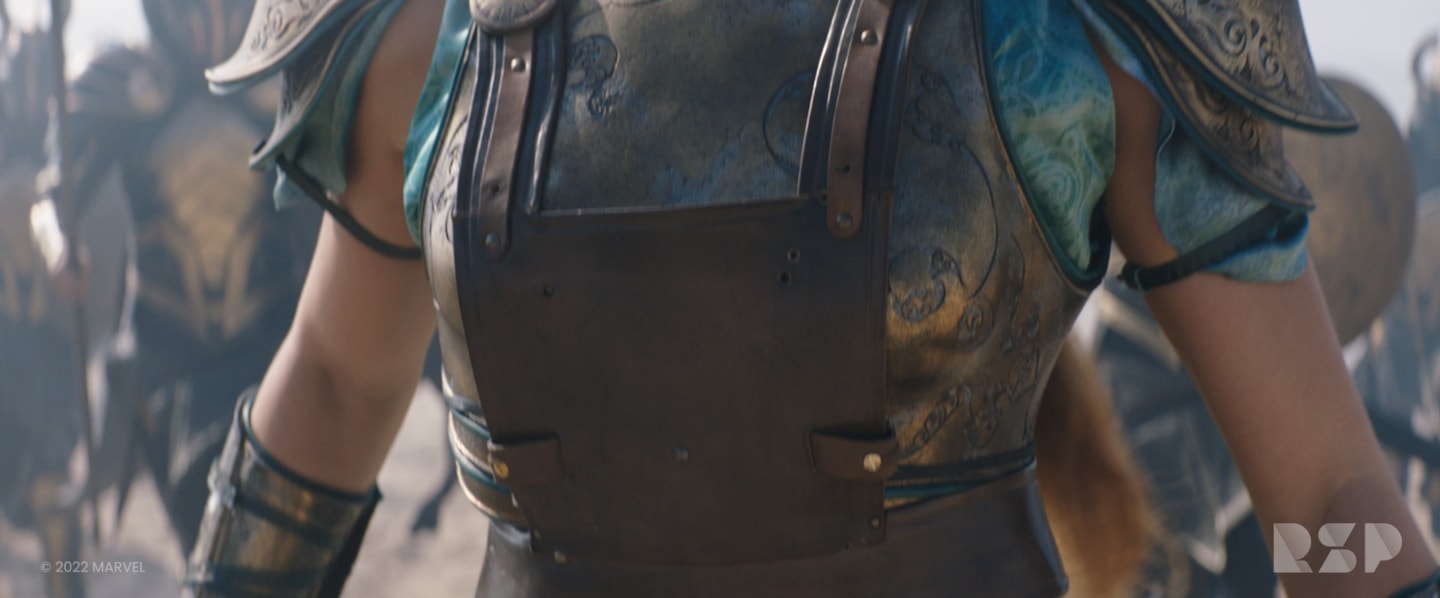 An early adopter of AI, RSP used machine learning to give the baby and uncannily lifelike quality while exhibiting behaviors required by the script. "Subtle nuances are what make a baby look like a baby," explains Bethell. "We had great references of the real baby and used them to get details right, such as how his mouth moves, and the way light reflects in his eyes. Over several iterations we honed the look and achieved a digital baby that audiences will accept as real."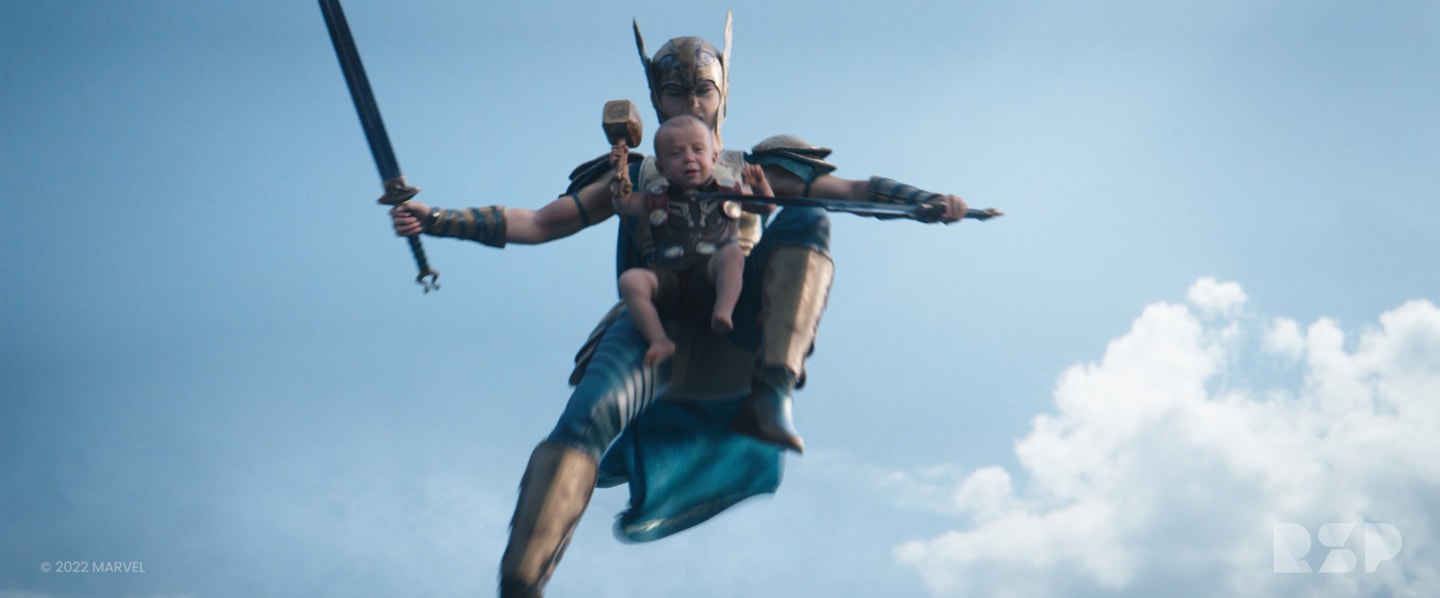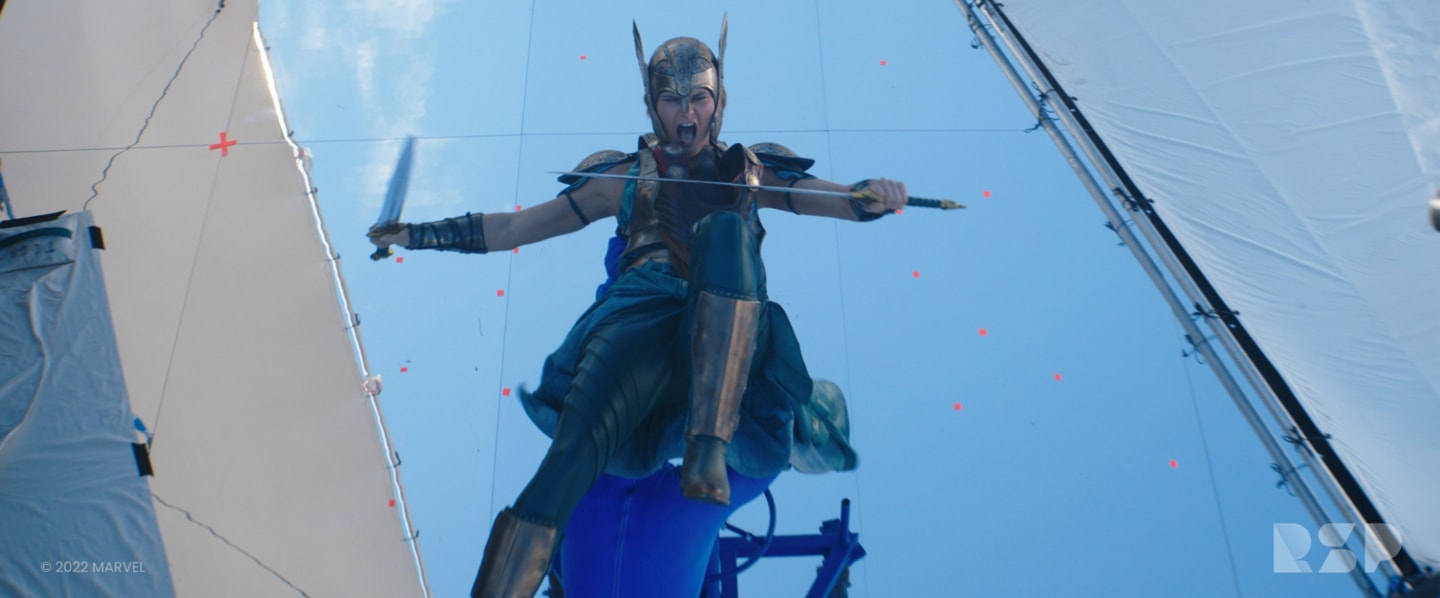 RSP contributed to most of the montage scene, which is a recap of Thor's life. "In true Thor fashion, we see the Thunder God getting back into shape by pulling the Guardian spaceship and flinging giant rocks.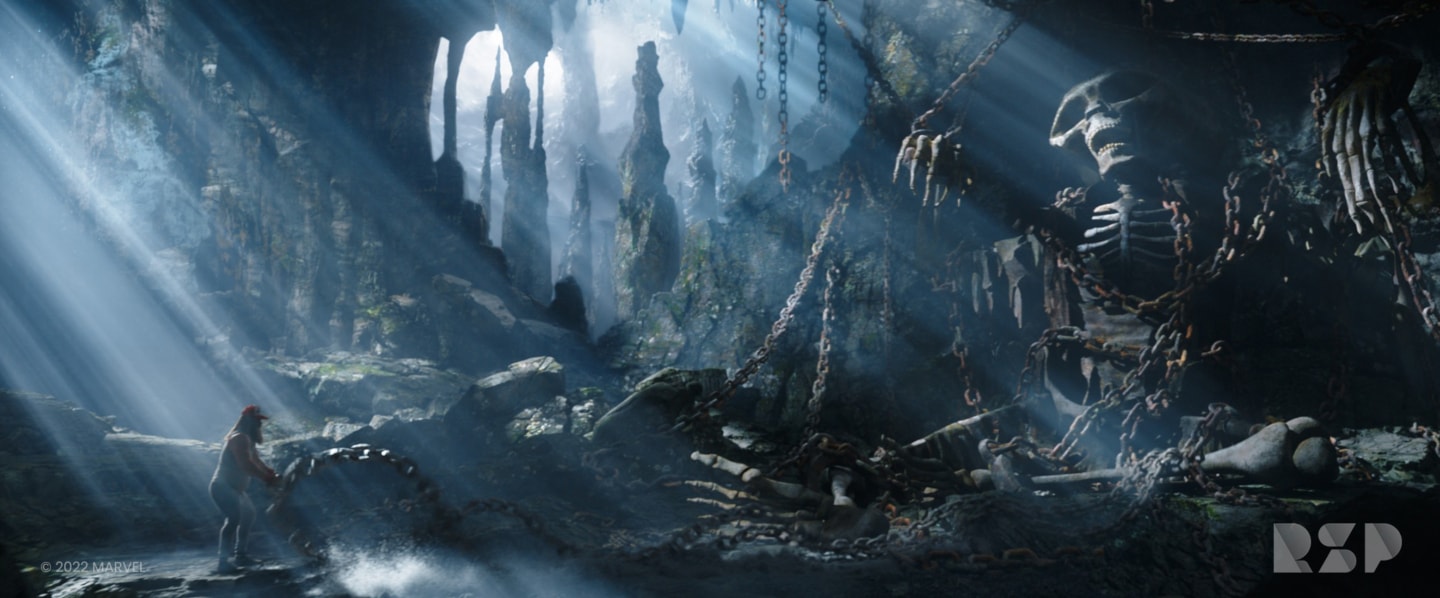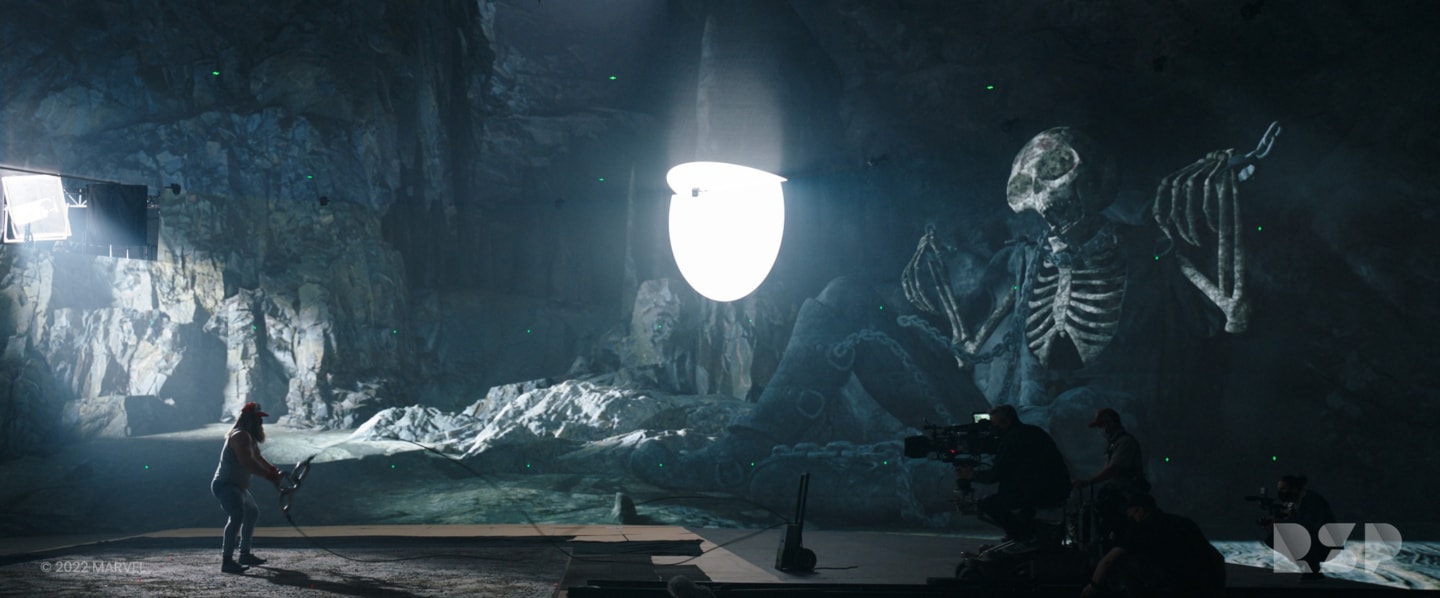 It also features flashback to Thor's love interests including a wolf-woman (Elsa Pataky) and a swashbuckling pirate," recalls Kirby. "Our CG team created a digital version of the wolf that was matched to the on-set performances."
"As for the pirate love interest, our team created an extension for the practical pirate ship and the surrounding ocean as well as Kraken, an octopus-like creature that attacks another ship," says Kirby. "Our challenge was to create the perfect backdrop for this emotionally-intense scene."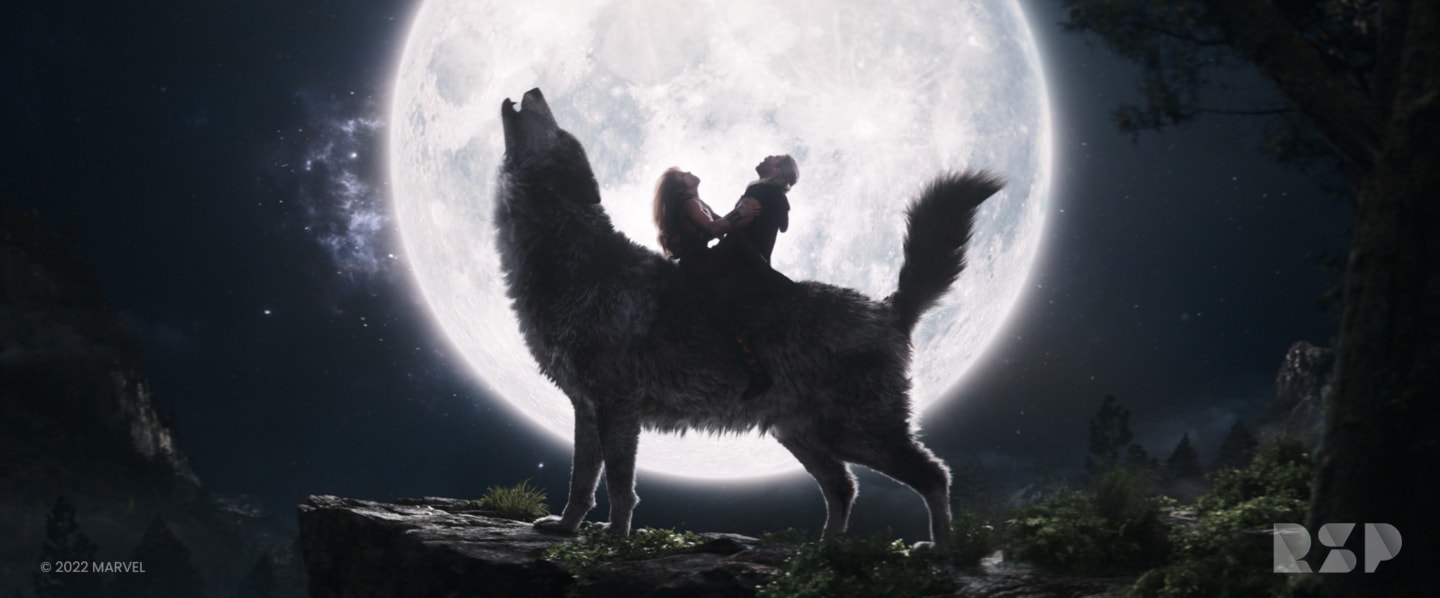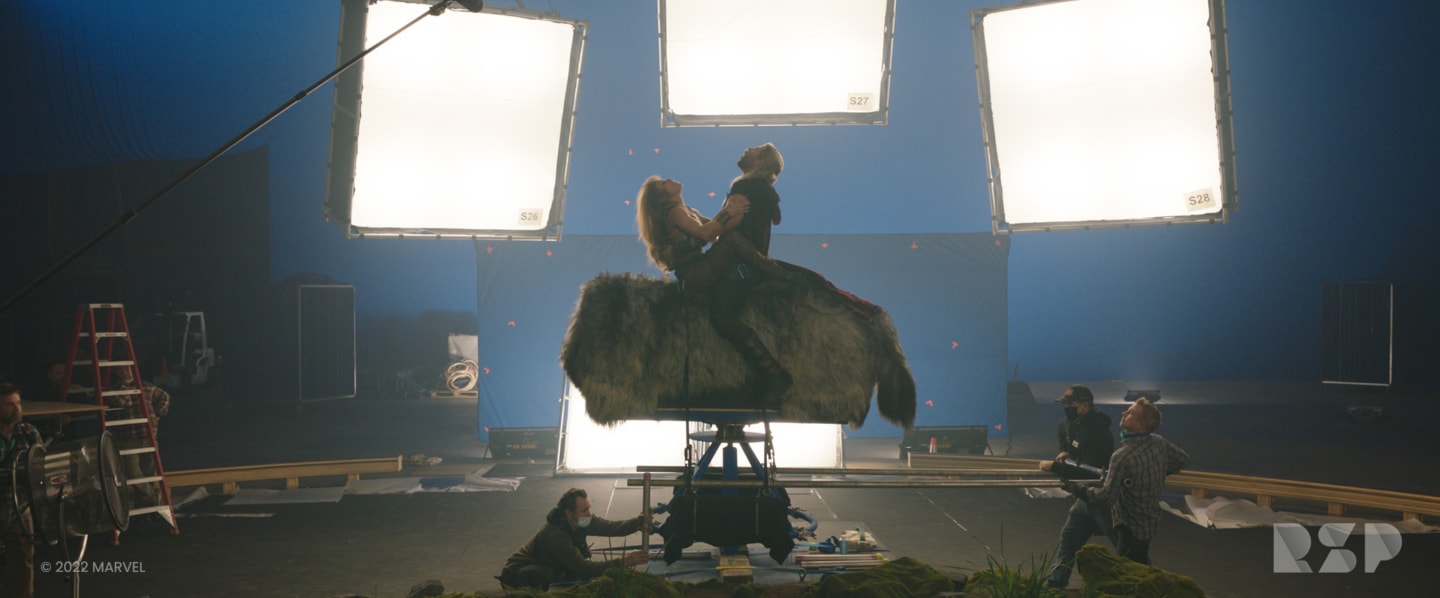 The montage is an example of how RSP's CG and compositing teams work together, according to Cadoni. "It was eight or ten sequences rolled into one," he says. "Each vignette is only two or three shots long but needed to look distinct and read immediately, while telling a consistent story. It pushed the limits of what we can do."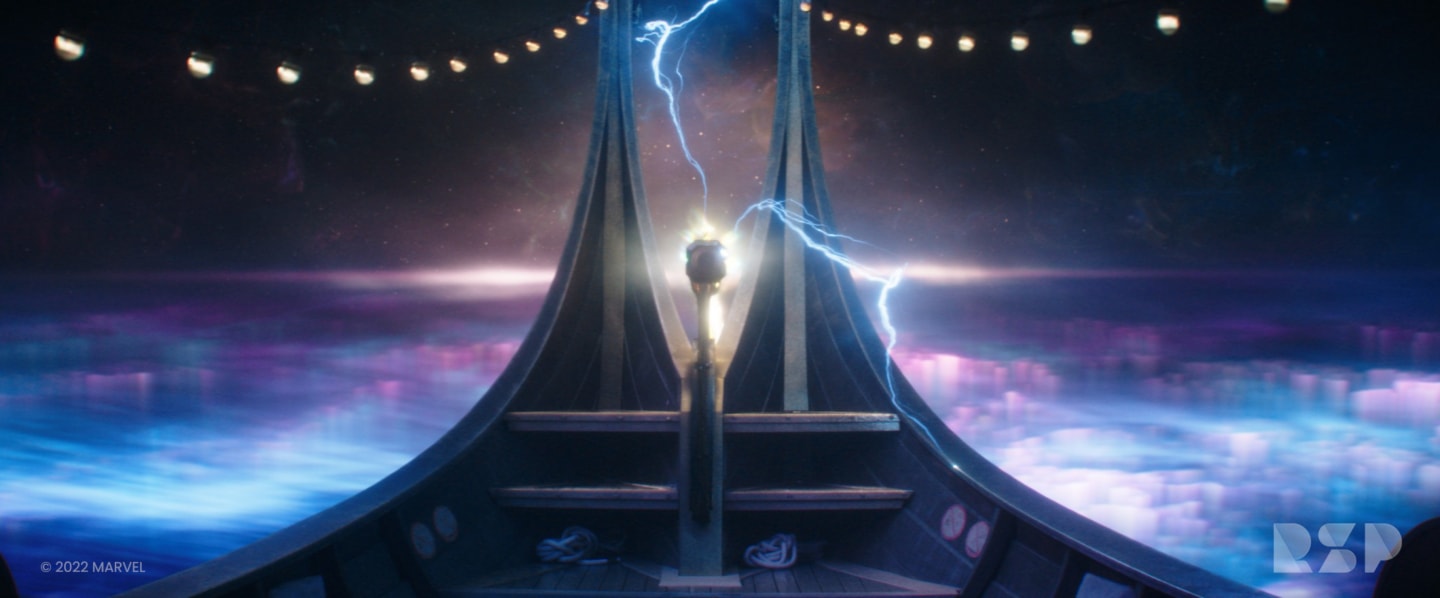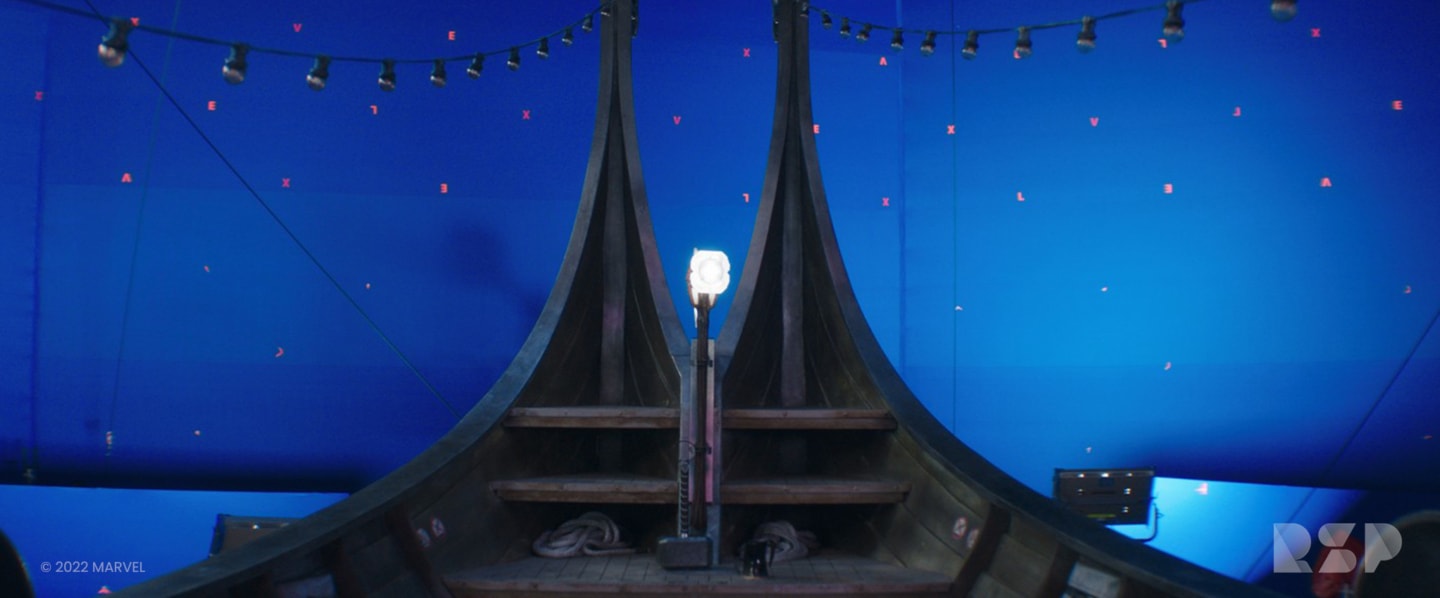 In another significant sequence, our heroes travel through space in a boat drawn by a pair of giant screaming goats named Toothgnasher and Toothgrinder, on a bifrost path that's conjured by Stormbreaker. RSP's work involved creating Stormbreaker's effects as well as the 'Goat Boat Space' environment, including a pod of Space Dolphins.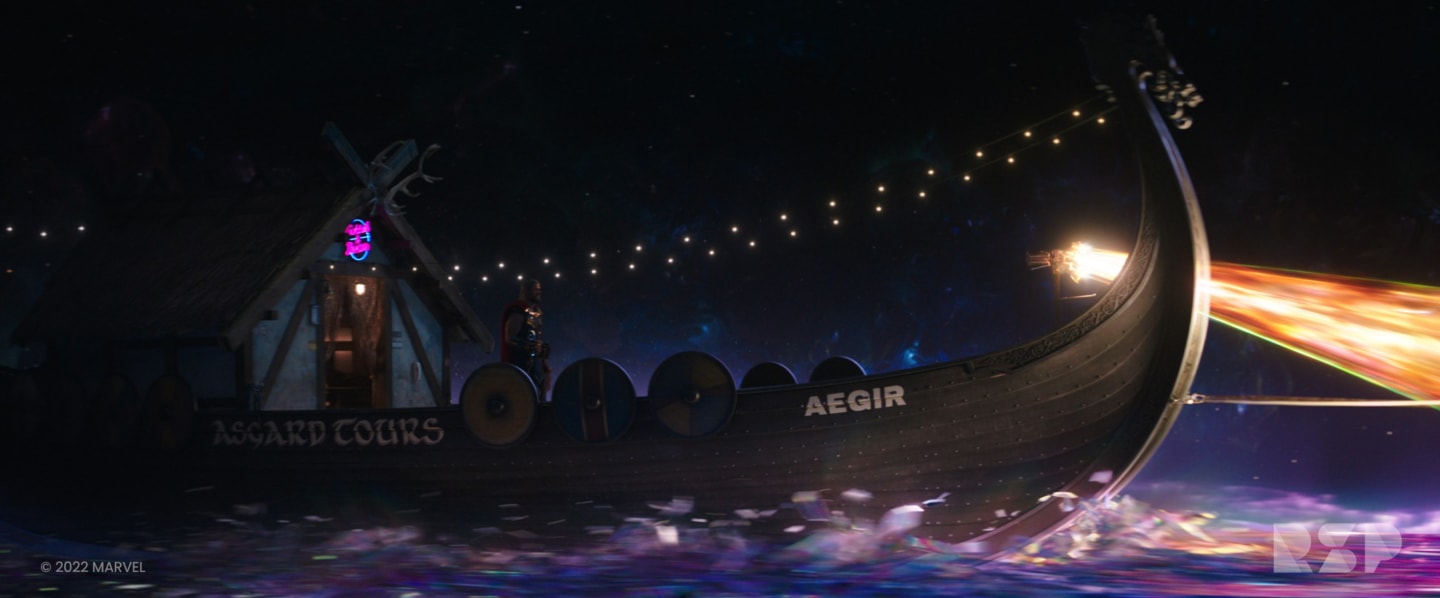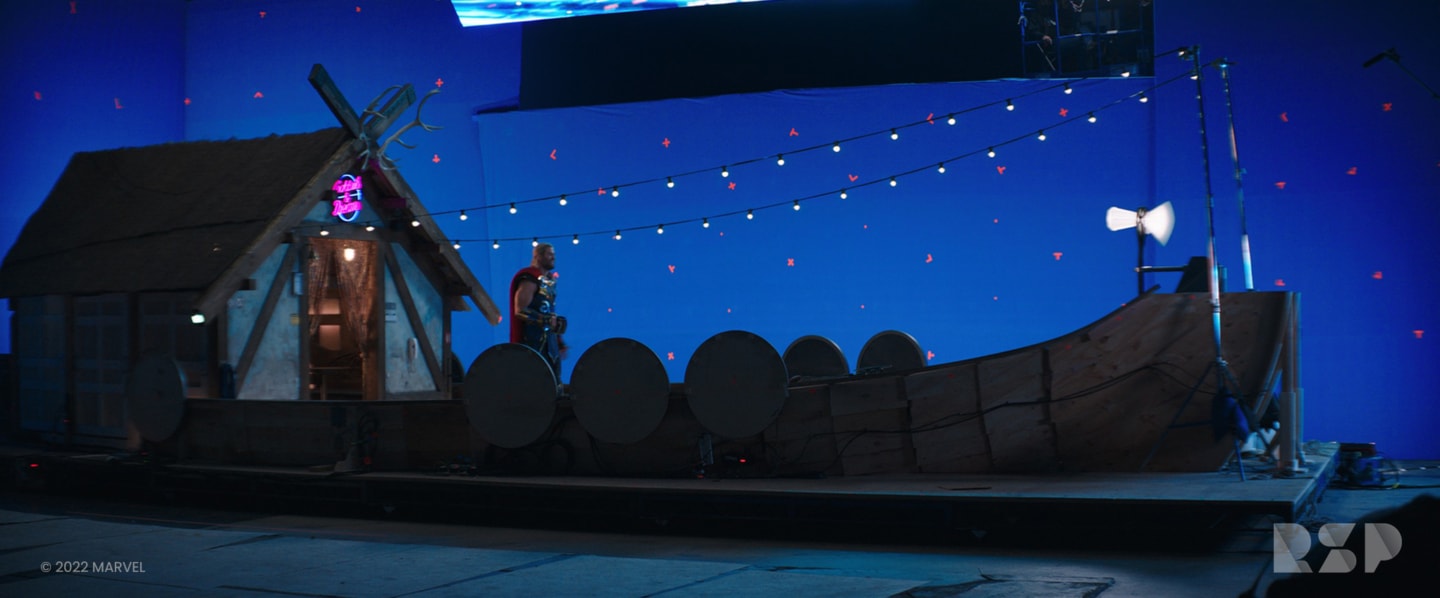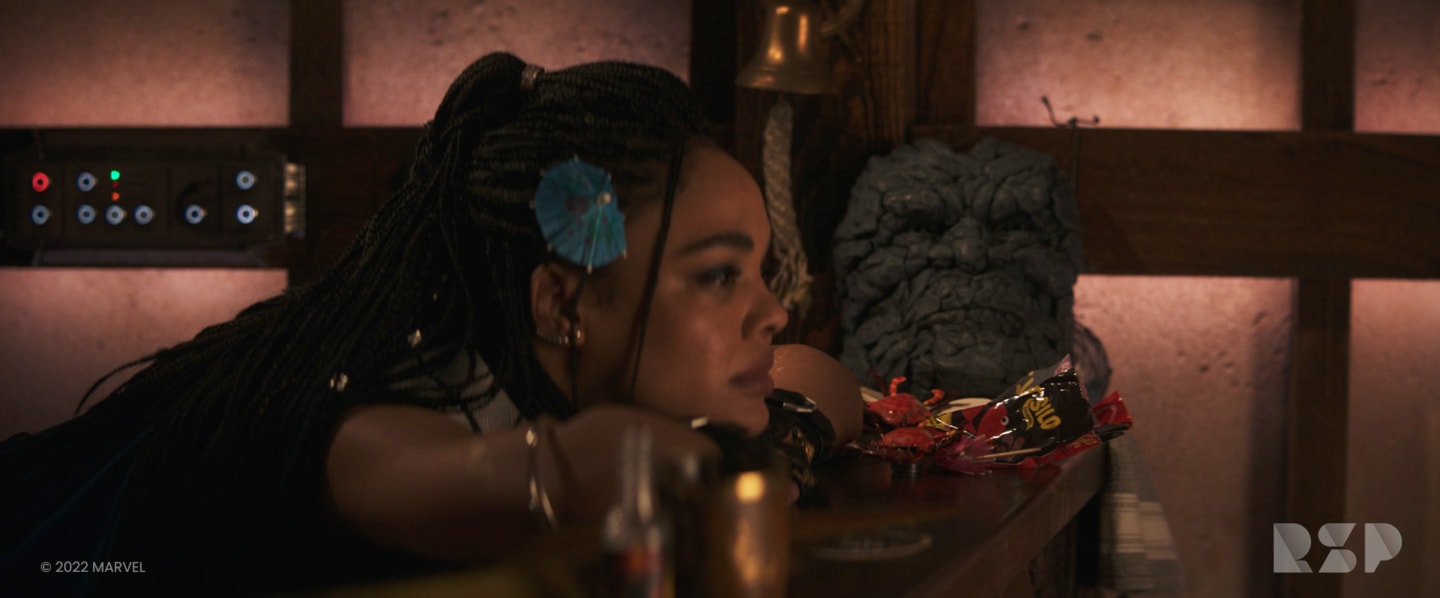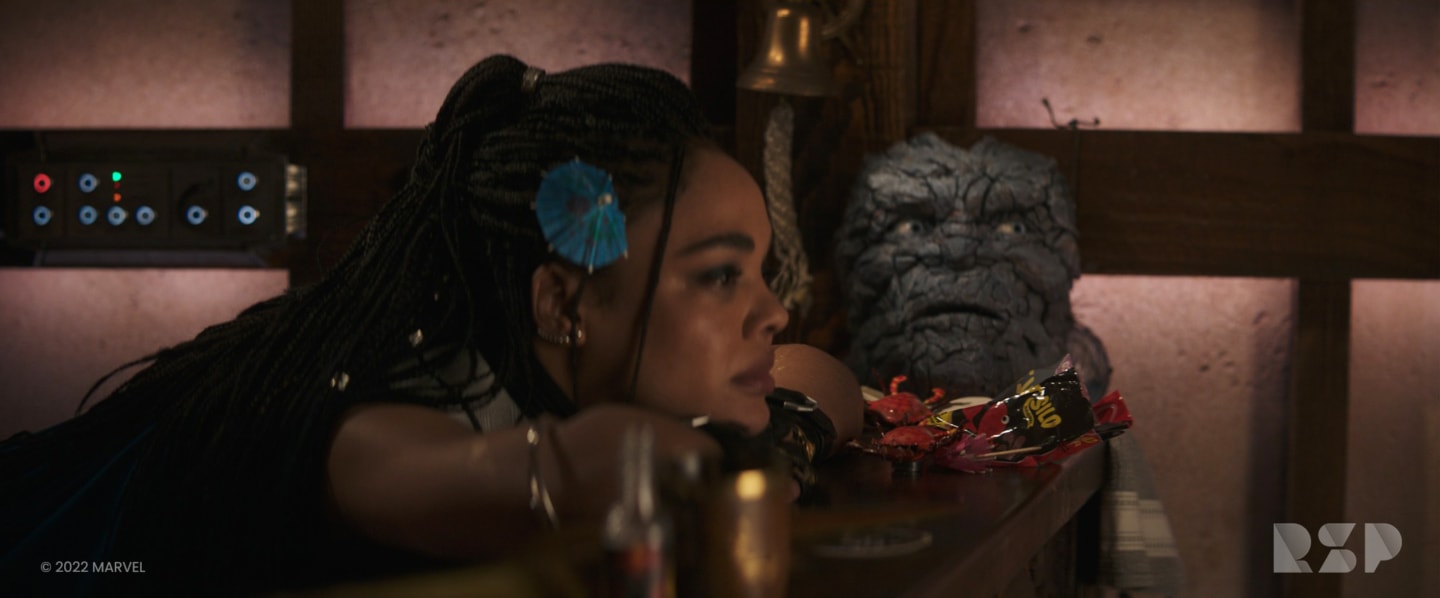 The final scene is set on a mystery planet where Thor and his adopted daughter have traveled to save a village of garfish from the evil "P-Rex." "It was another tour de force effort from our 2D, 3D and matte painting artists," observes Cadoni. "The scene combines crowds, environments, effects simulations and lightning. It also involves full and partial digital doubles with AI-enhanced faces to work with various effects elements."
Bethell describes the finale as "a moment of pure Thor awesomeness." "It was an honor to be entrusted with responsibility for the film's opening and closing scenes," he adds. "It was the type of work that we could really sink our teeth into and deliver fantastic results. We are grateful for our on-going relationship with Marvel. Collaborating with Taika, Jake and the rest of the production team was a pure joy."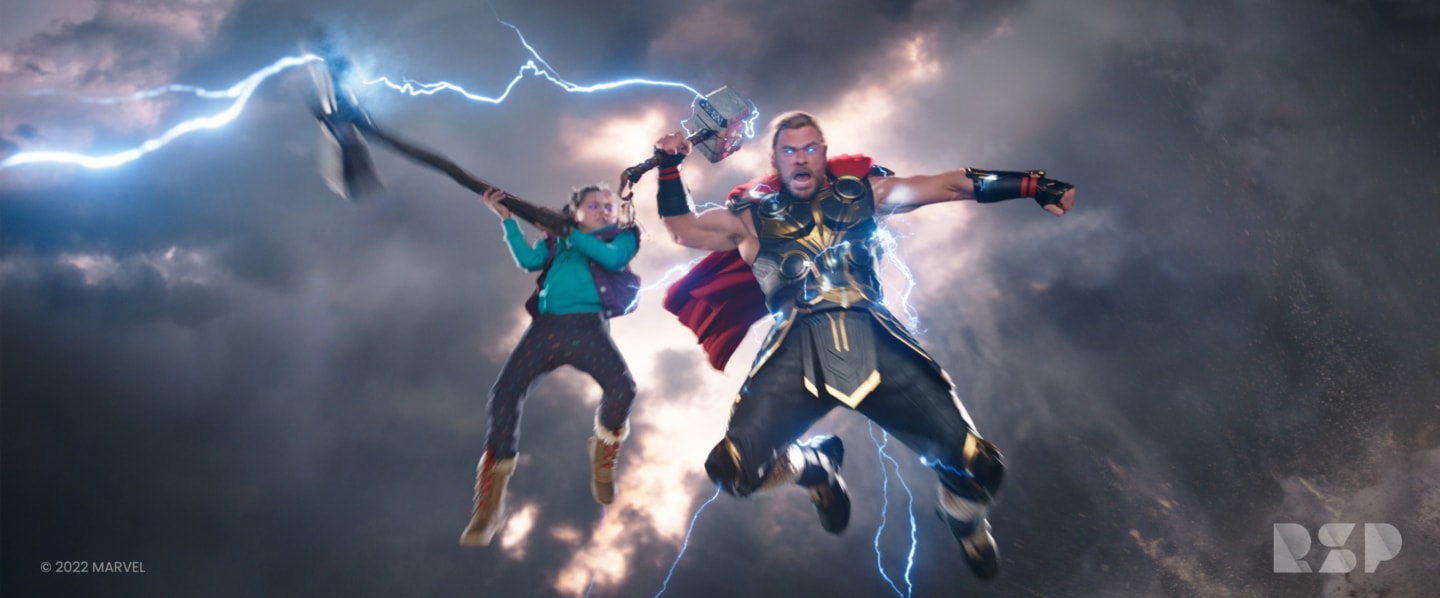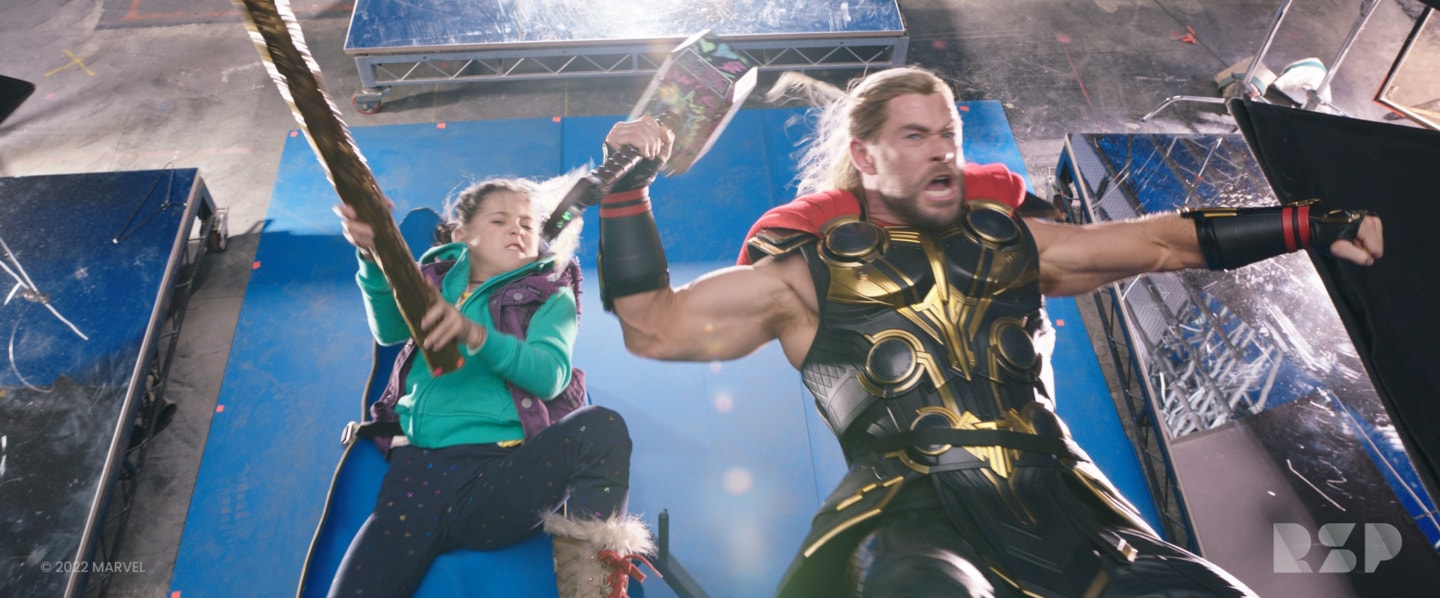 CREDITS + CREW
RISING SUN PICTURES
ADAM PETTIGROVE
ADAM POTTER
ADARSH LANGTHASA
ADHEENA GEORGE
AITOR ECHEVESTE
AKSHAY SACHDEVA
ALEX FOX
ALEX MEDDICK
ALPHY ANTO
AMBER WILSON
AMY THO NGUYEN
ANDREW BURLES
ANDREW PALMER
ANDREW RUTHERFORD
ANDREW WILLIAMS
ANDY PEEL
ANIL REDDY CH
ANNA HODGE
ANTHONY WINTER
ANTO BOND
ANTONY HABERL
ARTHUR MOODY
ARUN RAJ KUMAR M
ASHLEIGH WHITE
ASHLEY MASON
ASHLEY MEARS
ATHUL MATHEW BENJAMIN
AUDREY CHAN SOOK YAN
BEN COOKE
BEN PASCHKE
BEN WARD
BHARGAVA A J
BOINI BHARGHAVA
BRADLEIGH MCKAY
BRADLEY PEACOCK
BREE WHITFORD SMITH
BRENT ST MARY
BRIDGET DINNING
BRITTANY GRAHAM
BRODIE MCCROSSIN
CAMERON BROWN
CARLOS MARQUEZ
CHARLES KIM
CHRIS KING
CHRISTOPHER BOWMAN
CHRISTOPHER CROWELL
CHRISTOPHER JANSSEN
CONNOR SULLIVAN
CRAIG FIELD
CRYSTEL NEWMAN
DALLY GARCIA ARREAZA
DAN BETHELL
DAN WILLS
DANIEL CARLIN
DANIEL NEES
DANIEL VELIKOV
DANIELLE CARDELLA
DARIA KOZLOVA
DAVID CAUNCE
DAVID GURREA HERNANDEZ
DAVID OZOLS
DAVID SCOTT
DEAN MRAZEK
DILEN SHAH
DMITRIY KIRILLYAK
DOMINIC STEPHENSON
DYLAN BINNS
DYLAN SHAW
ELOISE GROVER
ELYSHA DEKKER
EMILY PROBERT
EMMA SULLIVAN
FRANCESCO COPE
GABRIEL MANDALA
GABY VILLAR
GANESH KUMAR SELVARAJAN
GARETH ERIKSSON
GEMMA WOOD
GEORGE MANOLACHE
GERHARD MOZSI
GREGORY SHIMP
HANG LI
HAO TRUONG
HARRY MEDLIN
HEATH DINGLE
HEMA SAJNANI
HIMANSHU TALREJA
IAN COPE
JACK WEST
JACKIE FOX
JACKSON DE BROUGHE
JAKE BOTT
JAMES FAULKNER
JAMES KHOU
JASON QUINTANA
JENNIE ZEIHER
JESS BURNHEIM
JESSICA LIN
JIAQI HU
JM CHEN
JOEL AGUILAR
JOEL MICHAEL
JOHANNES GROSS
JOHN BASTIAN
JOHN BLISS
JONATHAN WENBERG
JONATHON MCKENDRICK
JOSEPH ROBERTS
JOSH ELLEM
JOSHUA RUGGIERO
JULIETTE CHRISTIE
KALYAN CHAKRAVARTHY
KATE BERNAUER
KATIE MCCABE-SORTINI
KIM FOGELBERG
KRANTHI KUMAR K
KUNAL BISWAS
LAURENT AYOUBI
LEAD ARTISTS
LEIAH SEARS
LEO EVERSHED
LIAM GARE
LIUDMYLA CHORNA
LOUIS CIANCIULLO
LU, TING YUN
LUKE VALE
MADDISON GREEN
MAREE FRIDAY
MARIE-LORRAINE BRYAN
MARK TOMCZYK
MASAHIRO YANAGIYA
MATT CRUMP
MATT WESTBROOKE
MATTHEW SHAW
MEIWA CHAN
MEREDITH MEYER-NICHOLS
MICHAEL JOHNS
MICHAELA DANBY
MIKE RING
MONICA QUAN
MORGAN PETRIE
NARENDER KOSHIYARI
NATHANIA NEMA
NATWAR RATHORE
NEILL BARRACK
NICHOLAS CENTOFANTI
NICK PILL
NIKHIL KAMBOJ
NIKOLETTA EKKER
OLIVIA MITCHELL
ORLANDO CAMINA
OWEN WILLIAMS
PARIS DOWNES
PATRICK NAGLE
PAUL SUEL SOBOLEWSKI
PAUL TAYLOR
PRAKASH SARASWATI
PRANEETH PATAKAM
QIONG LU
RAFAEL VILLAR JOINER
RAJBIR SINGH DHALLA
RENGANATH K
RICHARD ALEC COLLIS
RICHARD SAADE
RINKI RAI
ROBERT BEVERIDGE
ROHINI PARADKAR
RYAN KIRBY
RYAN WOODCOCK
SAM HANCOCK
SAMANTHA ABDA
SARA HENSCHKE
SARAH BENEKE
SARAH BOND
SASKIA ELLIOTT
SCOTT BULEY
SEBASTIAN BENN
SHANE BERRY
SHIVANGI SHRIVASTAVA
SIJU MURUGAN
SIMON WALSH
SOPHIE ELDER
STEFANIA CANCEMI
STEPHANIE LOWRY
STEPHEN CLARK
STEVE MCGEE
STEVEN YOUNG HIANG SIANG
SUSIL S SABAT
TAIGA ISHIBASHI
THOMAS BAXTER
THOMAS CANT
THOMAS STEINER
TIMOTHY MACKINTOSH
TONY CLARK
TRACY DAVIDSON
TROY TOBIN
TUSHAR DHANANJAY SONKER
VANESSA WILLIAMS
VAUGHN WHITE
VICTOR GLUSHCHENKO
VISHAL KAUSHAL
VITTORIO DI TORO
WAYNE HOWE
WENDY NETHERCOTT
YANGYANG XU
ZAC PUCKERIDGE
ZHIYONG LIU